Billy Ray Cyrus - The Album Collection
First Published in Country Music International, September 1997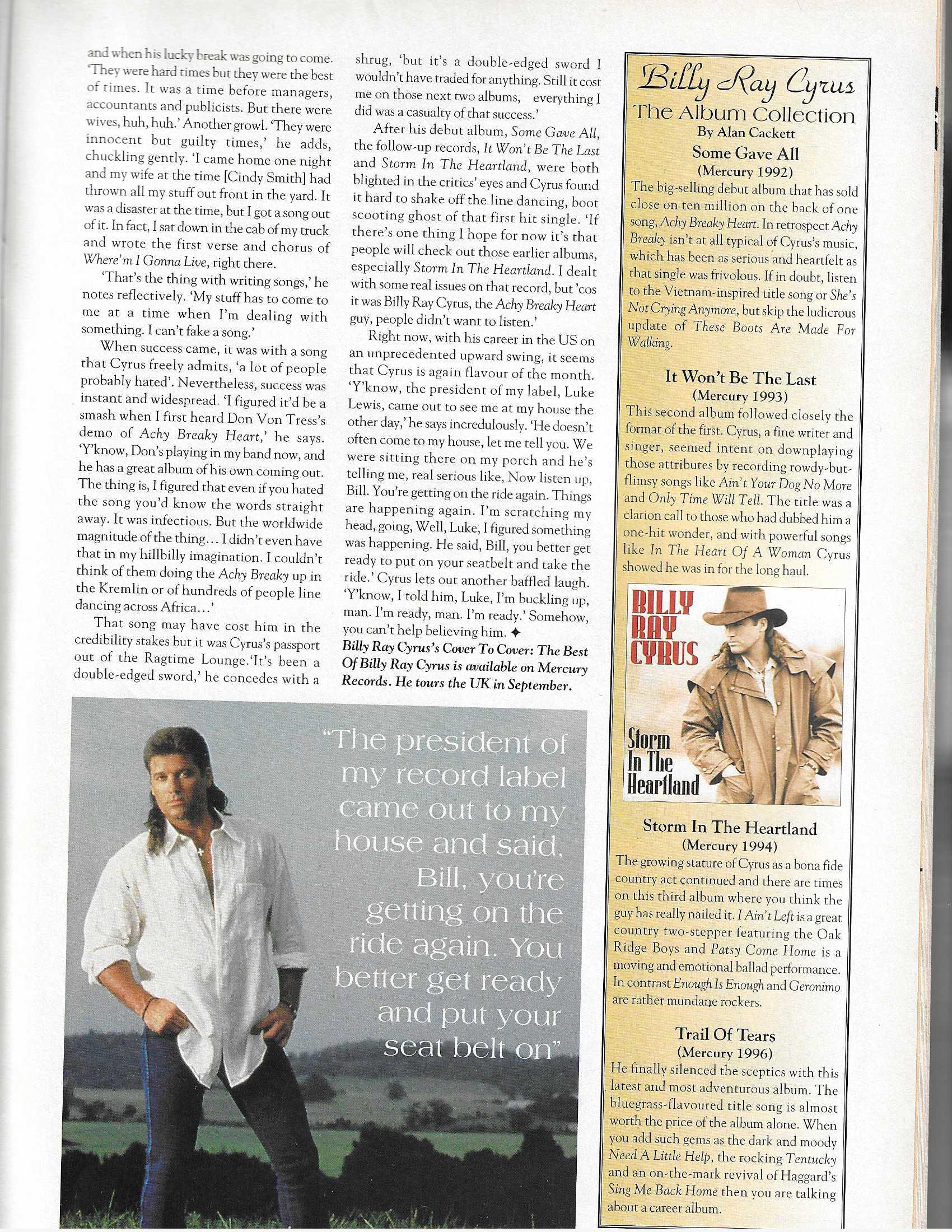 SOME GAVE ALL (Mercury 1992)
The big-selling debut album that has sold close on ten million on the back of one song, Achy Breaky Heart. In retrospect Achy Breaky Heart isn't at all typical of Cyrus' music, which has been as serious and heartfelt as that single was frivolous. If in doubt, listen to the Vietnam-inspired title song or She's Not Crying Anymore, but skip the ludicrous update of These Boots Are Made For Walking.
IT WON'T BE THE LAST (Mercury 1993)
This second album followed closely the format of the first. Cyrus, a fine writer and singer, seemed intent on downplaying those attributes by recording rowdy-but-flimsy songs like Ain't Your Dog No More and Only Time Will Tell. The title was a clarion call to those who had dubbed him a one-hit wonder, and with powerful songs like In The Heart Of A Woman Cyrus showed he was in for the long haul.
STORM IN THE HEARTLAND (Mercury 1994)
The growing stature of Cyrus as a bona fide country act continued and there are times on his third album where you think the guy has really nailed it. I Ain't Left is a great country two-stepper featuring the Oak Ridge Boys and Patsy Come Home is a moving and emotional ballad performance. In contrast Enough Is Enough and Geronimo are rather mundane rockers.
TRAIL OF TEARS (Mercury 1996)
He finally silenced the sceptics with this latest and most adventurous album. The bluegrass-flavoured title song is almost worth the price of the album alone. When you add such gems as the dark and moody Need A Little Help, the rocking Tentucky and on-the-mark revival of Haggard's Sing Me Back Home then you are talking about a career album.