First published in Country Music People, November 1974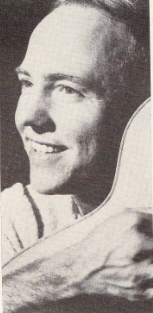 I wonder how many readers know the name of Billy Edd Wheeler? It's for certain that most have heard at least one of Billy's songs, but even so this native of West Virginia has never received the recognition he deserves from the country fans. Always a skilful and imaginative composer, he encases all of the brilliance of his lyrics and inventiveness of his melodies in the basic jacket of country music.
He was born December 9, 1932 in the coal camp of Highcoal, somewhere in West Virginia and lived there until he was sixteen years old, when he left to attend Berea College, in Kentucky. From an early age he was interested in singing and would often make up songs of things that were happening around him, but it wasn't until he went to college, that he came across different styles of music.
As a child he listened to what he describes as 'hillbilly music,' and this really was a main influence on him, but also of course there was the gospel music of Sunday school and church, the coalminers singing and picking their guitars and as every teenager knows, there was also the influence of popular music.
When he started at college he also discovered classical music, which he grew to love, but the college snobs looked down upon him because he still had a deep appreciation for hillbilly and folk music.
In early 1959 his first song was published and surprisingly was a big hit for Pat Boone. This was
Rock Boll Weevil
based on the traditional
Boll Weevil Song
. This success paved the way for his recording debut with Monitor Records of New York.
His first album, BILLY EDD USA, was recorded with Joan Summer, a college friend, and was very folksy with songs like
900 Miles
and
Black Jack Davy
included. His next album, released in early 1961, was right in the country vein. BILLY EDD AND BLUEGRASS TOO, wasn't a very good choice as a name for the album, since the music was very unlike the accepted bluegrass style. Along with amateur musicians from the hills, of Kentucky, Billy produced a fine collection of mountain songs, with a line-up of banjo, fiddle, mandolin and guitars. It's one of those records that makes you want to close out the world so that your attention will be much more undivided by petty daily consideration, for Billy Edd creates a world of his own with each cut.
Although success didn't come to Billy Edd Wheeler in the early 1960s, he found plenty of work due to his many talents. He's written much poetry and had quite a few books published. Also he's written several plays which he also produced and these proved very successful especially Stars In My Crown, in which he had a leading role.
Throughout this sophisticated success, he was still only a hillbilly, and when it came to writing songs, this is where he drew his inspiration. His first success as a singer came about with
Ode To The Little Brown Shack Out Back,
one of the most hilarious protest songs of all time. Most of his songwriting success has been with 'funny' story songs.
Desert Pete
, a big hit for the Kingston Trio, tells the story of a man in the desert who finds a waterhole, and in typical Wheeler style, the song contains a twist that brings a smile every time I hear it.
Billy Edd grew up in West Virginia, in the heart of country music territory, yet wasn't accepted by country music fans until a few short years ago. For many years he was considered folk (and still today in some quarters), and has been accepted by folk fans very quickly. He toured colleges performing his songs solely to folk audiences, and his name was spread even quicker by the folk artistes who took up and then recorded his songs.
Surprisingly it was one of Billy's so called folk songs that first kindled my interest in him. In 1963 I heard the Kingston Trio's version of
The Reverend Mr. Black
and was determined to find out more about the person who wrote the song. Always having been a keen follower of the Kingston Trio, I noticed throughout their LPs more and more of Wheeler's songs. For example
Desert Pete, Ann
and
Sara
.
Finally I was able to track down Billy's original versions of these songs, and although they are often considered folk songs, I prefer them to be termed country, because really Billy Edd Wheeler is just a simple hillbilly, picking and singing hillbilly songs.
His acceptance by country audiences began to take place when his songs were recorded in Nashville. Hank Snow recorded
Blue Roses
in 1965 and the humorous
The Man Who Robbed The Bank At Sante Fe
, then Johnny Cash took both
Jackson
and
Blistered
into the country charts, two songs Billy had included on his first album for the Kapp label, MEMORIES OF AMERICA in 1963.
This is one of the finest country-folk albums ever recorded. Strictly modern country sounds is certainly not what Wheeler is; he's the folk and the mountain sounds with the musical knowledge and craftsmanship to interweave all of it to combine a straight-forward sing-out and join-with feeling that makes you feel like you are listening to the master troubadour that tells the world of his enjoyment of living.
He leads you down the rumbling coal mines of Virginia along the paths to the fast moving interstates and across the dusty deserts as he weaves the plaintive sounds of progress coming through in song versions he's put down to lyrics and music through his years of loving and living with the land.
His recordings for the Kapp label, which spanned a five-year period, were made in New York under the supervision of Jerry Leiber and Mike Stoller, two of the premier pop and r&b songwriters and producers. These two gentlemen proved though that they had high musical regard as they kept Wheeler's ballads to a simple, but effective arrangements, incorporating sophisticated strings only when it was totally necessary.
His distinct singing style, which is definitely country, but can be distinguished from too many other artistes, who spend their time imitating each other. As distinct as his vocal style is, it never becomes pretentious. His second album for Kapp, THE WHEELER MAN continued in the same mould as its predecessor, with the well known
Tonight I'm Singing Just For You
and a parody on his earlier hit,
Ode To Granny
. Other gems include a beautiful love song called
Isabelle
and a biting indictment
Politician's Dog
.
Wheeler has never really got caught up in the modern country music circle, retaining his hillbilly charm and maintaining a very open musical mind. His last album for the Kapp label, PAPER BIRDS, recorded in 1967 continued to span several ethnic music styles, pulling them together with his marvellous light-toned, high-pitched pure voice. Strings are used in greater quantity, which gives the album a generally lusher mood than on previous efforts. He knows his best qualities and plays to them. He knows what material suits him and has once more used songs from his own pen plus those from Tim Hardin (
Reason To Believe
) and from The Beatles (
Here, There, And
Everywhere
). He evolves the social commentary song to fair-reaching horizons—the surface simplicity of a Wheeler tune adds even further to the depth and sophistication of its inner meaning.
They Can't Put It Back
is all about a giant bulldozer turning the countryside into ruin, while
Are The Hills Still Green
is a self-explanatory song. They stress evolution rather than revolution. He has a mellowness in his style that speaks of many hours spent stretched out in his thoughts while surrounded by Mother Nature. But this mellowness is punctured by an acute social awareness that could only come from time spent observing the rapid turnover of city life.
In 1968 Billy Edd joined the United Artists label and the following year recorded his most talked about album, NASHVILLE ZODIAC. I say most talked about, because everybody talks about it, yet it never sold. This was one of the best attempts at progressive or contemporary country music ever. With top musicians from Nashville he put together a superlative album of fresh and invigorating material. It was a most unusual record which completely departed from Wheeler's accepted style. His comedy was still much in evidence, especially in
Fried Chicken And A Country Tune
and
Three Fingered Banjo Pickin' Man
, and also there was a strong Cajun influence on several numbers, with outstanding fiddle from Doug Kershaw. Kershaw has long been the recognised master of this form of music, but Wheeler proves that his light, airy voice with that slight touch of mischief is ideally suited to the funny
My Uncle Abel
and the super up-tempo
Sweet Jole Blon
. As usual he maintains his protest stance and the illogical prejudices that have always marred the human race are wickedly pulled to pieces in
The Big Put On
.
The Nashville musicians led by the ever solid Norbert Putnam on bass, are often allowed a freedom that most singers would selfishly refuse. This brings the very best out of them so that whether they are playing the funky backing to
You Fight Your Fight And I'll Fight Me
or the sotfly acoustic ramblings on
Bernard
, they are never less than superb.
The Coon Hunters
is a humorous rap between the musicians, something they can handle so well, but are rarely allowed to do. With banjo, coon hunt harmonica and fiddle they talk in broad Tennesseean accents about their antics on previous hunts. It's funny, but never loses itself, sensibly it's kept down to under four minutes and provides a great musical interlude that is one of the highlights of the album.
This is an album full of contrasts, full of great country singing and picking, and a credit to Nashville. In short NASHVILLE ZODIAC is a joyous affirmation of life—a totally unique experience.
Currently Billy Edd Wheeler records for RCA but throughout the last four years things have been very quiet. His last album, BILLY EDD WHEELER—LOVE was made almost three years ago and is in complete contrast to NASHVILLE ZODIAC. As the title implies, it had a gentle melodic sound, but it was one of those records that just slipped by unnoticed.
I suppose the reason Billy Edd's not become a big name in country mMusic is because his activities are so diverse. He's appeared on TV shows with people like Merv Griffin, Oscar Brand, Theo Bikel and also a panel show, Play Your Hunch that was all the rage in New York a few years back. He lives in the city part-time, and the mountains part-time. He sings hillbilly music and pop music, folk/pop music, folk/pop or Country/folk, in fact to quote Billy Edd:–
"I just sing what  like to sing, because to me music is music, and definitions or boundaries don't mean much. I've conned myself and been conned long enough. I aim now to relax and enjoy myself. I never studied music. I don't want to. This is part of my relaxation."
These to me are the words of a man who has got complete freedom with his music; a man who can sing to almost any audience anywhere and just be himself. Billy Edd Wheeler is a comic, a poet, a sensitive writer of songs, and—perhaps most important of all—a mature singer and artist.