Billy Dean - Travellers Choice
First Published in Country Music International, August 1996
Billy Dean, a Nat King Cole and James Taylor fan, picks his favourite sounds for the long road ahead.
We're touring with Reba McEntire this year, and I've finally got my own bus. I used to travel with the band, but now I've got two buses, and it's made a real difference. I've found that I can play music in the morning and not worry about
waking anybody else up. I usually only sleep about five or six hours at night, so I like to get up early and slap on something nice and soothing. Something like Nat King Cole or big band music. I have a whole bunch of that stuff with me on the road.
It's so rare to hear someone sing as pure as Nat King Cole. He also recorded all those albums without the electronic enhancement that we have today; pitch-changers and all that garbage. I shouldn't say garbage, they're actually the tools of the trade, and I use them too! But, back then, Nat and all those people didn't have all that, which meant you really had to be good.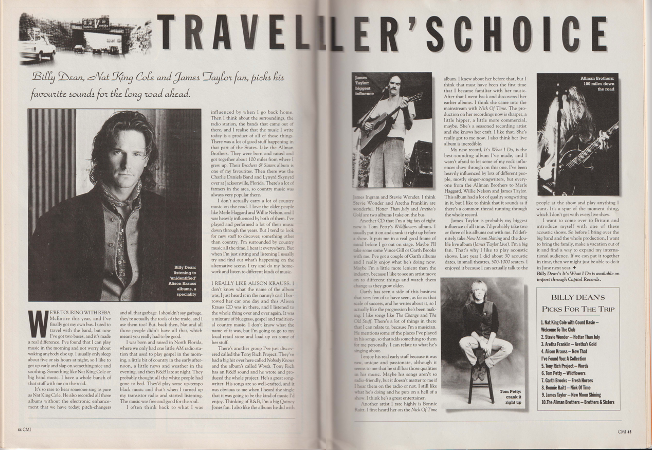 I was born and raised in North Florida, where we only had one little AM radio station that used to play gospel in the morning, a little bit of country in the early afternoon, a little news and weather in the evening, and then r&b late at night. They probably thought all the white people had gone to bed. They'd play some up-tempo black music and that's when I turned up my transistor radio and started listening. The music was free and good for the soul.
I often think back to what I was influenced by when I go back home. Then I think about the surroundings, the radio station, the bands that came out of there, and I realise that the music I write today is a product of all of those things. There was a lot of good stuff happening in that part of the States. Like the Allman Brothers. They were born and raised and got together about 100 miles from where I grew up. Their BROTHERS & SISTERS album is one of my favourites. Then there was the Charlie Daniels Band and Lynyrd Skynyrd over at Jacksonville, Florida. There's a lot of farmers in the area, so country music was always very popular there.
I don't actually carry a lot of country music on the road. I love the older people like Merle Haggard and Willie Nelson, and I was heavily influenced by both of them. I've played and performed a lot of their music down through the years. But I tend to look for new stuff to discover; something other than country. I'm surrounded by country music all the time. I hear it everywhere. But when I'm just sitting and listening I usually try and find out what's happening on the
alternative scene. I try and do my homework and listen to different kinds of music.
I really like Alison Krauss.  I don't know what the name of the album was, I just heard it in the nanny's car! I borrowed her car one day and this Alison Krauss CD was in there, and I listened to the whole thing over and over again. It was a mixture of bluegrass, gospel and traditional country music. I don't know what the
name of it was, but I'm going to go to my local retail store and load up on some of
her stuff.
There's another group I've just discovered called the Tony Rich Project. They've had a big hit over here called Nobody Knows and the album's called WORDS. Tony Rich has an r&b sound and he wrote and produced the whole project. He's a great songwriter. His songs are so well-crafted, and it was obvious to me when I heard the single that it was going to be the kind of music I'd enjoy. Thinking of r&b, I'm a big Quincy Jones fan. I also like the albums he did with
James Ingram and Stevie Wonder. I think Stevie Wonder and Aretha Franklin are wonderful. HOTTER THAN JULY and ARETHA'S GOLD are two albums I take on the bus.
Another CD that I'm a big fan of right now is Tom Petty's WILDFLOWERS album. I put it on and crank it right up before a show. It puts me in a real good frame of mind before I go out on stage. Maybe I'll take some Vince Gill or Garth Brooks with me. I've got a couple of Garth albums I really enjoy what he's doing now.  Maybe I'm a little more lenient than the industry, because I like to see an artist move on to different things and watch them change as they grow older.
Garth has seen a side of this business that very few of us have seen, as far as that scale of success, and he writes about it, so I actually like the progression he's been making. I like songs like The Change and The Old Stuff. There's a lot of things in there that I can relate to, because I'm a musician. He mentions some of the places I've played in his songs, so that adds something to them for me personally. I can relate to what he's singing about.
I enjoy his real early stuff because it was raw, unique and passionate, although it seems to me that he still has those qualities in his music. Maybe his songs aren't so radio-friendly, but it doesn't matter to me if I hear them on the radio or not. I still like what he's doing and he puts on a hell of a show. I think he's a great entertainer.
Another artist I rate highly is Bonnie Raitt. I first heard her on the NICK OF TIME album. I knew about her before that, but I think that must have been the first time that I became familiar with her music. After that I went back and discovered her earlier albums. I think she came into the mainstream with NICK OF TIME. The production on her recordings now is sharper, a little hipper, a little more commercial, maybe. She's a seasoned recording artist and she knows her craft. I like that. She's really got to me now. I also think her live album is incredible.
My new record, IT'S WHAT I DO, is the best-sounding album I've made, and I
Wasn't afraid to let some of my rock influences show through on this one.
I've been heavily influenced by lots of different people, mostly singer-songwriters, but everyone from the Allman Brothers to Merle Haggard, Willie Nelson and James Taylor. This album had a lot of quality songwriting in it, but I like to think that it sounds as if there's a common thread running through the whole record.
James Taylor is probably my biggest influence of all time. I'd probably take two or three of his albums out with me. I'd definitely take NEW MOON SHINING and the double live album (JAMES TAYLOR LIVE). I'm a big fan. That's why I like to play acoustic shows. Last year I did about 30 acoustic dates, in small theatres, 500-1000 seaters. I enjoyed it because I can actually talk to the people at the show and play anything I want. It's a spur of the moment thing, which I don't get with every live show.
I want to come over to Britain and introduce myself with one of these
acoustic shows. So before I bring over the big band and the whole production, I want to bring the family, make a vacation out of it and find a way to expand my international audience. If we can put it together in time, then we might just be able to do it in June next year.
Billy Dean's picks for the trip
1. Nat King Cole with Count Basie - Welcome To The Club
2. Stevie Wonder – Hotter Than July
3. Aretha Franklin - Aretha's Gold
4. Alison Krauss  -  Now That I've Found You: A Collection
5. Tony Rich Project - Words
6. Tom Petty - Wildflowers
7. Garth Brooks - Fresh Horses
8. Bonnie Raitt - Nick Of Time
9. James Taylor - New Moon Shining
10.The Allman Brothers - Brothers & Sisters