First published in Country Music People, November 1978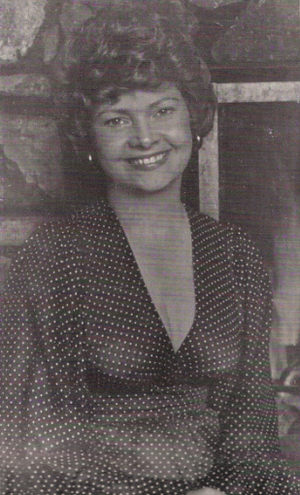 In recent years Texas has emerged as a kind of breeding ground for country artists, with many of the top names in Nashville proudly extolling the virtues of their Texas upbringing. But in the majority of cases it is the male stars who are stealing the limelight, and we tend to overlook the many talented ladies who can also claim Texas as the starting point in their climb to international stardom.
Billie Jo Spears is just such a lady. Born in Beaumont, Texas, some 30 odd years ago, she grew up surrounded by Country music and had cut her first record, a typically cute teenage sentiment song
Too Old For Toys, Too Young For Boys
, back in 1953 for the Abbott label. It sold quite well down in Texas and led to a few personal appearances including the famous Louisiana Hayride, but Billie Jo's education had to come first, and so for the next few years a professional singing career had to wait.
Following graduation, she swung into action again. "I met a gentleman in Texas who had a small studio and he was the late Jack Rhodes. My sister introduced me to him and our relationship grew from that. He persuaded me to go to Nashville so I did some demos and eventually signed up with United Artists. We had a country hit with
Easy To Be Evil
.
That is how Billie Jo describes her entry in country music. It sounded quite easy, but it wasn't quite that simple. Jack and Billie Jo spent months writing songs together before they journeyed to Nashville, and even armed with some quite impressive demo tapes, it was some considerable time before a recording contract was forthcoming.
It was in 1964 when Billie Jo Spears initially signed with United Artists, and during the next few years a handful of singles were released, including
Easy To Be Evil
, which nibbled at the country charts in 1966,
Too Busy To Cry
and
Conscience Keep An Eye On Me
. It was before the sudden influx of female singers to Nashville then Billie Jo stood on the sidelines watching others like Loretta Lynn, Connie Smith, Dottie West and Tammy Wynette, all rapidly establishing the girl singer on the country charts.
Her producer at the time was Kelso Herston, a man who believed in her singing talent. When he became a staff producer at Capitol in 1968, one of the first artists he brought under his wing was Billie Jo. Together they hit just the right formula of song and performance and towards the end of that year Billie Jo Spears made her debut in the country charts with the emotional
He's Got More Love In His Little Finger.
This marked the beginning of a lengthy run of success for Capitol which fully established Billie Jo's husky, nasal vocal tones on the country charts with a series of strong ballads which all featured a distinctive modern country production. Her first album, THE VOICE OF BILLIE JO SPEARS, showed off her emotional styling on a selection of well known songs with great versions of Tammy Wynette's
Take Me To Your World
and
I Don't Wanna Play House
. Her almost narrative form of singing ideally suited the tales of
Harper Valley PTA
and
Ode To Billy Joe
, but her phrasing technique was used to best advantage on the simple, but effective,
Till Something Better Comes Along.
The spring of 1969 saw the name of Billie Jo Spears high on the top ten with
Mr Walker It's All
Over
, possibly her finest single. The song, written by the often neglected Gene Crysler, was very much in the styling of
Harper Valley PTA
, and told of a country girl from Kansas fighting the problems of life as a New York secretary. Billy Jo's compelling Southern voice gave the song the earthiness it needed and brought her success in the American pop and country charts.
This led to the rapid release of a second album. Naturally titled after the hit, MR WALKER IT'S ALL OVER featured mainly unknown material. Her debut album had an immediate feeling of familiarity, whereas most of the songs on this second album were somewhat anonymous, even after repeated playings. There are exceptions of course.
The Price I Pay To Stay
, particularly with its staccato rhythm and neat guitar embellishments, makes it one of the few highlights. And her version of Tammy's
Stand By Your Man
is one of the best I've heard.
Surprisingly her follow-up single, Dallas Frazier's
Stepchild
, failed to make much impression on the country charts, and it seemed for a few months that Billie Jo Spears was about to fade from the scene. But she came back strongly in the early months of 1970 with the tender ballad performance of
Daddy I Love You
. It was soon after this success that Billie Jo made her British debut, in person and on record. She toured with Buck Owens, Wanda Jackson, The Hagers and Tex Ritter, as part of the Capitol Country Caravan Show. Unfortunately her portion of the show was all too brief, but she certainly impressed this writer as a fine singer, though she was a nervous stage performer, lacking in experience in how to build up an act and hold an audience's attention. To coincide with the tour, her first American album, THE VOICE OF BILLIE JO SPEARS was released over here with the addition of her big hit,
Mr Walker It's All Over
. At the same time in the States one of the lady's finest album collections, MISS SINCERITY was released.
Like her first album, this featured a good sprinkling of well-known songs, and to each the Texas lady brings a touch of her own personality. Alongside country favourites
Today I Started Loving
You Again
and
I'll Share My World With You
, is
Before Your Time
, a beautiful Jerry Chestnut song, superbly sung by one of the most underrated voices in country music.
Billie Jo was certainly riding a crest of a wave which had her rightly establishing herself as the most popular country lady signed to Capitol Records. Her final chart entry for 1970 was with
Marty Gray
, a tale of teenage love that was to climb high on the charts. It marked the beginning of a new association, this time with producer George Richey, who was to slowly take the lady from the straight country sounds that had so far marked her recordings.
Her fourth album for Capitol, WITH LOVE, was a collection of love tunes ranging from Johnny Bond's
Your Old Love Letters
to Cole Porter's
True Love
. There were several well-known country songs featured, and once again Miss Spears impressed with her ability to make a well-known song like
I Don't Believe I'll Fall In Love Today
, totally her own. All she needs is a group of fine songs, well-produced, and she takes it from there. It was another fine album and she really put something into each of the songs.
But her single,
Marty Gray
, was to be her last major hit for Capitol. In the early months of 1971 she released
I Stayed Long Enough
. It was a competent rather than outstanding song, and Billy Jo lifted it with a chillingly sharp performance. It just about made the top twenty and led to the release of another album, COUNTRY GIRL.
The title neatly summed up Billie Jo and the selection showed her wide choice of material. A highlight was Conway Twitty's
Hello Darlin'
. Her half-spoken, half-singing vocal styling was perfectly suited to this emotion-packed song. Throughout the album, George Richey's producing keeps the tracks simple and uncluttered. The self-penned
Part Of You
features tasteful electric lead guitar, whilst the slower
Yours Love
is the kind of powerful song that Billie Jo seemed to handle so well in those days.
Capitol Records, though, were losing money and the next two years they were forced to drastically cut back on their artist roster. Billie Jo Spears was one of the many country singers who was not selling sufficient records to keep the men at the top in Hollywood happy. She released some fine singles for the label like
Souvenirs and California Memories
an early David Allan Coe song which failed to make the grade, and
It Could 'A Been Me
, a pleasant mid-tempo ballad that nibbled the charts in the summer of 1971.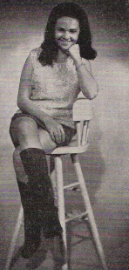 Her final album for the label, JUST SINGIN', once again featured familiar material, as she aimed again to capture the crossover country market. Songs like Kristofferson's
For The Good Times
, Leon Payne's
I Love You Because
and a bubbling version of
Snowbird
were all handled with poise and professionalism. Without a hit single to back it up, the album naturally flopped and just months after its release, Billie Jo Spears found herself without a recording contract.
Eventually she signed with the small Cutlass Label in Nashville and recorded a few singles, none of which made the charts, due to the problems of trying to establish a new label. Her version of Mickey Newbury's
Sunshine
, released in the spring of 1973 showed that Billie Jo had lost none of her skills for handling a sensitive lyric, and Melanie's
Look What They Done To My Song, Ma
had the lady in her fine mid-tempo styling that has given her most of her recent charts successes.
Larry Butler, piano man, songwriter and producer, then stepped into Billie Jo Spears career and added her name to the growing country roster at United Artists and she was now back recording for the company she started with, ten years earlier. Her debut single was a fine new reading of Bobby Goldsboro's
See The Funny Little Clown
which really gave Billie Jo's vocal phrasing a chance to shine, although I feel that the strings and choral effects as the song builds, tend to overpower one of the most distinctive female voices in country music.
It failed to make the charts and Billie Jo was now desperately looking for the right song to re-establish her on the country scene. "A little while later I met up with Roger Bowling, a relatively new songwriter, and he composed
Blanket On The Ground
. The thing was, though, that he'd played that song to quite a few people and they'd all turned it down, so he'd kinda lost heart in it. But he was in the record company office and we finally persuaded him to play it."
Call it luck, or what you will, but
Blanket On The Ground
was a country classic, re-establishing Billie Jo Spears and re-identifying her with a public, some of whom had never heard the early classics she had recorded for Capitol. The record climbed high on both the American pop and country charts in the spring of 1975, and by the summer Billie Jo had made that all important breakthrough in the British charts.
Her first album for United Artists, titled after the international crossover hit single, stuck pretty rigidly to middle-of-the-road country.
I Can Only Judge Your Future By His Past
and the waltzing
I've Never Loved Anyone More
are the best, and she opens out on the jaunty
Come On Home
, with some fine picking in the background.
Her follow-up single,
Stay Away From The Apple Tree
, another Roger Bowling song, this time slower and all about being tempted by the devil, consolidated her name on the American charts. United Artists in Britain tried being more selective in their choice of single releases, and made
Silver Wings And Golden Rings
, the follow-up to
Blanket On The Ground
, but the single failed to make much impression.
It seemed that Billie Jo Spears might become yet another country artist to make it in Britain with one crossover hit, then fade quietly from the scene. But eventually Billie Jo proved everyone wrong and during the past three years, she has popped up, almost out of nowhere to place songs like
What I've Got In Mind, Sing Me An Old Fashioned Song
and more recently
Lonely Hearts Club
and
'57 Chevrolet
on the British pop charts.
The lady's second album for United Artists, simply titled, BILLIE JO was a disappointment. Coming after BLANKET ON THE GROUND, this album failed to live up to expectations. As a country album, indeed, it rates pretty average. Billie Jo sounds very disenchanted with life if the content of these songs is anything to go by.
We Still Love In My Mind
is particularly uninspiring number, but
Somebody's Done Somebody Wrong Song
on side two brightens the album temporarily.    
In the States Billie Jo built on the solid success of
Blanket On The Ground
with songs from some of Nashville's finest writers like Kenny O'Dell who penned the sensitive,
Never Did Like Whiskey
, Ben Peters who came up with the commerical
If You Want Me
and Paul Craft who wrote
Teardrops Will Kiss The Morning Dew
. The latter was a duet with Del Reeves, a short-lived affair that never clicked, though there was an album released in the Summer of 1976.
WHAT I'VE GOT IN MIND, the lady's third album produced by Larry Butler, brought her back strongly to both country music and credibility. This was due perhaps to the wide variety of material included, ranging from Bob Montgomery's
Misty Blue
to the traditional-sounding
Sing An Old
Fashioned Song
. I didn't particularly care for
Husbands And Wives
and
Loving You Was All I Ever
Needed
, which involved a bit too much of the sweet strings and ooh-aah-sha-las for my taste. But inevitably Billie Jo sings her heart out all the way and there were more than enough goodies to make it another must for the lady's many fans.
Talented songwriter Kenny O'Dell provided Billie Jo with two different hits on either side of the Atlantic. In the States it was
Never Did Like Whiskey
which scored, whilst British fans boosted the catchy
What I've Got In Mind
into the top twenty. Two more Stateside successes,
I'm Not Easy
and
If You Want Me
, led to the release of the album, IF YOU WANT ME in the Spring of 1977.
Containing as it did three hit singles, you would think that this would have been a great album, but it featured disappointingly poor versions of songs made famous by others. Tammy Wynette's
Too Far Gone
and Dottie West's
Here Comes My Baby Back Again
, both lacked the strength in vocal performance and I was not very keen on the bluesy treatment afforded
Heartbreak Hotel
. The best track had to be
I'm Not Easy
with Billie Jo's almost talking style adding tremendously to the suggestive lyrics as the song builds up impressively aided by catchy hook lines.
It is this ability to concentrate on the hook lines that have marked Larry Butler's production of Billie Jo Spears' records and led to their commercial successes. This is very apparent on
Too Much
Is Not Enough
, yet another Kenny O'Dell song that made the American charts in the autumn of 1977. The lyrics are simple and straight-forward, but by concentrating on the title, the song worms it way into your brain, and you subconsciously go around singing it.
Not every song falls into that category as she proved yet again with her album, EVERYTIME I SING A LOVE SONG. The title tune was superb with Billie Jo's expressive vocal work really getting to grips with the lyrics, but again it suffers from over-production with strings, choruses and everything else thrown in to try and capture the listener's attention. A much better effort is Geoff Morgan's
She's Out There Dancin' Alone
. Like all of Billie Jo's finest recordings, the accompaniment is simple and uncluttered, leaving room for her vocal styling to breathe, and the result is quite magnificent.
Unfortunately this album is too full of cascading strings, oohing choruses and heavy production work, like the awful
The End Of Me
or Roger Bowling's
One More Time
. Too many of the slow ballads, which dominate the album, sink into sameness, as Billie Jo and producer Larry Butler work too closely toward the pop crossover market.
All of her recordings which have made the top charts have had a strong country feel. That was proved once again this year with the success of both
Lonely Hearts Club
and
'57 Chevrolet
. The former has something of an old-fashioned sound, which is refreshing, and Billie Jo continues to sing as she really can, when the music allows. It is pleasant listening, good production and had everything going for it.
The latter is more nostalgic; lighter with a real summer, lazy drifting feel. Not only does the music of a bygone age come flooding back in the song, but all its attendant memories. The LONELY HEARTS CLUB album has a presentation which stems from the 1950s, and not only has the music been left rooted in the past, but the fact that Billie Jo seemingly makes no attempt to keep pace, suggests a strong dislike for the 1970s.
In almost every song she is allowed to sing out freely. There is an orchestra used, but mainly it is in the background, laid behind strong guitar work, banjo and steel guitar. For the first time since she left Capitol, Billie Jo is allowed to use the full scope of her voice on an album without the listener having to strain to hear it through layers of instrumental work.
It is her most commercial album so far. The songs make an instant engagement with the mind, containing catchy choruses, memorable melodies and simple country lyrics. This is very apparent on Ed Bruce's
All The Love I Have To Give To You
and
I've Got To Go
. Whereas Jerry Chestnut's ballad,
The Last Rose Of Summer
tests Billie Jo's voice for delicacy.
It would be really good if producer Larry Butler had learnt something from the success of this album. By drowning the lady under a mass of strings he is burying a great voice. Reality still speaks with a Southern accent, so let's hear more of that rich voice of Billie Jo Spears and less of the Nashville Philharmonic and Tennessee Male Voice Choir.