Band Of Drifters - Heavy On The Lightfoot
Self-released
***1/2
This Montana based outfit, led by singer-songwriter Ian Thomas, features rotating musicians from far and wide, who all get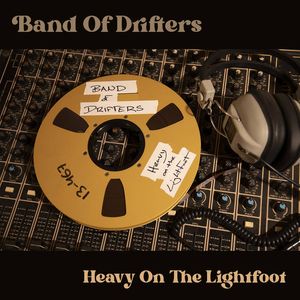 together for live gigs and recordings. They've previously released four live albums reaching back as far as 2011's LIVE AT THE PRESERVATION PUB. This latest album is a collection of 13 songs penned by Gordon Lightfoot, recorded mainly live-in-the-studio, with very few overdubs. There are tribute records and then there's this heartfelt homage of mainly lo-fi folk songs that crackle with vibrant intimacy. It was way back in the early 1960s that I first became a Lightfoot fan and it's highly probable that I have almost all of the veteran singer-songwriter's recordings. I also have a couple of tribute albums and this one is not at all bad, if a little too predictable. It would not be stretching a point to add that I have lived with most of these songs for years, so much so that they seem to be a part of the fabric of my life.
One of Canada's most inspiring and imaginative storytellers, Gordon Lightfoot can turn what seem like obscure historical references into engaging tales rife with vivid, stark imagery. A great folksinger's songs are topical and immediate, delivered in a conversational tone. Whether the songs are about family, dreams, or hard times, it's a reaffirmation of the common values everyone holds dear. All are welcomed immigrants in the nation we call life and no one is a stranger. Everyone comes from somewhere, and his lyrics demonstrates that the physical location of the somewhere doesn't matter as much as the songs that arise out of those experiences. Lightfoot got this better than any other songwriter I can think of. Colour, texture, creative construction, he always brought gorgeous new ideas to the folk-pop genre and firmly stood behind them. There was always a wistful, life-affirming feel to his creative canon.
While every offering here is authored from outside the band, Ian and his Band of Drifters command them as if they were their own. They open the set with Old Dan's Records, one of my all-time favourite songs. The instrumentation is stripped back throughout the song, though the steel guitar, fiddle and banjo embellishments are worth a mention. And in following with the brilliantly subtle Steel Rail Blues, the band's gotten only more subtle. Thomas' vocal is at its most nuanced and least rushed. The swirling Carefree Highway with its acoustic textures, lashed by flashes of intensity, illuminate the ache and understatement of Thomas' vocal. Rainy Day People is as much an earworm as anything we've come to expect from Lightfoot over the years. an engaging song, replete with potent lyrics and enthusiastic instrumentation highlighted by some fine fiddle work.
Deliberately they have avoided too many of the well-known hit songs, so there's no If You Could Read My Mind, Sundown, Early Morning Rain or The Wreck of The Edmund Fitzgerald. Instead, we have lesser-known gems as they mix twangy songs (like the acoustic ballad She's Not the Same) and scruffy folk-rock (the steel-drenched If You Need Me) that could soundtrack a major movie (or real-life) moment. Never Too Late is filled with immersive, delicate sounds and heartbreaking fiddle lines, always blanketed by a graceful lead vocal. The storytelling soul-twang on songs like The Watchman's Gone will put you in a yearning mood. The jaunty Race Among The Ruins is a tune wrapped in a swirl of instrumentation and featuring notable steel guitar flourishes.
This collection of songs is a reinforcement of the idea that roots music isn't about countries and borders, so much as relatable stories. This is a fine album that showcases the Band of Drifters' musical versatility and surefootedness, and decidedly establishes that they have no need for extraneous embellishment when it comes to maintaining their mettle.
October 2021