Baillie & The Boys - Whatever Happened To......
First Published in Country Music International – April 1996
Darlings of the late 1980s pop country scene, the now-reformed trio are once again waiting in the wings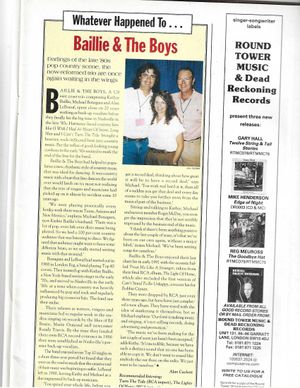 Baillie & the Boys, a US east coast trio comprising Kathie Baillie, Michael Bonagura and Alan LeBoeuf, spent close on 20 years working as back-up vocalists before they finally hit the big time in Nashville in the late 1980s. Harmony-laced country hits like (I Wish I Had A) Heart Of Stone, Long Shot and I Can't Turn The Tide brought a heavier, rock-inflected beat into country music. But the influx of good-looking young cowboys in the early 1990s seemed to mark the end of the line for the band.
Baillie & The Boys had helped to popularise a new, rhythmic style of country music that was ideal for dancing. It was country music with a beat that line dancers the world over would latch on to; most not realising that the trio of singers and musicians had picked up on it almost by accident some ten years ago.
"We were playing practically every honky-tonk there was in Texas, Arizona and New Mexico," explains Michael Bonagura, now Kathie Ballie's husband. "there was a lot of pop, even left-over disco music being played. So we had a 100 per cent country audience that was listening to disco. We figured that the audience might want to have some different beats, so we really started writing music with that in mind."
Bonagura and LeBoeuf had started out in 1968 in London Fog, a band playing Top 40 covers. They teamed up with Kathie Baillie, a New York-based session singer in the early 1970s and moved to Nashville in the early 1980s at a time when country was heavily influenced by pop and rock and regularly producing big crossover hits. The band saw their niche.
Their talents as writers, singers and musicians led to regular work in the studios singing on records by the likes of Ed Bruce, Marie Osmond and newcomer Randy Travis. By the time they landed their own RCA record contract in 1986 they were established as Nashville's premier back-up vocalists.
The band enjoyed seven Top 10 singles in a short three-year period but found that they were on the road so much that the creative end of their music was beginning to suffer. LeBoeuf left in 1989, leaving Kathy and Michael as a duo augmented by back-up vocalists.
"You spend your whole life, before you get a record deal, thinking about how great it will be to have a record deal," says Michael, "you work real hard at it, then all of a sudden you get that deal and every day seems to take you further away from the music part of the business."
Sitting and talking to Kathie, Michael and newest member Roger McDay, you soon get the impression that they're not terribly impressed by the business end of the music.
"I think if there's been anything positive about the last couple of years, it's that we've been on our own again, without a major label," insisted Michael. "we've been writing songs for ourselves."
Baillie and The Boys enjoyed their last chart hit in early 1991 with the acoustic ballad Treat Me Like A Stranger, taken from their final RCA album, THE LIGHT OF HOME, which also included the first version of Can't Stand To Be Unhappy, a recent hit for Bobbie Cryner.
They were dropped by RCA just over three years ago but have just completed a new album. They have toyed with the idea of marketing it themselves, but as Michael explains: "Our forté is making music and singing, it's not selling records, doing advertising and promotion."
"The music we've been making for the last couple of years just hasn't been accepted," adds Kathie. "it's incredible, because we have such a distinct sound that no one has been able to copy it. We don't want to sound like anybody else out there on the radio. We just want to be ourselves."