First published in Country Music People, October 1974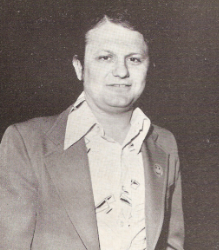 Innovation in country music has often been frowned on in the past, and when a group of Nashville session players got together back in 1969 to form Area Code 615, there were grave misgivings and plenty of criticism from staunch country fans. At the time I had this to say about the group: 'They are musicians who play in a funky, beaty style, owing little to country music, but plenty to r&b.'
Area Code 615 basically consisted of Kenny Buttrey, Charlie McCoy, Norbert Putnam, David Briggs, Mac Gayden, Wayne Moss, Bobby Thompson, Buddy Spicher and Weldon Myrick. A handful of the finest musicians in Nashville who for two albums and a few concert appearances, let their hair down and produced a new fusion of r&b and country music that proved very exciting listening.
Like Ernest Tubb when he added electric lead guitar, Jimmie Rodgers who used a small jazz combo and Bob Wills who incorporated brass, eventually the Area Code sound became an accepted part of country music. Five years after first hearing the group, and criticising them harshly, I now find their sound good and believe that it is an important and necessary extension to the basic country music we have come to know.
They met rock'n'roll head on and confronted the newer breed of West Coast musicians to assimilate a style to suit their own kind. The Area Code musicians emphasised the living nature of the music. The band was an intricate blend of individual country-rock musicians who nonetheless knew how to get into what each of the other was doing. The result as sampled on the two albums they produced—AREA CODE 615 and TRIP IN THE COUNTRY (now re-released as a double album on Polydor 2683-040)—is some of the best good-time music to be heard anywhere.
The second album is probably better than the first, although some of the impact is diminished by familiarity with the idiom. There's a sense of tightness and direction to the band, held together by the drumming of Kenny Buttrey and the work of Norbert Putnam. They move from hoedown to sheer funk with great alacrity,
Grey Suit Men
a rocker written by Gayden and sung by Buttrey to the long complex
Devil Weed And Me
, a mini-suite with some excellent piano from Briggs.
Charlie McCoy's harmonica playing is a sheer delight. He really carries
Stone Fox Chase
and adds some plaintive phrases all the way through their work. Those who prefer the bluegrass side will dig Bobby Thompson's banjo and Buddy Spicher's slashing fiddle on
Katy Hill
. Musicianship is a beautiful thing when used as a tool rather than an end and few people know how to manage it better than Area Code 651.
The group no longer functions, each member being more than a special soloist, but there are things that they can do best only when united. The group cohesive, the supreme collectivity of souls in a musical union will never die.
Country music needs musicians like those of the Area Code kind to drag its feet away from repetition and stagnation. Too much of the regular music produced by Nashville is mundane and stereotyped. It's a case of the same old licks day-in, day-out. Don't ever think though that what the Area Code people did was strictly country music. It wasn't. But it did reflect the changes that the music is undergoing in the 1970s, and it put back feeling, and a certain amount of 'roots' into a musical idiom that was fast strangling itself in outdated and outmoded methods that were formed many years ago.
On reflection the group gave country music a much-needed shot in the arm. Much of what went on it the two albums they produced gave others the incentive to experiment within the loose confines of country music. Too see what could be achieved without sacrificing feeling, and perhaps bring the music to a wider, untapped audience.