Apple & Setser - Apple & Setser
Bell Buckle Records
****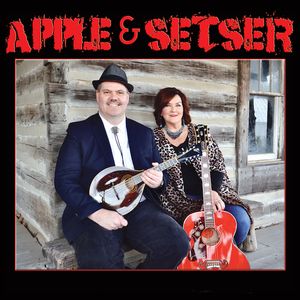 This is a rich and seeking record, braiding the natural connection between traditional Appalachian folk music and modern composition. Both Brad Apple and Pam Setser understand their Arkansas roots and continue to reconnect themselves to the music they started creating in the first place. The duo's rootsy underpinnings are the threads that bind these eclectic tracks, aided enormously by the pure, immediate and moving vocals that they share, full of rough-hewn and exquisitely captivating mountain harmonies—like the Carter Family for the 21st century. The seams in the way they've stitched those worlds together don't show at all … they move beautifully between the two. While the songs are lyrically nimble, their playing is the star of the show. The engineering is just plain beautiful. Listening with headphones feels like you're sitting in the centre of a lively jam circle. Brad and Pam are both dexterous pickers. It's a rich combination of skills to be sure, one that reflects the pair's decidedly down-home sensibilities.
Before pairing up as duo in 2017 both had enjoyed lengthy careers playing music. Multi-instrumentalist Pam with the Simmons Family Band prior to marriage and raising a family, and more recently with the Ozark Granny Chicks, Leatherwoods and her own band. Brad is a well-respected songwriter, producer, studio engineer skilled vocalist and multi-instrumentalist. The duo's sound is built equally around the stunning interplay of their vocals and instrumental expertise … their voices blending perfectly to create something immeasurably greater than the sum of its parts. They open with a revival of the old-time mountain song Hand Me Down My Walking Cane. An easy-going rendition with acoustic guitar (mostly picked), bass, mandolin, fiddle and banjo, and their harmony voices. The voices are crucial. More in a folksy vein is Grandma Danced With The Arkansas Traveler. Here, Pam's voice is featured front and centre, as strong and delicate as ever, as she reminisces over family get-togethers with an infectious rhythm that may cause you to dance a little in your seat. There's more reflection with A Friend You'd Never Met, another original song, featuring Brad's expressive vocals and exquisite guitar work that underpin a series of thought-provoking questions to a grandpa about the old days. This is one the finest examples of understated Americana that you'll be likely to hear in this or any other year.
They turn to classic bluegrass with a vibrant revival of Jim & Jesse's I'll Love Nobody But You, with banjo, fiddle and guitar interplay and on-the-mark vocals. Nostalgia is very much a focal point of the album, this comes through yet again with When The Wagon Was New, a gentle reminisce that is quite irresistible. It is a reminder that however disenchanted we get with the fast pace of life we can always look back and remember when time was a little slower and how an old rusted wagon can bring back fond memories and comfort. They also offer a couple of instrumental tracks. Hayes Hoedown, a rapid-fire original tune that features Pam on mountain dulcimer and the closing acoustic guitar rendition of When You And I Were Young Maggie, highlighting Brad's delicate fingerpicking style. There are several more shining moments that deserve a mention such as the acoustic folksy revival of Paul Anka's It Doesn't Matter Anymore, the plaintive Too Far Gone, a piano-led ballad featuring Pam's forlorn lead vocal and the fiddle-driven The Rake And Rambling Man, replete with morose fiddle and fingerpicking, an Appalachian twang, and Brad's husky vocals. This is roots music that's unassuming, expertly played and sung by two clear as glass voices.
www.pamsetser.com/apple-setser
August 2022