Ann & Ray Brett: Carryin' on duet traditions – British style!
First published in Country Music People, December 1981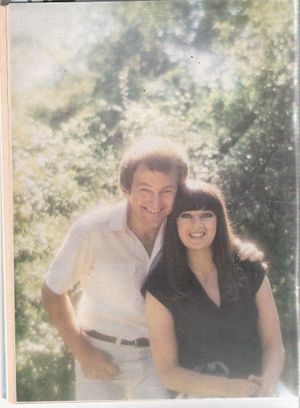 Rapidly notching up their tenth year as professionals on the British country music scene – although their association with the music stretches over a far longer period – ANN & RAY BRETT rate as one of Britain's favourite country couples. ALAN CACKETT tells their story... 
Having been introduced to country music through the music of Patsy cline, Johnny Tillotson, The Everly Brothers, Don Gibson and The Browns, I've always found Ann and Ray Brett to be one of my favourite acts on the British scene. The first time I saw them working must have been eight or nine years ago, and for me it was like turning back the years as they performed some classic songs from my mis-spent youth.
At the time Ann and Ray had just turned fully professional, They had spent the previous five or six years taking weekend bookings that didn't interfere with Ray's work as a self-employed painter and decorator. Country music came to this pair naturally. They grew up in Corby, Northants, a place renowned in recent years for its unemployment problems. Known as 'Little Scotland,' Corby is made up of ex-Scots, and that's where the country music influence comes into Ann and Ray's lives.
Country music has always been popular with the people from Scotland and they carried their love for the music to Corby, and both Ann and Ray can recall growing up with country music ringing in their ears. When they started courting during the early 1960s they discovered a shared interest in music. Urged on by Ray, Ann entered a local talent contest. Whilst Ann was practising her songs, Ray sang along and they discovered that they had a natural harmony sound.
They continued to sing together, accepting bookings in and around Corby before they married, and decided to stick with the music after the marriage, initially for fun, but also because the money came in handy. Mixing an entertainment career with raising a family is never easy, especially on the rather shaky British country music scene, but Ann and Ray have succeeded. They have three children, Debbie (18), Dawn (14) and Peter who is eight.
For several years Ann and Ray took the three children around with them for weekend shows in their motor caravan, and young Peter spent most of his early life touring up and down the roads of Britain. In recent years Debbie and Dawn have been at the right age to look after Peter, though Ann and Ray are always a little reluctant to be away from home too long.
They come across as the perfect, happily married couple. It's not a false impression, though they will both be quick to point out that they have their ups and downs. Ray is the talkative one, Ann quieter and a little bit shy. Having turned professional in 1972, Ann and Ray soon made their mark on the British country scene. On stage the duo offset each other superbly. Their act has always remained simple but highly effective. Ray plays electric guitar with great skill, being able to mix lead and rhythm cleverly, whilst Ann, not to be out-done, is something of an expert on tambourine.
They have appeared at literally every country music club in the British Isles, and though Ann and Ray love the clubs, meeting the country fans and talking about the music, they always prefer working concerts. They rarely headline shows, but have discovered their niche as an entertaining supporting act. Their act is combination of old and new country songs, a little touch of comedy and quite a few original numbers. This pair have always kept up with what is happening across the Atlantic in Nashville, they were amongst the first to pick up on Crystal Gayle, including
Somebody Loves You
in their act months before the song was released in Britain. They were also into people like Larry Gatlin and Don Williams before they were commercially successful.
Like so many British country acts, Ann and Ray have come up against problems in getting their music across to the public. Unperturbed by the media's general dislike for country, this enterprising pair went into the recording studios for the first time back in 1974 and recorded an album, AT LAST, which was completely self-produced and self-financed. It turned out to be an excellent example of the kind of sounds you'd hear by Ann and Ray at one of their many performances.
Included were
I Heard The Bluebirds Sing, Mystery Train, Why Must You Throw Dirt In My Face
and a Ray Brett original,
Don't Cry On My Shoulder
. The production afforded Ann and Ray ample opportunity to weave a spell consisting of melodic and memorable tunes done up with the minimum of accompaniment. Over a relatively short period of time this album sold several thousand copies, all handled by Mr. and Mrs. Brett, either at their many shows or by post from their home.
This led to them recording a second album, SOMEBODY LOVES YOU, which was released by Sweet Folk and Country in 1976. This time the pair used a much fuller sound provided by Pete Connors on drums, banjo, mandolin and fiddle; Roly Wolstenhome on bass; Steve Darington on piano; and steel guitarist Barry Smith from Frank Jennings' syndicate. Ann and Ray offered a clean, pleasant collection of modern country ranging from
Blanket On The Ground
to
When I Stop Dreaming
, and
I Recall A Gypsy Woman
to another Ray Brett original,
What More Can I Do
.
During the past few years Ray has concentrated more on his songwriting, recognising that good original material is more important than just interpreting cover versions of American songs. "I feel that songwriting is certainly the direction that I should be heading," he says. "I think I have something to offer with my songs, it's just a case of getting them across to people."
Like so many British country songwriters, Ray Brett has come up against the usual prejudices that plague the scene, yet he has this determination that I think will win out. He has sent dozens of demo tapes of his songs to music publishers, both here and in the States, and though his hopes have been raised several times, nothing really concrete has come from songs that show rare promise and are crying out to be recorded by some major acts.
One of his finest creations,
What More Can I Do
, written some five years ago and recorded by Frank Jennings Syndicate, is tailor-made for an easy listening country artist like Glen Campbell, Val Doonican or Faron Young. And even today Ray hasn't given up hope of getting the songs recorded by an established name. "I did get
What More Can I Do
to Glen Campbell," he explains.  "I contacted Charles Webster at EMI in London, he was enthusiastic about the song and got a tape to Campbell in America. But so far nothing has happened. Of course Campbell has changed direction and that song doesn't suit his present style, which hasn't really helped.
The song is still performed quite regularly on the British scene by John Aston, who also includes another of Ray's songs,
He's A Dreamer
, in his act. That latter song is a nice mid-tempo tune that is also performed by City Limits, and has been recorded by Frank Ifield. Ann and Ray have worked regularly with Ifield during the past couple of years, and Frank has shown interest in several of Ray's songs.
"We worked a couple of shows with Frank and Barbary Coast, just as a supporting act. Then it was suggested that we sing back-up vocals for Frank to give him a fuller vocal sound, and quite often we have done shows like that. But it's not always possible to get the dates to coincide, so there's no way it could develop into a regular thing."
The song that possibly has the greatest potential out of those that Ray has written is
There's No More You And Me
, a sad, lonesome ballad that has equal appeal to country and MOR listeners.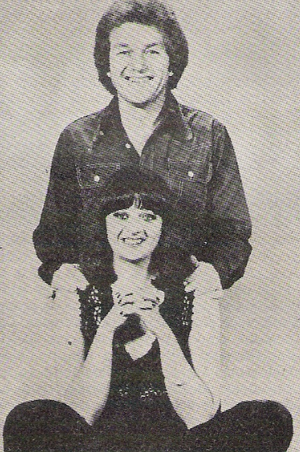 "I remember we sang
No More You And Me
and a couple of other songs on Terry McKenna's radio programme, Hereford Country, and the response from listeners was incredible. There were phone calls and letters asking where they could buy the record. Somehow John Merritt at RCA's Sunbury Music heard about this and I sent him a cassette of the songs. He offered to publish them for six months, and if nothing happened the copyright would revert back to me. He was really enthusiastic saying that people like Ronnie Milsap would be interested in the songs."
"At the same time Tony Peters of Acuff-Rose showed interest in
No More You And Me
. Just when it looked as if something might happen, John Merritt got in touch and said that though he's tried to place the songs, no one seemed interested, so he was handing the copyright back to me."
"Gene Watson was another who showed interest in a song. It was on his first British tour. He heard us singing it at one of his shows in the North. The audience were familiar with the song and gave us some good applause. Gene said he would like a copy of the song. I didn't have a demo with me, so I sent a tape to Gene's manager but heard nothing. I spoke to Gene at Wembley at Easter, but he couldn't remember the song."
Rejection of your songs doesn't necessarily mean they are sub-standard. It's very much a case of having the right artist at the right time. For an established songwriter it's fairly simple, but for a newcomer it can take several years. I'm convinced that for Ray Brett the right time will come along. The songs I've heard that he has written are as good, if not better, than many of the songs currently being recorded in Nashville.
Ray has even tried his luck with publishers in Music City, but a few dubious offers have put him off that track. He has submitted songs to various song contests in Ireland, Gibraltar, and even Pontin's Search For A Star, but so far has failed to make any impression. Basically his songs are geared towards an easy-listening format, but possibly they are not 'country' enough for the country singers and 'too country'' for the general pop market.
But he doggedly persists in trying to get his songs accepted. Country fans up and down the clubs have been accepting his songs for several years, and for the past few months Ann and Ray Brett have been busy recording a new album containing some of those excellent songs. In the meantime they work regularly on the club and concert circuit, performing the well-known country standards blended with some of Ray's originals. They are more than contented with their life, but Ray's big dream is to see one of his songs recorded by an established star, maybe even make an impression in the charts. And if he can just maintain the high standard he's already achieved, then I feel that ambition just might come true.