Anita Cochran - Under The Spotlight
First Published in Country Music International, August 1997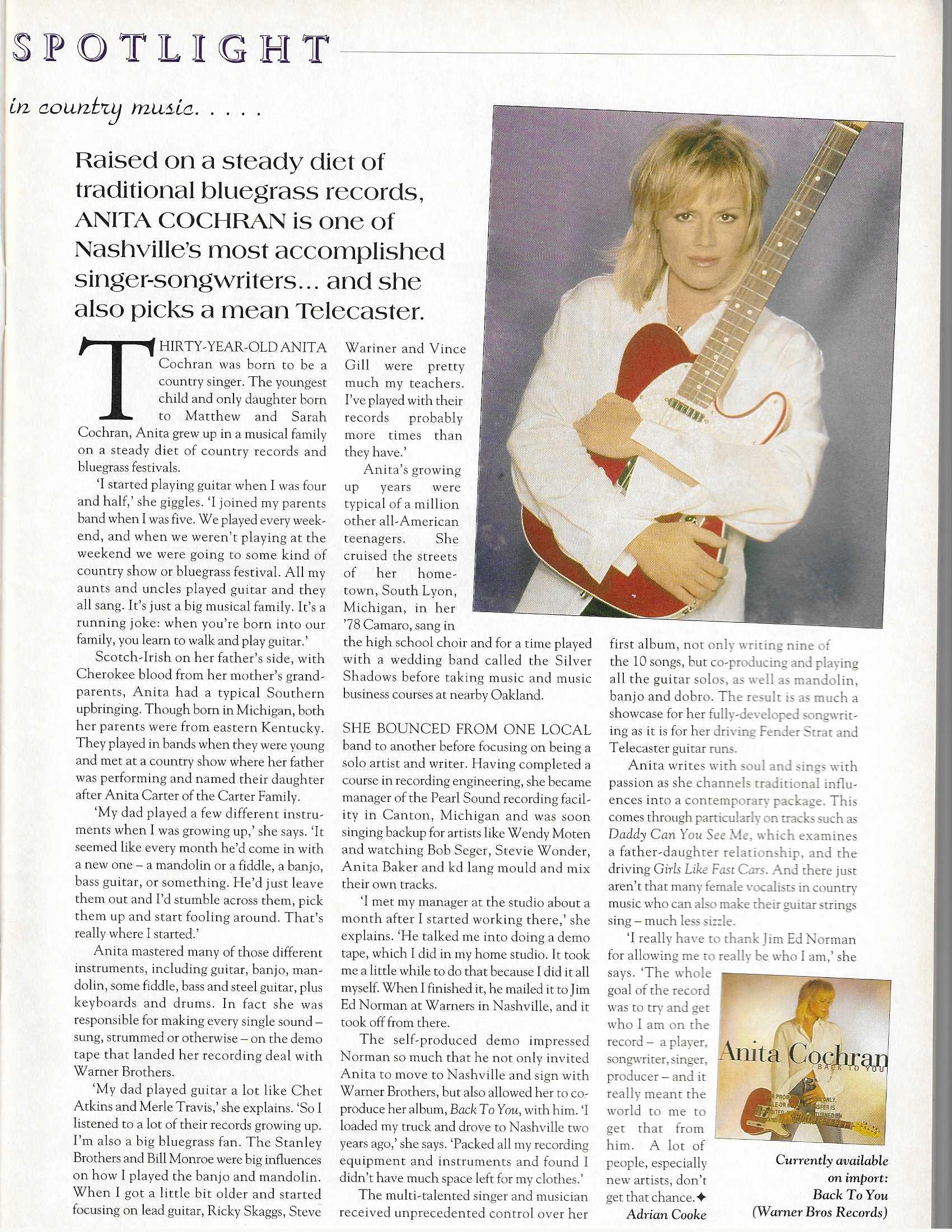 Raised on a steady diet of traditional bluegrass records, Anita Cochran is one of Nashville's most accomplished singer-songwriters ... and she also picks a mean Telecaster.
Thirty-year-old Anita Cochran was born to be a country singer. The youngest child and only daughter born to Matthew and Sarah Cochran, Anita grew up in a musical family on a steady diet of country records and bluegrass festivals.
"I started playing guitar when I was four and half," she giggles. "I joined my parents' band when I was five. We played every weekend, and when we weren't playing at the weekend, we were going to some kind of country show or bluegrass festival. All my aunts and uncles played guitar and they all sang. It's just a big musical family. It's a running joke: when you're born into our family, you learn to walk and play guitar."
Scotch-Irish on her father's side, with Cherokee blood from her mother's grand-parents, Anita had a typical Southern upbringing. Though born in Michigan, both her parents were from eastern Kentucky. They played in bands when they were young and met at a country show where her father was performing and named their daughter after Anita Carter of the Carter Family.
"My dad played a few different instruments when I was growing up," she says. "It seemed like every month he'd come in with a new one—a mandolin or a fiddle, a banjo, bass guitar, or something. He'd just leave them out and I'd stumble across them, pick them up and start fooling around. That's really where I started."
Anita mastered many of those different instruments, including guitar, banjo, mandolin, some fiddle, bass and steel guitar, plus keyboards and drums. In fact, she was responsible for making every single sound—sung, strummed or otherwise—on the demo tape that landed her a recording deal with Warner Brothers.
"My dad played guitar a lot like Chet Atkins and Merle Travis," she explains. "So I listened to a lot of their records growing up. I'm also a big bluegrass fan. The Stanley Brothers and Bill Monroe were big influences on how I played the banjo and mandolin. When I got a little bit older and started focusing on lead guitar, Ricky Skaggs, Steve Wariner and Vince Gill were pretty much my teachers. I've played with their records probably more times than they have."
Anita's growing up years were typical of a million other all-American teenagers. She cruised thr streets of her hometown, South Lyon, Michigan, in her 1978 Camaro, sang in the high school choir and for a time played with a wedding band called the Silver Shadows before taking music and music business courses at nearby Oakland.
She bounced from one local band to another before focusing on being a solo artist and writer. Having completed a course in recording engineering, she became manager of the Pearl Sound recording facility in Canton, Michigan and was soon singing backup for artists like Wendy Moten, and watching Bob Seger, Stevie Wonder, Anita Baker and kd lang mould and mix their own tracks.
"I met my manager at the studio about a month after I started working there," she explains. "He talked me into doing a demo tape, which I did in my home studio. It took me a little while to do that because I did it all myself. When I finished it, he mailed it to Jim Ed Norman at Warners in Nashville, and it took off from there"
The self-produced demo impressed Norman so much that he not only invited Anita to move to Nashville and sign with Warner Brothers, but also allowed her to co-produce her album, BACK TO YOU, with him. "I loaded my truck and drove to Nashville two years ago," she says. "Packed all my recording equipment and instruments and found I didn't have much space left for my clothes."
The multi-talented singer and musician received unprecedented control over her first album, not only writing nine of the 10 songs, but co-producing and playing all the guitar solos, as well as mandolin, banjo and Dobro. The result is as much of a showcase for her fully-developed songwriting as it is for her driving Fender Strat and Telecaster guitar runs.
Anita writes with soul and sings with passion as she channels traditional influences into a contemporary package. This comes through particularly on tracks such as Daddy Can You See Me, which examines a father-daughter relationship, and the driving Girls Like Fast Cars. And there just aren't that many female vocalists in country music who can make their guitar strings sing—much less sizzle.
"I really have to thank Jim Ed Norman for allowing me to really be who I am," she says. "The whole goal of the record was to try and get who I am on the record—a player, songwriter, singer, producer—and it really meant the world to me to get that from him. A lot of people, especially new artists, don't get that chance."