Andrew Farriss - Andrew Farriss
BMG Records
****
Most will probably recognize Andrew Farriss as the long-time keyboard player with Australian rock band INXS. He was also responsible for co-writing many of the band's biggest hits with lead vocalist Michael Hutchence. Following Hutchence's death in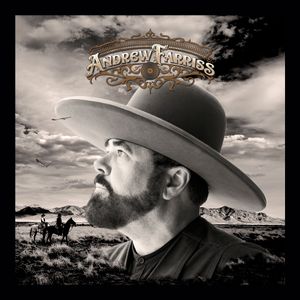 1997, Farriss continued as the band's main songwriter until they split in 2012 and has since maintained a successful career, penning songs recorded by Dua Lipa, Professor Green, Jenny Morris and others. This is his first solo album. It was due for release last May but due to the pandemic was delayed until this spring. To keep fans onboard he released LOVE MAKES THE WORLD, a stop-gap EP last October. This album is quite different to that EP. Recorded mainly in Nashville, it reflects the vision of a true musical master, an artist beholden to the past while fashioning a palette that looks forward to the future. Loosely, he has taken the storytelling ethos of country music and created visual tales of gunfighters, outlaws, native Americans and bandits and wrapped them up into a tapestry of freedom, romance, Australian history and wild-west folklore. That a rock star from Down Under can produce the kind of album that Nashville's mainstream country music community has steadfastly ignored for more than 40 years, should have heads hanging in shame on Music Row. Mainstream country acts of the past, like Marty Robbins, Johnny Cash, Merle Haggard, Moe Bandy, Hank Snow and Porter Wagoner, would regularly record concept albums that paid tribute to America's rich heritage. For the past five decades virtually every mainstream country act has steadfastly chased radio gold, aiming each song recorded at those all-important radio playlists that will turn their career into gold and platinum as they move stylistically further and further away from everything that country music should stand for.
Andrew Farriss' greatest strength is his songwriting and every one of these dozen songs is a great example of that strength. The result is a fantastic album that easily engages the listener from start to finish. The hushed strings, sound effects and Spanish guitar intro to Bounty Hunter—Hummingbird, sounds like spaghetti western gunfight music, before wandering across a desert landscape as the yearning romantic lyrics unfurl tumbleweeds and open desert skies. A more earnest take on love can be found in Come Midnight. The singer honouring a partner who 'gets him' and makes it clear that he is there for her when they are apart, whatever the time. The strident rhythm and lurking pedal steel hovering in the background creates an instant engagement further enhanced by his distinctive vocal. With the Kelly Gang is a solid track from the opening mandolin riff as this yarn from Australia's wild and woolly past unfolds.
The recent single, Run Baby, Run, is a meaty pop-rock song about being free to live life the way you want to in these difficult times. With its catchy 'na-na-na' chorus and swirling keyboard way back behind the melodic electric lead, it's nigh on impossible to listen to this track without needing to get up and boogie. The same is true of the next track. Cajun Girl is a fun two-step with Louisiana fiddles, pedal steel and infectious lyrics that will have you grinning from ear-to-ear. It's back out West for Apache Pass as he captures visions of the past, through mental images of a mind wandering down dark trails of wagon trains, bluecoats, tombstones and Geronimo, and compares it to the current-day drug cartels using that same old pass down in New Mexico. That segues into Starlight with an ominous western theme of atmospheric horns as he reflects back on his life and partner as he rests up in Apache Pass. Good Momma Bad, a co-write with Music Row tunesmiths James Dean Hicks and Buck Johnson, has a jaunty, funky groove with a modern country vibe provided by mandolin, fiddle, pedal steel and twangy guitars and hearty background vocals. A smoother arrangement is utilised for Drifting, a freewheeling anthem with life-affirming lyrics and lashings of mandolin, acoustic guitars, pedal steel and subtle strings.
Atmosphere is the key word for this album: Soaked in country hallmarks and nuanced flecks of Americana, at times it's a slice of the old country in more ways than one. An album that excels through invention and ingenuity by a brilliant and unique talent …  a real, old-fashioned storyteller and a wonderful songwriter.
March 2021