Andrew Duhon - Emerald Blue
Self-released
****1/2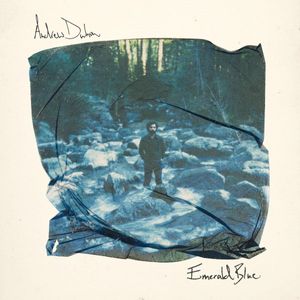 This is a fabulous collection that I've been playing non-stop since mid-May, and don't see myself stopping anytime soon. A quietly devastating album defined by Andrew Duhon's enviable economy of expression that explores a range of emotions and experiences with an exceedingly impressive drive and dynamic. The themes cover love, sorrow, heartbreak but also encourage ambition, friendship and unity against a superb foot-tapping come head-nodding musical outage. If he weren't so dang good at singing and playing guitar, Andrew might make a fine novelist. These songs and stories are restless, dissatisfied, hemmed in by personal obsessions, but they also open out into something larger than one guy and a guitar, something communal and shared and uplifting. Folk-rock roots complement the introspective nature of many of the songs; the recordings have such texture and depth they resemble topographic maps, perfectly preserving every peak, valley, and crevice.
Andrew Duhon certainly makes a marked impression, but one also must give credit to the impressive ensemble that offers him such striking support from the first song to the last. Jano Rix (drums, percussion, harmonies) and Myles Weeks (upright and electric basses and harmonies) from his touring trio are joined by Dan Walker (keyboards, accordion) with Andrew on various acoustic and electric guitars. Indeed, with opening track, Promised Land, Andrew and company immediately assert their emphatic stance. Both casual and deliberate, it sets the tone for all that follows from that point on. The rambling narrative that questions the very ethics of being an American in this day and age, provides an intoxicating entry all its own. The Louisiana-born singer blends his deep Mississippi roots with his new life spent partly in the Pacific Northwest with his partner. The easy-going title track compares his home down south with his travels around Washington State with his new beau. A soothing alluring soundscape of vocals and instrumentation as stunning and emotive as the well-written lyrics delve into the unexpected experiences. Likewise, Castle On Irish Bayou, a swampy blues-rock love song, is an ode to a well-known, slightly weird building on Interstate 10 out of New Orleans. The busy picking and slide guitar finds drive and devotion stirred up emphatically with equal measure. With subtle musical textures and soft harmonies, it's hard not to get swept up in the emotion of the song. Ultimately the song showcases the growth of an exciting songwriter.
He takes a different route with the meditative Everybody Coloured Their Own Jesus, a song with a sense of inevitability as he outlines that faith, respect, morals and love are limitless and should not be confined by colours, traits or rules. Southpaw, is a tune for the lonely by the lonely ... a beautiful song. Broken-hearted and in full possession of the risks of love, as well as the thrill of falling, the rush of it, even the hollow-point loneliness that fills in the gaps. What he does here, is simplify the math of love, which doesn't have to tear us apart. It can be kind and tender, but it can also make someone die a little inside. He is keenly aware of its traps, and his assured songwriting, so generous and open-hearted, is mature enough to handle rejection, but its moments of childlike wonder and joy are healing. One that was probably as healing for Andrew to write as it is to take in as a listener. Beautiful, introspective and loaded with great guitar tones. Ultimately, it's that ability to seize emotion from such a personal perspective that defines Andrew Duhon's abilities and makes EMERALD BLUE such a genuinely impressive offering.
July 2022