Andrew Beam - Selma By Sundown
Moon Watcher Records
****
North Carolina-born Andrew Beam is an outstanding hard-country, singer-songwriter whose songs are full of substance.  Folks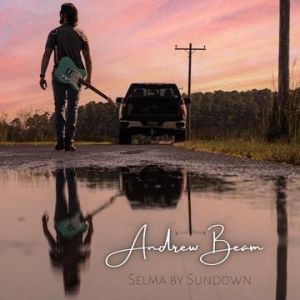 along Music Row keep rummaging through demo CDs hoping to find the kind of whiskey-soaked songs that fall naturally from Beam's pen and sound just right in his voice. A collection of freewheeling honky-tonk anthems that will speak to every outlaw soul, this is country music that blows open the ears and doors so firmly you really won't know what to do with it. What makes Andrew Beam a special talent and what makes his debut a meaningful release, is the way he takes the familiar themes of regret, cheating, murder, rural life and Saturday night dances and builds upon them.
The son of a bluegrass-picking preacher, he grew up in the Blue Ridge Mountains in a rural community where respect for family and neighbours was paramount.
During his high school years he took up guitar and songwriting, learning from the mother lode of bluegrass festivals, church socials and front porch get-togethers.
This upbringing informs his life and music. Following university graduation he became a game warden, whilst playing his unique brand of rock-inflected trad country at weekend bars and dances. A friend introduced him to RCA Victor/Moonwatcher Records producer Joe Taylor, who took a keen interest in Andrew's music and career. Having built up a growing following across South Carolina and Georgia, three years ago he turned to music full-time and with Joe Taylor sitting in the producer's chair, began work on this debut album at Salt Creek Recording, Bennetts Point, South Carolina.
At first blush, Andrew Beam sounds like he just wasn't made for these times. His singing is a throwback to a bygone era, stirring up echoes of the deep hillbilly twang of Vernon Oxford, Dwight Yoakam or Gary Allan. He lays out his stall with the bold opening statement Country Ain't Dead. A stone country arrangement featuring wafting pedal steel, twanging guitars and an irresistible boot-tapping rhythm. He makes a solid case for why we all need those 3-chord songs of heartbreak with chill-inducing steel guitars spinning away that leads to some eager two-stepping. Truck-driving and drinking songs used to be a staple of country music and Andrew revives both. The title song, penned by Joe Taylor, was inspired by CB chatter he heard driving from New York City to South Carolina. A smooth instrumental backdrop lays the foundation for an aching vocal, that feels a bit like a homecoming waiting to come, as he channels heartfelt lyrics remembering what's most important to him as he heads down the highway towards his loved one. Three Sheets To the Wind is a different kind of honky-tonk drinking tune. The 'yo-ho, yo-ho' opening set me up for the current detestable musical fad of sea shanties, but then it craftily settles into a pedal steel driven honky-tonker that transports the listener from the ocean to the barroom. He remains sitting on a barstool for Might As Well Dance, a toe-tapping, beer-drowning song of bitterness and regret. A chance encounter with a lonely woman and with his new boots on, there's nothing else to do than wipe away the bad memories and head to the dancefloor.
The Beam In Me mines the sweet spot between a confessional punk attitude and twang-filled outlaw country. Wadmalaw Saturday Night is an affectionate ode to the people of the rural heartland, his people … finding the ideal combination of rowdiness and reverence.  Meanwhile, Semalee takes a gentler approach, with just an acoustic guitar and utilising similes, he fluently explains how he feels about his girl. Though very personal, it's written and sung in such a way that it has universal appeal. He gets even deeper with the raw Black And White, a song of healing that not only America but the whole world is in desperate need. An acoustic, soulful duet with Byron Addison the lyrics bring Andy Griffith and Martin Luther King Jr together to put the world to rights. Like so many of his songs, this shows Andrew Beam to be a deep, thoughtful person with a caring heart.
To see an artist unapologetically be themselves is exciting, and I can't wait for him to be embraced by the world at large. This is 'country' and country needs someone like Andrew Beam to be heard by the fans. Listen, contemplate, explore—each song is a thick forest of emotion worthy of getting lost in. 
April 2021