Wanted: Dead Or Alive
First published in Country Music International – October 1994
They called them the outlaws. The country singers who moved out of Nashville, grew their hair, sung songs about the Vietnam War, took to hellraisin' in a big way and gave country music its dirty edge again. Why did they do it and where are they now?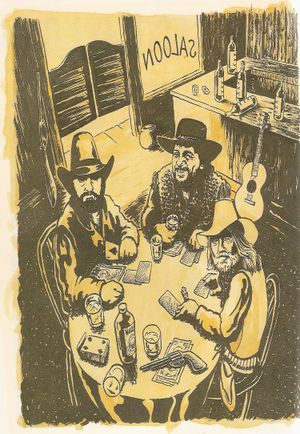 Outlaw Country Music erupted sometime in the mid-1970s, although no one can really decide when. Hailed as the new dawning of country music, this grand revolution was gonna be country music's elixir of everlasting life. The artist-as-outlaw idea was not new. Past country acts such as Hank Williams, Lefty Frizzell, Bob Wills and Floyd Tillman could all be considered outlaws in their day too.
Waylon Jennings, Willie Nelson, Tompall Glaser and the other 1970s outlaws took it all one step further. Not only did they refuse to comply with the accepted way of doing things in Nashville, they openly displayed their distrust of Nashville's conservative music scene. Along the way they created a 'new' music and a lifestyle that was exploited and marketed in such a way that, in the end, these arrogant and free-thinking outlaws became an integral part of the very mainstream constraints they had rebelled against. It did, however, open the way for a flood of new ideas and styles, which can still be seen and heard in country music today.
Though the general breakthrough for the outlaw movement is set in 1976 and the release of THE OUTLAWS album, the real beginnings can be traced back a few years earlier and the arrival in Nashville of singer-songwriter Kris Kristofferson. When, in 1970, his song, Sunday Morning Coming Down won the CMA Song of the Year award, Kristofferson turned up at the presentation in jeans and with long hair. The irony of it all is that, though Kristofferson had been a roaring boy throughout his life, he was not personally rebellious, but a gentle, slow-moving, even melancholy character.
As a catalyst for Nashville's acceptance in the 1970s of the youth culture of the 1960s, Kristofferson brought a new depth and honesty to country lyric writing and, perhaps more than any other single country artist, bridged the gap between mainstream country and pop audiences. That this had more to do with his personality and appearance than his music, was not lost on some other Nashville acts.
Unwittingly, Kristofferson's name became a rallying point for Willie Nelson, Waylon Jennings, Tompall Glaser and Billy Joe Shaver who, like him, were dissatisfied with the hidebound conservatism of Music Row and drew sustenance from his rejection of a lifestyle that implied redneck philosophies, flashy clothes and the customary Cadillac in the drive.
Coming of age in the 1960s, Kristofferson's approach to songwriting was guided by cultural events different from those of earlier country songwriters and this was reflected in his lyrics which were candid and compelling, yet still identifiably country.
"The whole period of time in the 1960s, for people who grew up when I did, was disorienting," says Kristofferson. "We grew up thinking God was on our side and that America was for the underdog. Then we had the assassinations and all of a sudden you just didn't know who to believe any more, who to trust and respect."
It was under these changing perspectives that country music entered the 1970s in disarray. Several country artists were disillusioned by the way they felt their careers were being held back by the Nashville session system. The music was becoming stagnant, confined by the format of completing four songs in a three-hour session, the arrangements usually worked out by the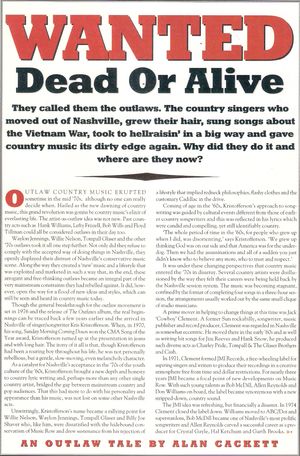 same small clique of studio musicians.
A prime mover in helping to change things at this time was Jack 'Cowboy' Clement. A former Sun rockabilly, songwriter, music publisher and record producer, Clement was regarded in Nashville as somewhat eccentric. He moved there in the early 1960s and as well as writing hit songs for Jim Reeves and Hank Snow, he produced such diverse acts as Charley Pride, Tompall & The Glaser Brothers and Cash.
In 1971, Clement formed JMI Records, a free-wheeling label for aspiring singers and writers to produce their recordings in a creative atmosphere free from time and dollar restrictions. For nearly three years JMI became the focal point of new developments on Music Row. With such young talents as Bob McDill, Allen Reynolds and Don Williams on board, the label became synonymous with a new stripped-down, country sound.
The JMI idea was refreshing, but financially a disaster. In 1974 Clement closed the label down. Williams moved to ABC/Dot and superstardom, Bob McDIll became one of Nashville's most prolific songwriters and Allen Reynolds carved a successful career as a producer for Crystal Gayle, Hal Ketchum and Garth Brooks.
Clement hung out with Tompall Glaser and Waylon Jennings, acting as a kind of father-figure, while both musicians stepped out of Nashville's assembly line to make music that was a little more meaningful.
"Chet [Atkins] wanted me to do what I wanted to do," explains Waylon. "I just couldn't do it in the framework of what they had going: that whole system of doing four songs in three hours. Sometimes we'd get close to the edge, but we'd never reach it. I'm sure that lack of communication was part of the problem. Chet was very anti-drugs and everyone knows what I was like at the time. And don't forget: the guy the drunk man hates most is the sober man."
More than anyone else, Waylon had paid the price for the restrictive formulas of country music. By 1972 he was just about ready to quit country music for good. Instead, he gave it one last shot and linked up with a new manager Neil Reshen, who came to Nashville, confronted Chet Atkins and the RCA management and eventually landed Jennings a new recording contract that gave him the freedom to not only produce his own recordings under WGJ (Waylon 'Goddam' Jennings) Productions, but also have control over advertising and promotion budgets.
During these negotiations Waylon kept away from the RCA studios. Finally, he returned in December 1972 to produce his first session: the resulting four tracks were included on the Lonesome, On'ry And Mean album in the spring of 1973, which saw Waylon sporting a beard and long straggly hair for the first time. Musically, the album did not change things too much from his previous albums. It was just one step further down the road in the direction that Waylon wanted to take his music.
The term 'outlaw' in country music is credited to Tompall Glaser's aide-de-camp and columnist Hazel Smith, who was first to push a promotional campaign stressing outlaws in 1973. A little later, journalist Dave Hickey wrote a piece titled In Defence Of The Telecaster Cowboy Outlaws, contrasting the lifestyles of Waylon, Willie and the others to that of the Nashville establishment. Waylon credited Hickey's piece in the beginning of the song, Don't You Think This Outlaw Bit's Done Got Out Of Hand, when he wrote: 'someone called us outlaws in some ol' magazine…'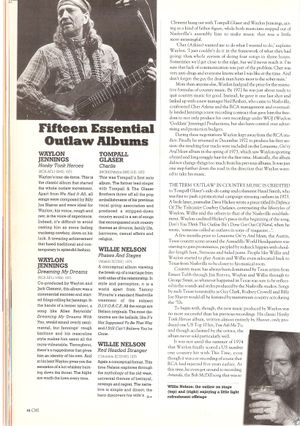 A few months prior to Lonesome On'ry And Mean, the Austin, Texas country scene around the Armadillo World Headquarters was starting to gain prominence, peopled by redneck hippies with shoulder-length hair, Stetsons and faded jeans. People like Willie and Waylon started to play Austin and Willie even relocated back to Texas from Nashville to be closer to his musical roots.
Country music has always been dominated by Texas artists from Ernest Tubb through Jim Reeves, Waylon and Willie through to George Strait, so whatever happened in Texas was sure to be reflected in the sounds and styles produced by the Nashville studios. Songs by such Texas tunesmiths as Guy Clark, Rodney Crowell and Billy Joe Shaver would all be featured by mainstream country acts during the 1970s.
To begin with, though, the new music produced by Waylon was no more successful than his previous recordings. His classic Honky Tonk Heroes album, written almost entirely by Shaver, only produced one US Top 10 hit, You Ask Me To, and although acclaimed by the critics, the album never sold particularly well.
It was not until the summer of 1974 that Waylon finally scored a US number one country hit with This Time, even though it was a re-recording of a tune that RCA had rejected five years earlier. At this time, he even got around to recording Amanda, the Bob McDill song that was so perfectly tailored not only to Waylon, but to all those who feel they've compromised one time too many: 'I've held it all inward, God knows I've tried, but it's an awful awakenin' in a country boy's life, to look in the mirror in total surprise at the hair on my shoulders, and the age in my eyes.'
By the end of 1973 Waylon was playing New York rock clubs like Max's Kansas City, the Palomino in Los Angeles and opening stadium shows for the Grateful Dead. Meanwhile, Willie left RCA and signed with Atlantic Records out of New York, recording two superb albums, Shotgun Willie and Phases And Stages. The latter, particularly, is among the greatest country albums of the 1970s. The irony of it is that the album was recorded for RCA and Neil Reshen, who had become Nelson's manager, negotiated it away from RCA for an Atlantic release.
Like Jennings, Nelson's first 'outlaw' recordings were not a commercial success. It wasn't until he signed with Columbia Records in 1975 and produced the Red Headed Stranger, million-selling album and had a massive crossover hit with his recording of the 30-year-old country classic Blue Eyes Crying In The Rain, that Willie Nelson finally found acceptance for his music.
"They talk about progressive country but it's really progressive listeners," Willie emphasised at the time. "I play country guitar, live in the country, eat country food so I'm a country boy and play country music."
But Tompall Glaser found trying to achieve any degree of commercial success with his 'outlaw' music even more difficult than Jennings or Nelson. One of Nashville's leading rebel figures for many years, this was really brought home following the split from the successful country trio, Tompall & The Glaser Brothers in 1973.
Glaser reached far beyond the traditional country audience during his short-lived solo career. The songs he recorded had lyrics more akin to the sensibilities of contemporary rock than the simplistic emotion of middle-of-the-road country music. He formed his Outlaw Band and recorded five solo albums which included such songs as An Ode To My Notorioius Youth (Barred From Every Honky Tonk) and Broken Down Momma.
"We got a lot of resistance at that time," Tompall reflects, "but I don't think we hurt 'em any. Me and Waylon used to sit and listen to Jimmie Rodgers by the hour, then Eddy Arnold and Hank Williams; all the greats."
It was not until 1976 and the release of Wanted- The Outlaws that the music really gained a commercial foothold. Jennings, Nelson, Glaser and Waylon's wife, Jessi Colter, teamed up for what was nothing more than a compilation set. But it was shrewdly named; referring to the 'outlaw' persona. The three men had successfully cast themselves as the last of the pioneers: rugged individualists in a society increasingly homogenised.
This myth-making dominated the album, especially Jennings' two solo contributions, My Heroes Have Always Been Cowboys and the magnificent Honky Tonk Heroes. Yet the music was really nothing new. The artists had simply taken their inspiration from an older, more honest, country music tradition than the bland Nashville sound.
Honky-tonk music from the 1930s and 1940s played a major role in shaping the music. All three were connoisseurs of country music history and Tompall even revived the classic Jimmie Rodgers' oldie, T For Texas. It was the western myth revisited. But this album also showed how the possibilities of country music can be stretched by rock. They assimilated the freedom and vision gained by rock songwriters, yet held on tenaciously to their country heritage.
WANTED became the first country album to go platinum and even made the Top 20 pop chart in America. In 1975 Waylon won the CMA Male Vocalist of the Year and the following year he and Willie walked off with the Duo of the Year, while THE OUTLAWS was named Album of the Year. It appeared that the supposed animosity between country's conservative mainstream and the 'outlaws' had now been largely forgotten. Rebelling was good for business, something even the most staid redneck could appreciate.
There were many other artists who played an integral role in the growth and success of outlaw country music. Some had been around Nashville for years, others came to Music City hoping to achieve the same kind of success and recognition for their music.
Johnny Paycheck, always something of a renegade, shook off the constraining production formalities of Billy Sherrill to produce some of his finest work, resulting in several Top 10 hits such as I'm The Only Hell (Mama Ever Raised) and Take This Job And Shove It.
David Allan Coe, another who was regularly produced by Sherrill, was for many years billed as 'The Mysterious Rhinestone Cowboy.' A strong romantic, despite the tough image, many of Coe's finest numbers have been love songs like Would You Be My Baby and Just To Prove My Love For You. His strange lifestyle never sat easily in Nashville and though he commanded a sizeable cult following, he rarely made it on to the country playlists.
Then there was Gary Stewart. A raucous, hard-edged honky-tonker, he lived out the lyrics of his songs as a boozer and drug addict. Stewart was always capable of stirring a listener as few singers can. During the 1970s he produced some of the best country music of them all. Sadly, his wild lifestyle curtailed a promising career.           
Pretty soon, too many of the 'outlaw' country stars began to rely on old pop tunes and outlaw retreads that generally fell into a well-worn pattern and arrangement. Slowly, the whole movement become respectable and gained acceptance with the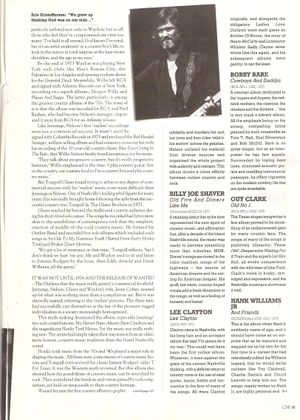 conservative Nashville music business. Only Joe Sun, and Hank Williams Jr were able to carry the music into the 1980s with any real conviction.
Looking back, it's now been 20 years since so-called 'outlaw' music first arrived in Nashville. Though the music has been revived by new 'outlaws' such as Travis Tritt, it's just not the same. You can't go back in time. That was then and this is now. And Waylon Jennings and Willie Nelson are now accepted as part of the respectable mainstream of country music. It's ironic that Waylon even wore a tuxedo when he co-hosted this year's TNN Music City News Country Awards Show and last year recorded a children's album. Any way you want to look at it, this is hardly the sort of thing you'd expect from an outlaw, even a semi-retired one who's supposedly gone straight!
Fifteen Essential Outlaw Albums
WAYLON JENNINGS – Honky Tonk Heroes – RCA 1973
Waylon's tour-de-force. This is the classic album that started the whole outlaw movement. Apart from We Had It All, all songs were composed by Billy Joe Shaver and were ideal for Waylon; his voice, rough and raw, is the voice of experience. Indeed, it's difficult to avoid casting him as some fading truckstop cowboy, down on his luck, A towering achievement that fused traditional and contemporary in splendid fashion.
WAYLON JENNINGS – Dreaming My Dreams – RCA 1973
Co-produced by Waylon and Jack Clement, this album was a commercial success and started things rolling for Jennings. In the hands of a lesser talent a song like Allen Reynolds' Dreaming My Dreams With You, would sound overly sentimental, but Jennings' rough baritone and his masculine style makes him seem all the more vulnerable. Throughout there's a ruggedness that gives him an identity of his own. And at his best Waylon gives you the sensation of a hot whiskey burning down the throat. The highs are worth the lows every time.
TOMPALL GLASER – Charlie – MGM/Polydor 1973
This was Tompall's first solo album. The former lead singer with Tompall & The Glaser Brothers threw off all the pop embellishments of his previous vocal group association and produced a stripped-down country sound in a set of songs that encompassed  such country themes as divorce, family life, barrooms, casual affairs and religion.
WILLIE NELSON – Phases And Stages – Atlantic 1974
A conceptual album viewing the break-up of a marriage from both sides of the relationship. In style and perception, it is a world apart from Tammy Wynette's standard Nashville treatment of the subject D-I-V-O-R-C-E All the songs are Nelson originals. The most distinctive are the ballads, like It's Not Supposed To Be That Way and I Still Can't Believe You're Gone.
WILLIE NELSON – Red Headed Stranger – Columbia 1975
Again a conceptual format. This time Nelson explores through the mythology of the old west, universal themes of betrayal, revenge and regret. The narrative is simple and direct; the hero discovers his wife's infidelity and murders her and her lover and then 'rides wild in his sorrow' across the prairies. Nelson collated his material from diverse sources and organised the whole project with authority and restraint. This album shows a close affinity between outlaw country and rock.
BILLY JOE SHAVER – Old Five And Dimers Like Me – Monument 1973
A stunning debut that at the time represented a new spirit of country music, and affirmation that, after a decade of the bland Nashville Sound, the music was ready to become  something more than suburban MOR. Shaver's songs are rooted in the hobo tradition, songs of the highways—the source of the American dream and the settling for the American despair. His gruff, but warm, country-tinged vocals add a fresh dimension to the songs, as well as a feeling of honesty and belief.
LEE CLAYTON – Lee Clayton – MCA 1973
Clayton came to Nashville with his long hair and an arrogant nature that said: 'I'm gonna do it my way.' This could well have been the first outlaw album. Whatever, it went against the grain of the current Nashville thinking, with a definite return to country roots in the use of steel guitar, banjo, fiddle and harmonica to the fore of many of his songs. All were Clayton originals, and alongside the obligatory Ladies Love Outlaws, were such gems as Bottles of Booze, the story of Henry McCarty and Lonesome Whiskey. Sadly, Clayton never wrote like this again, and his subsequent albums were patchy, to say the least.
BOBBY BARE – Cowboys And Daddys – RCA 1975
A concept album dedicated to the 'ropers and dopers, the red-neck mothers, the cosmics, the drinkers and the thinkers …'this is very much a literary album. All the emphasis being on the strong and compelling lyrics, penned by such tunesmiths as Tom T. Hall, Shel Silverstein and Bob McDill. Bare is no great singer, but as an interpreter he has few equals, Surrounded by loping bass lines, strummed acoustic guitars and noodling instrumental passages, he offers vignettes on the modern cowboy life that are quite irresistible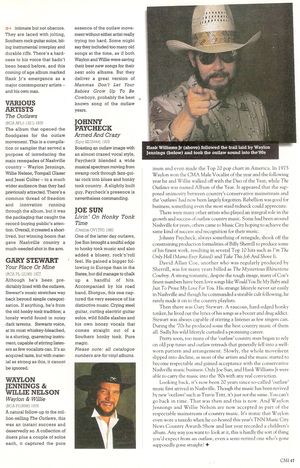 GUY CLARK – Old No. 1 – RCA 1975
The Texas singer-songwriter's first album proved to be an undiscovered gem for many country fans. The scope of many of the songs is positively climactic. Texas 1947, Desperados Waiting For A Train and the superb Let Him Roll all evoke comparison with the wild west of John Ford. Clark's voice is husky, raw-edged and expressive and the Nashville musicians showcase it well.  
HANK WILLIAMS JR – And Friends -MGM/Polydor 1975
This was the album when Hank Jr suddenly came of age, and it should have come as no surprise that as he matured and stepped out on his own for the first time in a career that had relentlessly milked the Williams' legend, that he would enlist rockers like Toy Caldwell, Charlie Daniels and Chuck Leavell to help him out. The songs, mainly written by Hank Jr are highly personal and intimate but not obscure. They are laced with jolting southern rock guitar solos, biting instrumental interplay and durable riffs. There's a hardness to his voice that hadn't been heard before, and this coming of age album marked Hank Jr's emergence as a major contemporary artist—and his own man
VARIOUS ARTISTS – The Outlaws – RCA 1976
The album that opened the floodgates for the outlaw movement. This is a compilation or sampler that served a purpose of introducing the main renegades of Nashville country—Waylon Jennings, Willie Nelson, Tompall Glaser and Jessi Colter—to a much wider audience than they had previously attracted. There's a common thread of freedom and innovation running through the album, but it was the packaging that caught the record buying public's attention. Overall, it created a short-lived but winning boom that gave Nashville country a much-needed shot in the arm.
 GARY STEWART – Your Place Or Mine – RCA 1977
Although he's been predictably lined with the outlaws, Stewart's music stretches back beyond simple categorisation. If anything, he's from the old honky-tonk tradition; a lonely world found in noisy dark taverns, Stewart's voice, at its most whiskey-bleached, is a slurring, quavering instrument, capable of stirring listeners as few vocalists can. It's an acquired taste, but with material as strong as this, it cannot be ignored.
WAYLON JENNINGS & WILLIE NELSON – Waylon & Willie – RCA 1978
A natural follow-up to the million-selling The Outlaws, this was an instant access and deservedly so. A collection of duets plus a couple of solos each. It captured the pure essence of the outlaw movement without either artist really trying too hard. Some might say they included too many old songs at the time, as if both Waylon and Willie were saving their best new songs for their next solo albums. But they deliver a great version of Mammas Don't Let Your Babies Grow Up To Be Cowboys, probably the best known song of the outlaw years.
JOHNNY PAYCHECK – Armed and Crazy – Epic 1978
Boasting an outlaw image with an almost crazed vocal style, Paycheck blended a wide musical spectrum moving from swamp rock through fuzz-guitar rock into blues and honky-tonk country. A slightly built guy, Paycheck's presence is nevertheless commanding.
JOE SUN – Livin' On Honky Tonk Time – Ovation 1980
One of the latter-day outlaws, Joe Sun brought a soulful edge to honky-tonk music and also added a bluesy, rock'n'roll feel. He gained a bigger following in Europe than in the States, but did manage to chalk up a handful of hits. Accompanied by his road band Shotgun, this one captured the very essence of his distinctive music. Crying steel guitar, cutting electric guitar solos, wild fiddle slashes and his own boozy vocals that comes straight out of a Southern honky-tonk. Pure magic.