Amie Comeaux - Whatever Happened To.....
First Published in Country Music International, July 1997
Having celebrated the release of her debut album, MOVING OUT, at the tender age of 17, Amie Comeaux's prospects were looking good. That is, until the Polydor-Nashville label that signed her abruptly closed.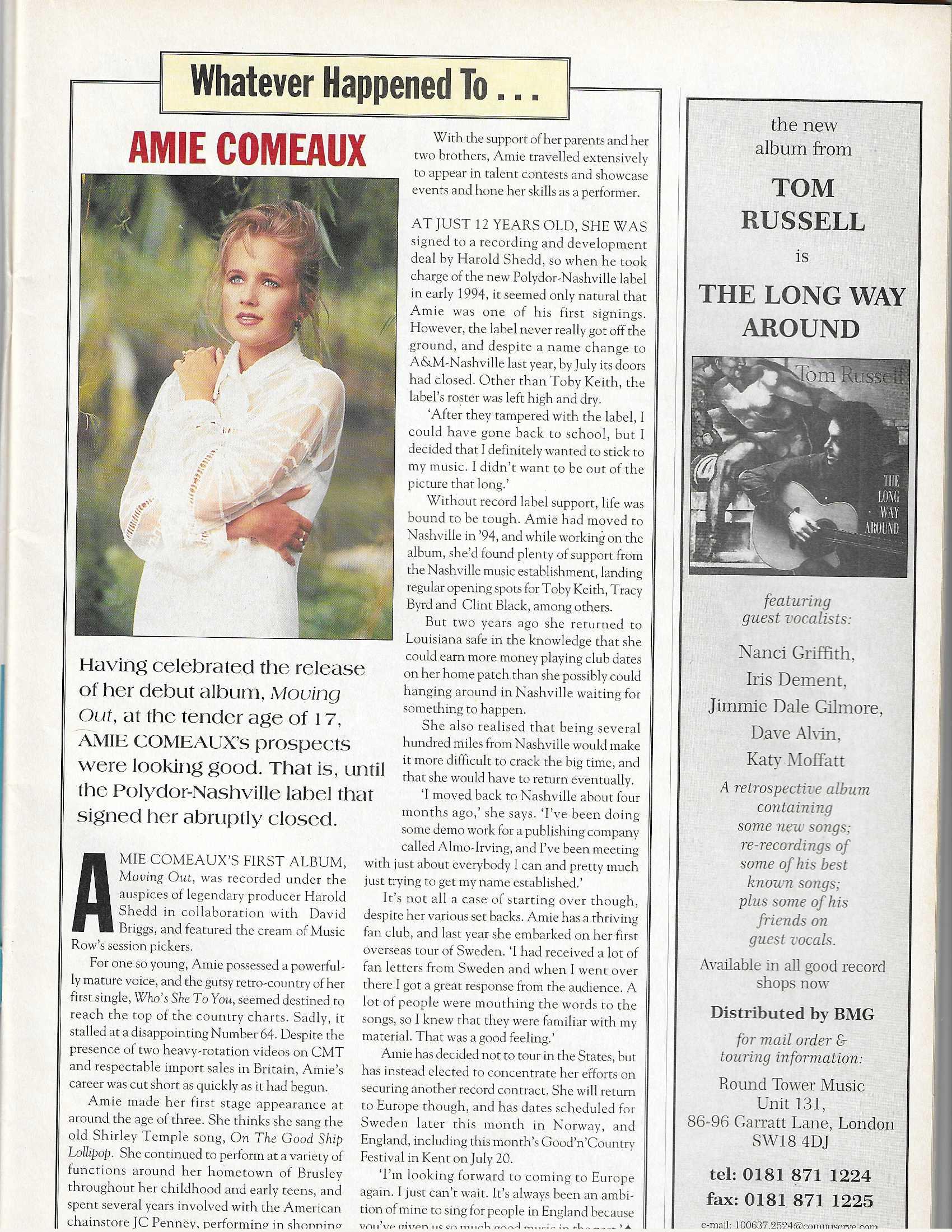 Amie Comeaux's first album, MOVING OUT, was recorded under the auspices of legendary producer Harold Shedd in collaboration with David Briggs, and featured the cream of Music Row's session pickers.
For one so young, Amie possessed a powerfully mature voice, and the gutsy retro-country of her first single, Who's She To You, seemed destined to reach the top of the country charts. Sadly, it stalled at a disappointing number 64. Despite the presence of two heavy-rotation videos on CMT and respectable import sales in Britain, Amie's career was cut short as quickly as it had begun.
Amie made her first stage appearance at around the age of three. She thinks she sang the old Shirley Temple song, On The Good Ship Lollipop. She continued to perform at a variety of functions around her hometown of Brusley throughout her childhood and early teens, and spent several years involved with the American chainstore JC Penney, performing in shopping malls across Louisiana, Georgia and Tennessee.
With the support of her parents and her two brothers, Amie travelled extensively to appear in the talent contests and showcase events to hone her skills as a performer.
At just 12 years old, she was signed to a recording and development deal by Harold Shedd, so when he took charge of her new Polydor-Nashville label in early 1994, it seemed only natural that Amie was one of his first signings. However, the label never really got off the ground, and despite the name change to A&M Nashville last year, by July its doors had closed. Other than Toby Keith, the label's roster was left high and dry.
"After they tampered with the label. I could have gone back to school, but I decided that I definitely wanted to stick to my music. I didn't want to be out of the picture that long."
Without the record label support, life was bound to be tough. Amie had moved to Nashville in 1994, and while working on the album, she'd found plenty of support from the Nashville music establishment, landing regular opening spots for Toby Keith, Tracy Byrd and Clint Black, among others.
But two years ago she returned to Louisiana safe in the knowledge that she could earn more money playing club dates on her home patch than she possibly could hanging around in Nashville waiting for something to happen.
She also realised that being several hundred miles away from Nashville would make it more difficult to crack the big time, and that she would have to return eventually. 
"I moved back to Nashville about four months ago," she says. "I've been doing some demo work for a publishing company called Almo-Irving, and I've been meeting with just about everybody I can and pretty much just trying to get my name established."
It's not all a case of starting over though, despite her various set-backs. Amie has a thriving fan club, and last year she embarked on her first overseas tour of Sweden. "I had received a lot of fan letters from Sweden and when I went over there I got a great response from the audience. A lot of people were mouthing the words to the songs, so I knew that they were familiar with my material. That was a good feeling."
Amie had decided not to tour in the States, but has instead elected to concentrate her efforts on securing another record contract. She will return to Europe though, and has dates scheduled for Sweden later this month in Norway, and England, including this month's Good'n'Country Festival in Kent on July 20.
"I'm looking forward to coming to Europe again. I just can't wait. It's always been an ambition of mine to sing for people in England because you've given us so much good music in the past."