First published in Country Music International – February 1995
Spotlight on AMIE COMEAUX
She's been appearing on stage since she was three and singing at half-time for the New Orleans Saints since she was nine. So it makes sense that now she's 18 Amie Comeaux should be releasing her first album
"I've waited five years to make this album," Amie Comeaux says excitedly about her recording debut. "And it's been real hard for me. I've been at the edge of my seat just waiting for the chance to get in the studio and get started. Being patient has not been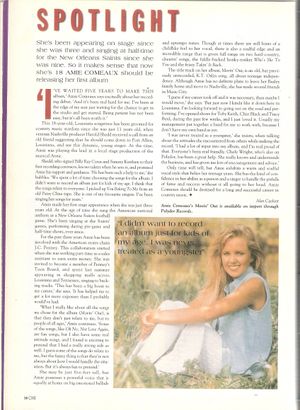 easy, but it's all been worth it."
This 18-year-old, Louisiana songstress has been groomed for country music stardom since she was just 11 years old, when veteran Nashville producer Harold Shedd received a call from an old friend suggesting that he should come down to Port Allen, Louisiana, and see this dynamic, young singer. At the time, Amie was playing the lead in a local stage production of the musical Annie.
Shedd, who signed Billy Ray Cyrus and Sammy Kershaw to their first recording contracts, knows talent when he sees it, and promised Amie his support and guidance. "He has been such a help to me," she bubbles. "We spent a lot of time choosing the songs for the album. I didn't want to record an album just for kids of my age. I think the songs relate to everyone. I picked up You Belong To Me from an old Patsy Cline tape. She is one of my favourite singers. I've been singer her songs for years."
Amie made her first stage appearance when she was just three years old. At the age of nine she sung the American national anthem at a New Orleans Saints football game. She's been singing at the Saints' games, performing during pre-game and half-time shows, ever since.
For the past three years Amie has been involved with the American stores chain J.C. Penney. This collaboration started when she was working part-time as a sales assistant to earn extra money. She was invited to become a member of Penney's Teen Board, and spent last summer appearing in shopping malls across Louisiana and Tennessee, singing to backing tracks. "This has been a big boost to my career," she says. "It has helped me to get a lot more exposure than I probably would've had."
"What I really like about all the songs we chose for the album (MOVIN' OUT), is that they don't just relate to me, but to people of all ages," Amie continues. "Some of the songs, like Oh No, Not Love Again, are fun songs, but I also have some real attitude songs, and I found it exciting to pretend that I had a really strong side as well. I guess some of the songs do relate to me, but the funny thing is that they're not always about how I would handle the situation. But it's always fun to pretend."
She may be just five-feet tall, but Amie possesses a powerful voice that is equally at home on big emotional ballads and up-tempo tunes. Though at times there are still hints of a childlike feel to her vocal, there is also a soulful edge and an incredible range that is given full range on two hard-country cheatin' songs, the fiddle-backed honky-tonker Who's She To You and the feisty Takin' It Back.
The title track on her album, Movin' Out, is an old, but previously unrecorded, K.T. Oslin song, all about teenage independence. Although Amie has no definite plans to leave her Busley family home and move to Nashville, she has made several friends in Music City.
"I guess if my career took off and it was necessary, then maybe I would move," she says. "But just now I kinda like it down here in Louisiana. I'm looking forward to going out on the road and performing. I've opened shows for Toby Keith, Clint Black and Tracy Byrd, during the past few weeks, and I just loved it. Usually my management put together a band for me to work with, because I don't have my own band as yet."
"I was never treated as a youngster," she insists, when talking about the attitudes she encountered form others while making the record. "I had a lot of input into my album, and I'm real proud of that. Everyone's been real friendly. Chely Wright, who's also on Polydor, has been a great help. She really knows and understands the business and has given me lots of encouragement and advice."
Only time will tell, but Amie exhibits a warm and soulful vocal style that belies her teenage years. She has the kind of confidence in her ability as a person and a singer to handle the pitfalls of fame and success without it all going to her head. Amie Comeaux should be destined for a long and successful career in country music.