American Blonde - Somethin' In The Water
Self-released
****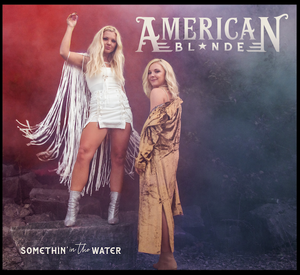 It was just two years ago that Southern Halo, embarking on a new musical journey, transitioned from a trio to a duo. Working with renowned producer Cliff Downs, they became American Blonde, and have now released this superb album. Sisters Nata and Tinka Morris, from the small town of Cleveland, Mississippi, are the voices of American Blonde. Beginning as sweet and innocent pre-teen musical prodigies, they are now twenty-somethings whose music is powerful and emotional but above all, they deliver it with attitude. Natalie handles lead vocals, lead guitar and is responsible for writing or co-writing most of the songs. Younger sister Christina plays drums and provides the familial vocal harmonies. Nata's songwriting is playful, wry, and tough. This album boasts music that's rousing and perhaps even revelatory, given their heart wrought sentiments and lack of affectation. The raw and powerful creations will move even the most unresponsive listener, slapping you upside the head with the crusty power and glory of Nata's emotional delivery. A stellar showcase of all they can do together as a duo, it harnesses their perfected blend of Southern rock and pop country with just the right amount of backwoods grit. The heavy delta heat also shapes the record with its hazy twang and textured, full-blown arrangements. SOMETHIN' IN THE WATER is terrific. It throbs with genuine talent.
That becomes clear regardless of whether it's through the effusive energy of Horses Firin', the sacred set-up of Dust On My Wings or the sublime sound of Blackwater Creek. The latter is an acoustic duet with funky acoustic guitars for a searing, soulful number about the pull of desire. There is a sense of romance in the way Nata sings, and her vocal exuberance is matched by Tinka's ethereal harmonies and the spunky, soaring musicianship. All Horses Firin' is an ode to independence, featuring encouraging messages about becoming unstuck and taking charge. The extra muscle really elevates this song, giving Nata's monster of a voice an appropriate backing, that's mixed with a swagger, self-confidence and a willingness to rock out. True to her word, she's doing it her way. Delicate guitars and soft harmonies open Quicksand before it develops into a heady arrangement with a hypnotic rock approach circling the remarkably frank lyrics about the often unstated, self-esteem-challenging aspects of a long-term relationship. In contrast Smooth is sensual and structurally feminist—there's no questioning the sexual urgency in this deeply romantic smoothie.
Volcano takes a more explosive approach as Nata's confidence, phrasing, and vocal power drive home that this woman, despite previous put-downs, is ready to face the world and will take no prisoners in her search for a lover. Propulsive guitar and bass lines power the song screaming down a rock and roll highway. On the quieter The Prettiest Girl In Town, they craft the deepest song on the album; one in which the girl reflects the time when she was walking on air, but now rejected, she feels vulnerable and undervalued. Hurricane is another break-up song as Nata describes the aftermath like being buffeted by a never-ending storm of wind and rain. Her country-blues vocal adds a biting edge to the hurt that she feels, and even when the song gets big around her, she's got her own gravity. Nata takes a breezy approach to Tell Your Mama Hi, letting a man know she's had enough of his shenanigans and can't believe that such a fine upstanding Southern lady could've raised such a creep. It's ballsy, as is so much of this album, one full of feminine attitude from a couple of women who bring their own style of Southern grit and toughness to today's country music.
February 2022