Alyssa & Wayne Brewer - A & W Sing George & Tammy
SGM Records
***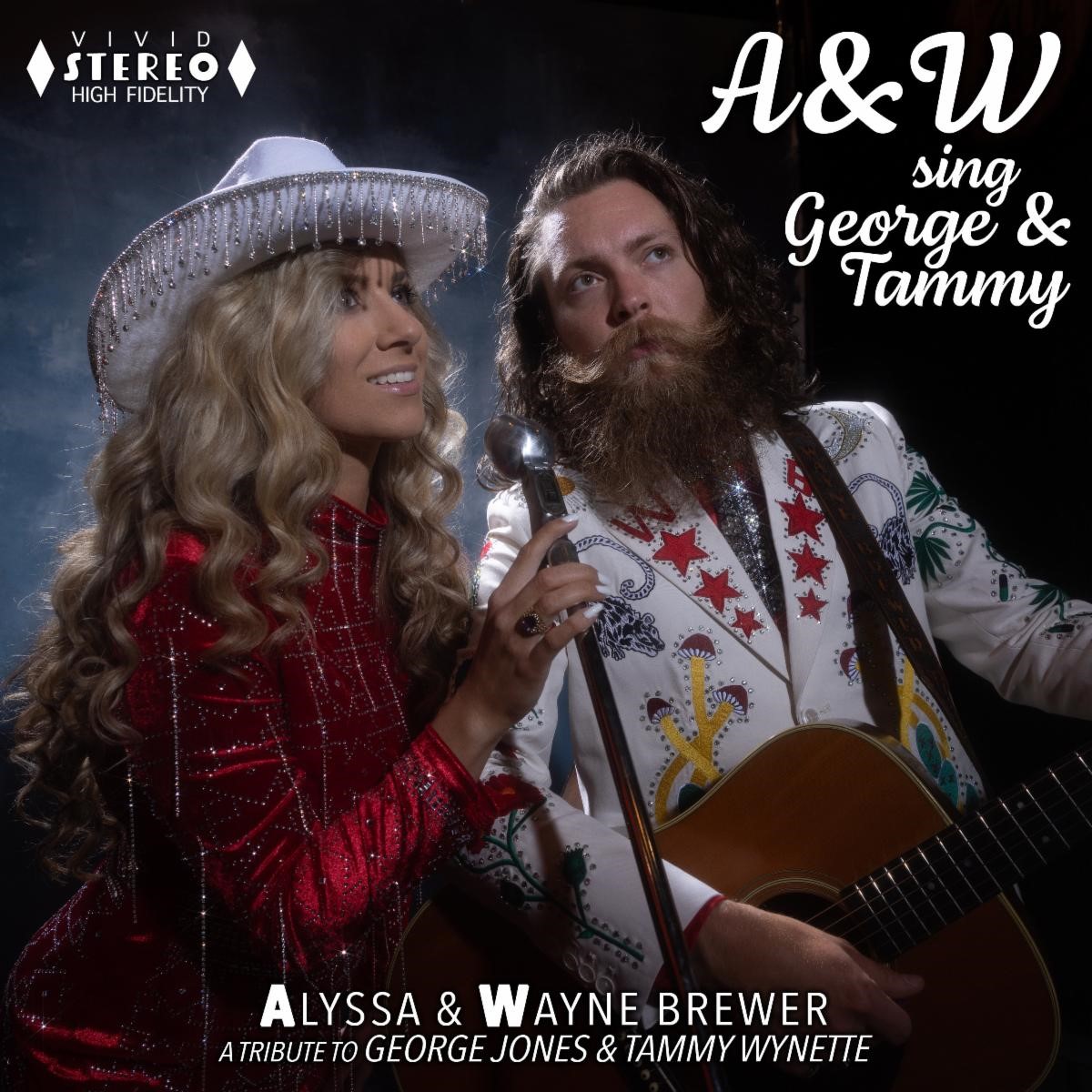 It can be a whole lot of fun when an act uses a covers album to revitalise old songs and introduce them to new listeners. But cover albums can also be a tricky proposition. There's always that risk of sounding inconsequential or, worse, kitschy. Thankfully, this tribute to the legendary George & Tammy, is neither of those. The husband-and-wife couple complement one another with an adroit sense of reverence and nuance. Their low-lit vocals maintain the duo's unpretentious approach, giving the entire album a decided folk-like finesse and understated elegance. Alyssa and Wayne's enthusiasm for this project is palpable and if their joyful approach turns just one listener onto the originals, it's job done.
Multi-instrumentalist, vocalist and renowned producer Wayne Brewer (guitar, upright bass, fiddle) comes from a musical family stretching back over six generations. He married versatile vocalist Alyssa in 2015, and though they've been singing together for several years, this is their first duet album. Recorded in Nashville with hand-picked session players Nathan Fleming (pedal steel), Josh Balz (piano), Jenee Flener (fiddle) and Gary and Mason Brewer from the family band Gary Brewer & the Kentucky Ramblers, the choice of material from the George & Tammy back catalogue enhances the appeal. Opening track, Someone I Used To Know, is replayed as a close-knit duet with an emotional delivery from both singers that's well worthy of the Jack Clement-penned country standard.
Their renditions of Golden Ring and We're Gonna Hold On are unsurprisingly solid (although the former song has been covered nearly to death), and it's Alyssa's exceptional vocals that serve to highlight the emotional resonance in both. 
Her take on Your Good Girl's Gonna Go Bad, one of Tammy's early solo hits, is inspired, stripping away the original's mid-1960s Nashville-sound sheen and highlighting its versatility and timeless essence. Another early song is Why Baby Why, George Jones first top 10 hit from 1955. The well-covered honky-tonkin' song was penned by Jones and this version features Wayne handling the verses with Alyssa joining in on the catchy chorus. Another song recorded solo by Jones is Rosie Bokay from 1969. Never released as a single, the Dallas Frazier and Whitey Shafer song came near the end of the legendary singer's contract with Musicor, prior to signing with Epic and working with Billy Sherrill. Taken a little brisker than the original, with Wayne handling lead vocals, this version owes more to the later rendition by Bobby Osborne, with a pronounced bluegrass vibe to the high harmonies on the chorus. Around the same time, Jones recorded Frazier's All I Have To Offer You Is Me, previously a chart-topping hit for Charley Pride. Alyssa and Wayne offer their version of this heartbreaking song, but they've used the duet rendition that George and Tammy included on their 1995 ONE, final duo album as their template. When they come to Southern California their voices are anguished, underscoring the pain and sadness in the lyrics to create an emotionally visceral experience. It's appropriate that they wrap up this album with the bluegrass favourite Rollin' In My Sweet Baby's Arms. Jones recorded the song several times, including duet versions with both Melba Montgomery and Tammy Wynette. The effusive treatment accorded the free-wheeling tune empasises the playfulness of a track that's full of breezy, rhythmic whimsy and is sure to have listeners' toes tapping.
August 2023