Alison Krauss & Keith Whitley - Sounds Familiar
First published in Country Music International, June 1996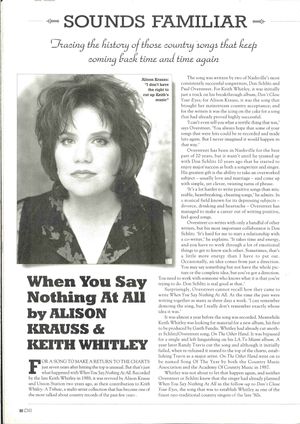 Tracing the history of those country songs that keep coming back time and time again - When You Say Nothing At All
For a song to make a return to the charts just seven years after hitting the top is unusual. But that's just what happened with When You Say Nothing At All.  Recorded by the late Keith Whitley in 1988, it was revived by Alison Krauss and Union Station two years ago, as their contribution to KEITH WHITLEY: A TRIBUTE, a multi-artist collection that has become one of the most talked about country records of the past few years.
The song was written by two of Nashville's most consistently successful songwriters, Don Schlitz and Paul Overstreet. For Keith Whitley, it was initially just a track on his breakthrough album, DON'T CLOSE YOUR EYES; for Alison Krauss, it was the song that brought her mainstream country acceptance; and for the writers it was the icing on the cake for a song that had already proved highly successful.
"I can't even tell you what a terrific thing that was," says Overstreet. "You always hope that some of your songs that were hits could be re-recorded and made hits again. But I never imagined it would happen in that way."
Overstreet has been in Nashville for the best part of 20 years, but it wasn't until he teamed up with Don Schlitz 10 years ago that he started to enjoy major success as both a songwriter and singer. His greatest gift is the ability to take an overworked subject—usually love and marriage—and come up with simple, yet clever, twisting turns of phrase.
"It's a lot harder to write positive songs than miserable, heart-breaking, cheating songs," he admits. In a musical field known for its depressing subjects—divorce, drinking and heartache—Overstreet has managed to make a career out of writing positive, feel-good songs.
Overstreet co-writes with only a handful of other writers, but his most important collaborator is Don Schlitz. "It's hard for me to start a relationship with a co-writer," he explains. "It takes time and energy, and you have to work through a lot of emotional things to get to know each other. Sometimes, that's a little more energy than I have to put out. Occasionally, an idea comes from just a direction. You may say something but not have the whole picture or the complete idea, but you've got a direction. You need to work with someone who knows what it is that you're trying to do. Don Schlitz is real good at that."
Surprisingly, Overstreet cannot recall how they came to write When You Say Nothing At All. At the time the pair were writing together as many as three days a week. "I can remember demoing the song, but I really don't remember exactly whose idea it was."
It was almost a year before the song was recorded. Meanwhile Keith Whitley was looking for material for a new album, his first to be produced by Garth Fundis. Whitley had already cut another Schlitz/Overstreet song, On The Other Hand. It was bypassed for a single and left languishing on HIS LA TO MIAMI album. A year later Randy Travis cut the song and although it initially failed, when re-released it soared to the top of the charts, establishing Travis as a major artist. On The Other Hand went on to be named Song Of The Year by both the Country Music Association and the Academy Of Country Music in 1987.
Whitley was not about to let that happen again, and neither Overstreet or Schlitz knew that the singer had already planned When You Say Nothing At All as the follow-up to Don't Close Your Eyes, the song that was to establish Whitley as one of the finest neo-traditional country singers of the late 1980s.
Whitley, either knowingly or purely by accident, was following in the footsteps of the other great honky-tonk country singers of the past, turning to the bottle to relieve the pressures of the music business. Nevertheless, following years of working the bluegrass circuit, he turned to mainstream country in the mid-1980s and brought honky-tonk music into the modern world.
When You Say Nothing At All was one of his greatest performances. Hushed and humbled by the sheer power of love, he found a blues foundation underneath the pop styling of the song and built upon that with real and deep assurance.
Like Keith Whitley, Alison Krauss had worked the bluegrass circuit since her early teens and found Nashville and the workings of the music business not entirely to her liking. Alison has always had firm ideas on what her music should sound like, and when she came to participate in the Keith Whitley tribute album she maintained artistic control. Dispensing with the Nashville studio mafia, she took her own Union Station bluegrass band into the studios and cut a distinctive and refreshing new version of When You Say Nothing At All.
Alison's sweet, unhurried vocal was perfectly married to the simple acoustic arrangement, her crystal-clear soprano ringing with a sincerity and heart-felt emotion that really brought the song to life. When the song earned Krauss one of three Grammy nominations in January 1995, BNA Records in Nashville moved to establish a joint venture with Rounder Records, the independent label that Alison is signed to, and started a major marketing campaign.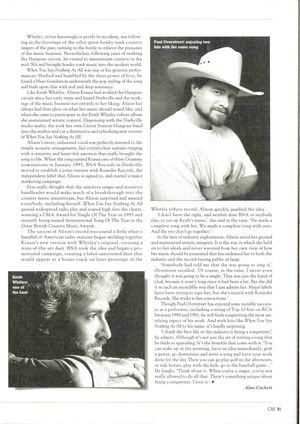 Few really thought that the sensitive singer and attentive bandleader would make much of a breakthrough into the country music mainstream, but Alison surprised and amazed everybody, including herself. When You Say Nothing At All gained widespread radio play and soared high into the charts, winning a CMA Award for Single Of The Year in 1995 and recently being named International Song Of The Year at the Great British Country Music Awards.
The success of Alison's record was soured a little when a handful of American radio stations began melding together Krauss' new version with Whitley's original, creating a state-of-the-art duet. BNA took the idea and began a promotional campaign, creating a label-sanctioned duet that would appear as a bonus track on later pressings of the Whitley tribute record. Alison quickly quashed the idea.
"I don't have the right, and neither does BNA or anybody else, to cut up Keith's music." she said at the time. "He made a complete song with his. We made a complete song with ours. And the two don't go together."
In the face of industry exploitation, Alison stood her ground and maintained artistic integrity. It is the way in which she held on to her ideals and never wavered from her own view of how her music should be presented that has endeared her to both the industry and the record-buying public at large.
"Somebody had told me that she was going to sing it,"  Overstreet recalled. "Of course, at the time, I never even thought it was going to be a single. That was just the hand of God, because it wasn't long since it had been a hit. But she did it in such an incredible way that I just admire her. Major labels have been trying to sign her, but she's stayed with Rounder Records. She sticks to her convictions."
Though Paul Overstreet has enjoyed some notable successes as a performer, including a string of Top 10 hits on RCA between 1989 and 1991, he still finds songwriting the most satisfying aspect of his work. And with hits like When You Say Nothing At All to his name, it's hardly surprising.
"I think the best life in the industry is being a songwriter," he admits. Although it's not just the art of writing a song that he find so appealing. It's the benefits that come with it. "You can wake up in the morning, have an idea immediately, grab a guitar, go downstairs and write a song and have your work done for the day. Then you can go play golf in the afternoon, or ride horses, play with the kids, go to the baseball game ..."  He laughs. "Think about it. When you're a singer, you're not really allowed to do all that. There's something unique about being a songwriter. I love it."