Alison Krauss - Finders Keepers
First Published in Country Music International, December 1995
After years on the outside looking in, she's just walked off with no less than four CMA awards. Not that all that success will go to her head. "Nothing is going to change," she promises, as major label executives wave cheque books under her nose. By Alan Cackett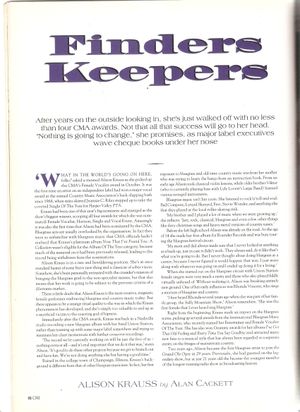 "What in the world's going on here, folks?" asked a stunned Alison Krauss as she picked up the CMA's Female Vocalist award in October. It was the first time an artist on an independent label had won a major vocal award at the annual Country Music Association's back-slapping bash since 1968, when mini-skirted Jeannie C. Riley stepped up to take the coveted Single Of The Year for Harper Valley PTA.
Krauss had been one of this year's big nominees and emerged as the show's biggest winner, scooping all four awards for which she was nominated: Female Vocalist, Horizon, Single and Vocal Event. Amazingly it was also the first time that Alison had been nominated by the CMA. Bluegrass acts are usually overlooked by the organisation. In fact, they were so unfamiliar with bluegrass music that CMA officials hadn't realised that Krauss's platinum album NOW THAT I'VE FOUND YOU: A COLLECTION wasn't eligible for the Album Of The Year category, because much of the material on it had been previously released, leading to the record being withdrawn from the nominations.
Alison Krauss is in a rare and bewildering position. She's at once standard bearer of some brave new thing and a classicist of sober vision. Somehow, she's been personally entrusted with the crusader's mission of bringing the bluegrass grail to the non-specialist masses, but that also means that her work is going to be subject to the perverse criteria of a dilettante market. 
There is little doubt that Alison Krauss is the most creative, magnetic female performer embracing bluegrass and country music today. But there appears to be a strange ritual quality to the way in which the Krauss' phenomenon has developed, and she's simply too valuable to end up as a sacrificial victim to the exacting god of hipness.
Immediately after the CMA awards, Krauss was back in a Nashville studio    recording a new bluegrass album with her band Union Station, rather than teaming up with some major label somewhere and trying to maintain her chart momentum with further crossover recordings.
"The record we're currently working on will be just the five of us—nothing extra at all—and it's real important that we do it that way," states Alison. "It's good to do these other projects because we get to branch out and have fun. We're not doing anything else but having a good time."
Raised in the college town of Champaign, Illinois, Krauss' background is different from that of other bluegrass musicians. In fact, her first exposure to bluegrass and old-time country music was from her mother, who was trying to learn the banjo from an instruction book. From an early age Alison took classical violin lessons, while older brother Viktor (who is currently playing bass with Lyle Lovett's Large Band) learned various stringed instruments.
Bluegrass music isn't her roots. She listened to rock'n'roll and soul: Bad Company, Lynyrd Skynyrd, Free, Stevie Wonder, and anything else that they played at the local roller-skating rink.
"My brother and I played a lot of music when we were growing up," she reflects.  "Jazz, rock, classical, bluegrass and even a few other things like dirty Christmas songs and heavy metal versions of country tunes."
Before she left high school Alison was already on the road. At the age of 14 she made her first album for Rounder Records and was busy touring the bluegrass festival circuit.
"My mom and dad always made sure that I never looked at anything as a back-up, just in case it didn't work. They always said, do it like that's what you're going to do. But I never thought about doing bluegrass as a career, because I never figured it would happen that way. I just went along with whatever was going on and I ended up doing it for a living."
When she started out on the bluegrass circuit with Union Station female singers were very much a rarity and those who also played fiddle virtually unheard of. Without realising it, Alison was breaking entirely new ground. One of her early influences was Rhonda Vincent, who sings a mixture of bluegrass and country.
"I first heard Rhonda several years ago when she was part of her family group, the Sally Mountain Show," Alison remembers. "She was the first female that I ever heard sing bluegrass."
Right from the beginning, Krauss made an impact on the bluegrass scene, picking up several awards from the International Bluegrass Music Association, who recently named her Entertainer and Female Vocalist Of The Year. She has also won Grammy awards for her albums I'VE GOT THAT OLD FEELING and EVERY TIME YOU SAY GOODBYE and attracted many new fans to a musical style that has always been regarded as a separate entity on the fringes of mainstream country.
Two years ago, Alison became the first bluegrass artist to join the Grand Ole Opry in 29 years. Previously, she had guested on the legendary show, but at just 21 years old she became the youngest member of the longest-running radio show in broadcasting
history.
"That night I was as nervous as I've ever been," she admits. "Every time we've played there I used to think about all those people who've played there before. I'm still in awe of all those people I grew up with and what they've achieved. I can't consider myself an equal."
Krauss' music has increasingly assumed two distinct styles: the soft, heartbreaking ballads that characterise her solo albums on one side and the bluegrass band work on the other. Despite the attention she has attracted to bluegrass, she has also been criticised by some of her peers for being too commercial and for trying to crossover to country. Ironically, even at what some would consider to be her most commercial, Krauss is a purist by modem country music standards.
"We would never change our music for the sake of commercial success. Selling out means doing that. But I think if you're so worried about upsetting bluegrass fans that you play it safe, then you're selling out that way too."
Alison and Union Station have always steadfastly refused to play such bluegrass standards as Orange Blossom Special and Rocky Top. ("Our goal is to play our own music. Haven't people heard those songs enough yet?") Instead the band has always peppered its repertoire with pop tunes by the likes of the Beatles, the Allman Brothers, Bad Company and the Foundations.
The big breakthrough for Krauss' music started earlier this year when she released NOW THAT I'VE FOUND YOU: A COLLECTION, an album of superbly arranged acoustic music with bluegrass overtones. The album was literally pieced together in order to capture a Krauss concert favourite on record; namely her slow, sultry remake of Bad Company's Oh, Atlanta.
It was a song that Alison had wanted to get on record for a number of years, and with the 1996 Olympics due to be staged in the Georgia capital, Oh, Atlanta became even more of a priority. It's due to be the third single from the album, following in the wake of the country chart successes of When You Say Nothing At All and the Foundations' pop chestnut, Baby, Now That I've Found You.
The past few years have seen Alison record duets with Alan Jackson and add either harmony vocals or fiddle to recordings by such names as Vince Gill, Patty Loveless, Dolly Parton and Linda Ronstadt.
"Alison poured her heart and soul into this," said Ronstadt, discussing her Feels Like Home album on which Krauss played fiddle. "Most bluegrass musicians rush the groove, they sit on top of the pocket. Alison doesn't. She's got terrific rhythm."
Alison's first big introduction to mainstream country success came earlier this year with Somewhere In The Vicinity Of The Heart, a duet with gospel-tinged country band Shenandoah, which marked the first time Krauss had picked up massive commercial airplay. The title song of Shenandoah's latest album, the single reached number seven on the country charts. This paved the way for heavy radio play for When You Say Nothing At All, a song that Alison initially recorded for a multi-artist tribute to the late Keith Whitley (KEITH WHITLEY: A TRIBUTE
ALBUM on BNA Records).
Some American radio stations started electronically pairing Alison's version of When You Say Nothing At All with Whitley's 1988 version of the song. Top Nashville executives at BNA Records, who had released the Krauss single jointly with Rounder Records, thought it would be a good idea to turn the two separate songs into one cohesive duet, and called producer Randy Scruggs in to create a bona fide duet recording. Alison was outraged.
"I don't have the right, nor does anybody else, to cut up Keith's music," she protests. "What if he didn't want you to do that? He made a complete song with his, we made a complete song with ours, and the two just don't go together."
The song earned Krauss one of her three Grammy nominations in January, with the final accolade coming in October when the CMA named When You Say Nothing At All as Single Of The Year.
Whilst all this success was happening in the States, Alison has been quietly making inroads in Britain. Baby, Now That I've Found You was lifted off the album and put out as a single in the UK, making the BBC Radio One playlist and hanging just outside the British pop charts for a couple of weeks. Like Oh, Atlanta, this is another song that Alison and Union Station have featured in their concerts for a number of years.
"I didn't find that song from the Foundations," she admits. "I heard Shawn Colvin sing it and it really blew me away.  So I learnt it from her. We changed her arrangement into something that suited us."
The lyric just got to me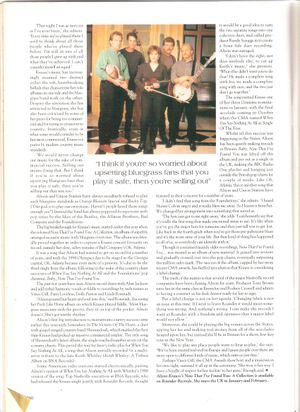 right away," she adds. "I can honestly say that it's really the first song that made emotional sense to me. It's like when you've got the major hots for someone and they just tell you to get lost. Like back in the fourth grade when you've got those pre-pubescent blues and it's the worst time of your life. But that kind of thing has happened to all of us, so everybody can identify with it."
Though it contained mainly older recordings, NOW THAT I'VE FOUND YOU... was treated as an album of new material. It gained rave reviews and gradually crossed over into the pop charts, eventually surpassing the million sales mark. The success of the album, capped by her more recent CMA awards, has fuelled speculation that Krauss is considering a label change.
The truth of the matter is that several of the major Nashville record companies have been chasing Alison for years. Producer Tony Brown rates her in the same class as Emmylou and Rodney Crowell and admits to having a contract in his desk drawer ready for her to sign.
But a label change is not on her agenda.  "Changing labels is not an issue at this time. If I were to leave Rounder it would mean something was wrong. And nothing's wrong. I can make the records I want at Rounder with a freedom and openness that a major label would not allow."
Moreover, she could be playing the big venues across the States, upping her fee and making real money from all of the accolades heaped upon her, but instead she'll be in Britain for a short, low-key tour in the New Year.
"We like to play any place people want to hear us play," she says. "We've been treated real well in Europe and I guess people over there are more open to different kinds of music, which suits us just fine."
Perhaps Vince Gill, the CMA Awards show host and a musician in his own right, summed it all up at the ceremony: "She won it her way. I have a bundle of respect for her stickin' to her guns." Enough said!