State Of The Union
First published in Country Music International, November 1994
Alison Krauss and Union Station have been credited for bringing bluegrass music into the video age. "It could have been anyone,"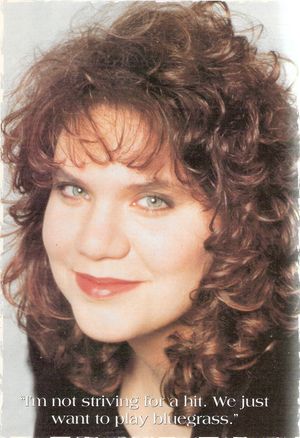 she insists. Alan Cackett sees through the modesty and finds a rare talent at work
"It was loud, real loud," Alison Krauss laughs as she recalls her band Union Station's recent tour supporting Garth Brooks. "Usually we play 1500 seaters or Bluegrass festivals. Working with Garth was really quite different. But there were people there who knew our stuff. We had fun."
The past few years have seen Alison Krauss become the youngest member of the Grand Ole Opry, walk off with a Grammy Award and play fiddle and sing harmony vocals on recordings by such diverse acts as Michelle Shocked, Vince Gill, Dolly Parton and Patty Loveless.
"I guess we are playing to more people now," she admits. "But I'm not so sure that it's just this band that have helped make bluegrass music more popular. I can only speak for us, but there have been more people coming to our shows and that's good."
Everything about Alison is modest, except for her music. She began entering fiddle contests at eight, joined her first band at 11, won her first state fiddle championship at 12, and signed with Rounder Records when she was 14. Now, at 23, she is attributed with bringing bluegrass music to a much wider audience; a fact borne out by coverage in publications like Time, Newsweek, Musician and USA Today; an achievement no other bluegrass musician can lay claim to.
Those who regularly watch CMT Europe would have caught at least one of Alison Krauss & Union Station's videos. Again, they broke new ground for bluegrass with the I've Got That Old Feelin' video reaching number one on CMT and remaining on heavy rotation on TNN—a rare feat for an artist on an independent label who does not perform mainstream country music.
"It all seems a bit strange making the videos. But you know, it could've happened for other bluegrass acts," she says unassumingly. "We were real lucky that we had the first video out that introduced a lot of people to bluegrass music. I don't think it has much to do with me personally. It's the music the people are digging. Bluegrass music is different. You just don't get to hear it as radio doesn't play our music."         
Though she could have easily signed with a major label and perhaps compromised her music for the sake of radio plays, this approach held little appeal for Alison. Instead she wears her hillbilly credentials with dignity and pride and believes passionately in her music. "I'm not striving for a hit," she shrugs. "We just want to play bluegrass."
Alison formed Union Station six years ago, shortly after completing work on her debut solo album, Too Late To Cry, which featured some of the top Nashville session players, including Sam Bush and Jerry Douglas.
One of the best bluegrass bands on the circuit, Union Station quickly made an impact at festivals and built up an exhaustive touring schedule that has hardly seen them off the road.
Initially, Alison rarely spoke on stage, leaving the introductions to one of the other musicians. But it was not long before she became the main focal point of Union Station. Performing has been a way of life for years, but Alison is still, in her own words, just another member of the band and seems embarrassed that she gets all the attention and that the band's name was changed from Union Station to Alison Krauss And Union Station. "I'm the band's spokesperson and I do most of the interviews," she offers. "But in every other respect we're treated as equals."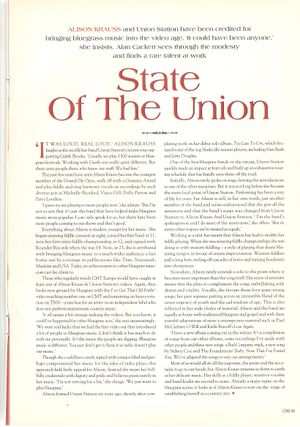 Working as a unit has meant that Alison has had to modify her fiddle playing. When she was winning fiddle championships she was doing so with western fiddling- a style of playing that shuns blistering tempos in favour of ornate improvisation. Western fiddlers pull a long bow, reeling off cascades of notes and turning hoedowns into showpieces.
Nowadays, Alison rarely extends a solo to the point where it becomes more important than the song itself. Her sense of restraint means that she plays to complement the song; embellishing with drama and vitality. Vocally, she favours those love-gone-wrong songs; her pure soprano putting across an irresistible blend of sweet urgency of youth and the sad wisdom of age. This is also reflected in her wide choice of material; Alison and the band are equally at home with traditional bluegrass and gospel and with their tasteful adaptations of more contemporary material such as Paul McCartney's I Will and Karla Bonoff's Lose Again.
"I have a new album coming out in the winter. It's a compilation of songs from our other albums, some recordings I've made with other people and three new songs: a Bad Company track, a new song by Sidney Cox and The Foundations' Baby, Now That I've Found You. We've adapted the songs to suit our arrangements."
Most of us would allow all the exposure, the praise and the accolades to go to our heads, but Alison Krauss remains as down to earth as her delicate music. Her skills as a fiddle player, sensitive vocalist and bandleader are second to none. Already a major name on the bluegrass scene, it looks as if Alison Krauss is now on the verge of establishing herself as a country star.