Alex Hall - Side Effect Of The Heart
Monument Records
****1/2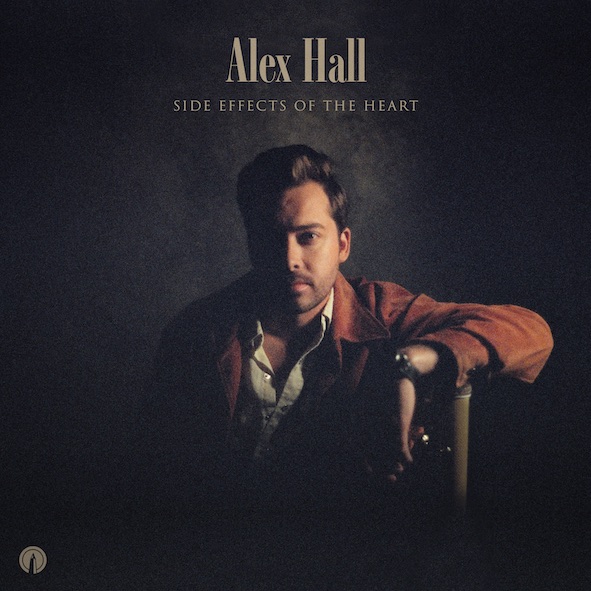 To refer to Georgia's Alex Hall's full-length debut as another country album would be a misnomer and to call him a country artist would be limiting him … as well as the mass-appeal factor of this album. He sings with conviction and confidence while also exuding the kind of presence that you can imagine commanding the spotlight on a large stage. Alex is responsible for co-writing all ten songs, and his vibrant vocals and nimble guitar playing are perfectly complemented by a cast of top session musicians. While the material is autobiographical in nature, each of the songs is delivered in a compelling manner that any listener can connect to. One second the record feels engulfed in a deep nebulous fog of doubt, the next it is a sunbeam breaking through, shining a light on what it is it to be human, in love, out of love and very much willing to learn how to cope with both. A superb guitar player, you can hear a lot of hands on the fretboard, a lot of whispers and roars from the past embedded in this guy's guitar conversations. Alex Hall is an adept new talent and I'm eager to see what he'll bring to the table going forward. Whatever he does, it'll be imprinted with the unique voice of a younger country statesman with a message that's not the same old recycled stump speech, but the unveiling of a new and innovative path alongside a well-traveled country highway.
Unlike most country newcomers, he's been something of a road warrior, taking his guitar and songs around America's south-east since he was 14, playing around 125 gigs a year. He moved to Nashville when he was 19 and spent five years fielding off rejections. He finally landed a major record deal just prior to the onset of the COVID-19 pandemic. Tours and shows were canceled, budgets everywhere tightened, and music started to be seen as a non-essential luxury. But the groundwork had already been laid. In late 2019 he'd begun work on his debut album, rather than sit around licking his wounds, he rolled up his sleeves and created what became his acclaimed SIX STRINGS EP. Recorded in isolation, he recorded his parts, then sent the music files back and forth to his friends and heroes Vince Gill, Brad Paisley, John Osborne, Brad Tursi, Tenille Townes, and Kassi Ashton to be featured guitarists and vocalists. Released a couple of years ago, it took him temporarily away from his much-anticipated album debut, but the delay has been well worth the wait.
Having grown up on a horse farm near Gainsville and been a barrel-racer in his teens, like back then with George Strait, equestrian sport and country music meet with the evocative Women And Horses … and it couldn't be better! Co-written with Brandy Clark (who adds the delicate harmony vocals) and AJ Babcock and Pete Good, the production is engaging, and Alex's vocal magic draws the listener in with Justin Schipper's wistful pedal steel, Alex's acoustic guitar picking and Alex Wrights's haunting Hammond B3 adding to the exquisite soundscape. For all the engaging everyman vibe of his voice, Alex is a deceptively fine country singer when the situation allows; Her To Here, is a cleverly constructed break-up song dressed in a catchy toe-tapping arrangement that is quite irresistible. Alex and his co-writers have consistently mastered the skill of marrying finely crafted lyrics with memorable melodies that float around your brain after just one listen, a skill that sadly the majority of today's country superstars lack, as they continuously churn out the same ol' tuneless songs of beer-drinkin' parties and scantily clad women.
Alex has a subtle, yet emotive quality to his singing. This particularly comes through on I Know A Guy and Denim And Diamonds. The latter is a smoothly executed pop-country ballad, just right for a late-night smooch around the dancefloor. He is very good at guitar, no question about that, but in an unshowy way that supports the song. There are no showy solos or displays of difficulty, just limpid pools of musical sensation that are so clear you can see, always, the way to the bottom. Radio Waves is the perfect summer radio song that hits hard from the opening notes, and it's a sure bet you'll want to hit repeat on this catchy tune. I'm Coming Back is a crunchy rocker that allows Alex to switch from crooner to belter. For The Love, a reflection of his own life, is a song about a working musician, his dream, and the place where his two passions meet; he strikes a delicate balance between inserting his own emotions into the performance while not stepping on the gas too much, vocally speaking. This is Alex Hall's moment. Do not miss it!
September 2023