Alan West - Bob Harris Session 23rd May 2014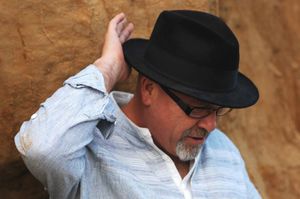 I've just finished listening to Bob Harris on BBC Radio 2 on listen again. It's the show that goes out between midnight and 3am early Sunday morning when I and probably most sensible people are tucked up in bed. The highlight of this show, which was broadcast on Sunday March 23, came an hour into the programme and featured British country singer Alan West and his talented trio. The music was superb; Alan performed three original songs 'All Things For A Reason,' 'A Fine Line Between Yes And No' and
 'You're On Your Own
,' but equally enthralling and interesting was the interview segments that Bob Harris conducted with Alan West between the live music. This illuminated the life and work of a UK country musician with a brutal honesty and disarming frankness and should be essential listening for any self-respecting country and Americana music fan, not to mention all aspiring singer-songwriters and musicians. Alan West tells it how it is and the master interviewer that he is, Bob Harris teased the responses from Alan in a way that a lesser person could never have done. All too often country and Americana music fans have dismissed UK acts out of hand, in many instances this is understandable, but when it comes to a talent like Alan West, all natural prejudices should be cast aside. I urge you to listen to this programme with a totally open mind. I am convinced that you will be hooked. I certainly was.
To hear the programme click here 
http://www.bbc.co.uk/programmes/b03ymy32
 and you can fast forward to just over an hour in, to hear the Alan West segment. But you need to be quick as by this Saturday the show will be removed from Listen again.
It would be great to hear back with your comments on this.
E-mail me at 
alan@acackett.freeserve.co.uk
 there's a free set of Alan West's back catalogue on offer for the most interesting comment I receive.
For further information on Alan West, see
www.alanwest.co.uk
.