Alabama - Sweet Home Alabama
First Published in Country Music International, June 1997
Their twenty-year career has taken them from small-time bar band to multi-platinum stars. Now Alabama are about to release their nineteenth album. The secret of their success? Staying true to their roots, as home-lovin Alan Cackett discovers.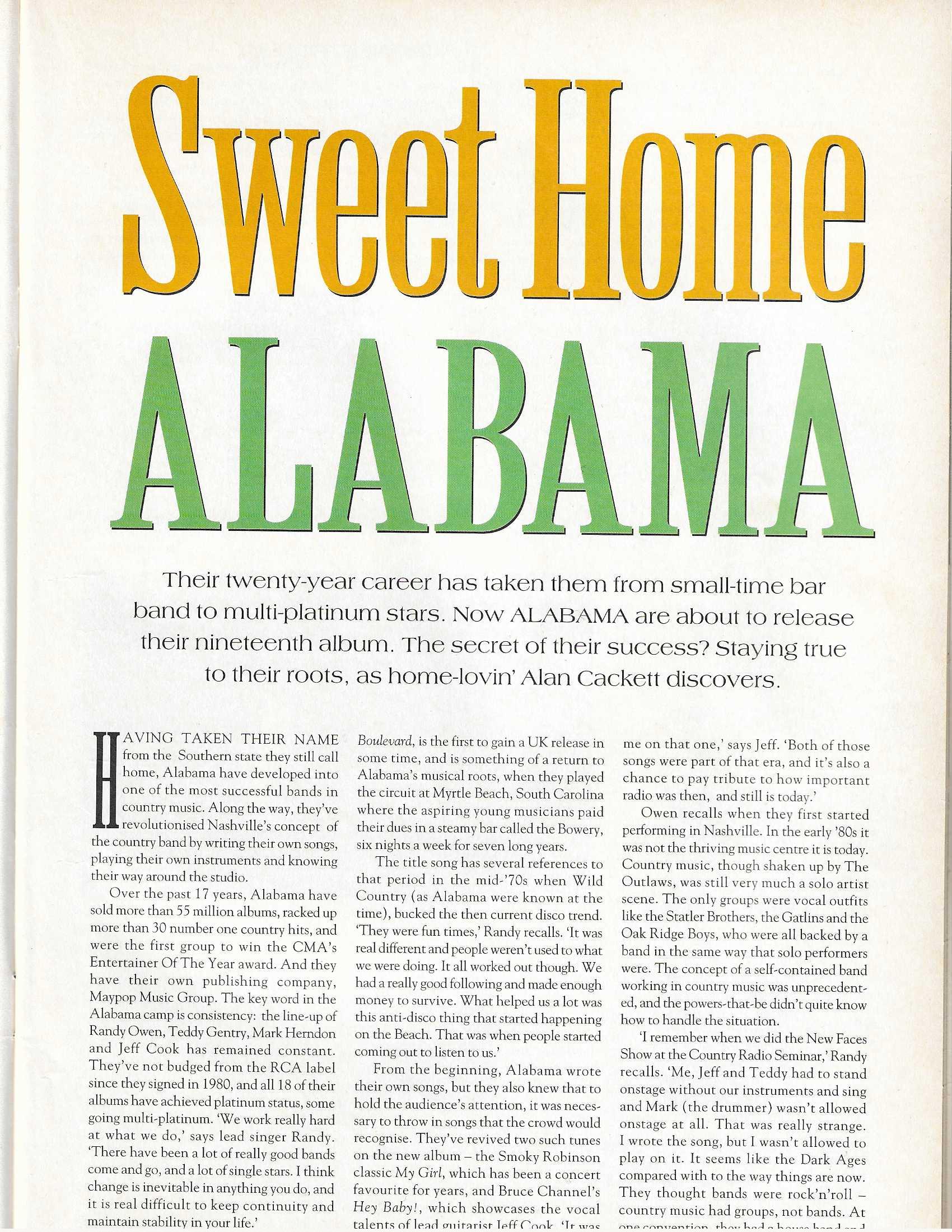 Having taken their name from the Southern state they still call home, Alabama have developed into one of the most successful bands in country music. Along the way, they've revolutionized Nashville's concept of the country band by writing their own songs, playing their own instruments and knowing their way around the studio.
Over the past 17 years, Alabama have sold more than 55 million albums, racked up more than 30 number one country hits, and were the first group to win the CMA's Entertainer Of The Year award. And they have their own publishing company, Maypop Music Group. The key word in the Alabama camp is consistency: the line-up of Randy Owen, Teddy Gentry, Mark Herndon and Jeff Cook has remained constant. They've not budged from the RCA label since they signed in 1980, and all 18 of their albums have achieved platinum status, some going multi-platinum. "We work really hard at what we do," says lead singer Randy. "There have been a lot of good bands come and go, and a lot of single stars. I think change is inevitable in anything you do, and it is real difficult to keep continuity and maintain stability in your life."
The band's latest album, DANCIN' ON THE BOULEVARD, is the first to gain a UK release in some time, and is something of a return to Alabama's music roots, when they played the circuit at Myrtle Beach, South Carolina where the aspiring young musicians paid their dues in a steamy bar called the Bowery, six nights a week for seven long years.
The title song has several references to that period in the mid-1970s when Wild Country (as Alabama were known at the time), bucked the then current disco trend. "They were fun times," Randy recalls. "It was real different and people weren't used to what we were doing. It all worked out though. We had a really good following and made enough money to survive. What helped us a lot was this anti-disco thing that started happening on the Beach. That was when people started coming out to listen to us."
From the beginning, Alabama wrote their own songs, but they also knew that to hold the audience's attention, it was necessary to throw in songs that the crowd would recognise. They've revived two such tunes on the new album—the Smokey Robinson classic My Girl, which has been a concert favourite for years, and Bruce Channel's Hey Baby!, which showcases the vocal talent of lead guitarist Jeff Cook. "It was great having Bruce come in and sing with me on that one," says Jeff. "Both of those songs were part of that era, and it's also a chance to pay tribute to how important radio was then, and still is today."
Owen recalls when they first started performing in Nashville. In the early 1980s it was not the thriving music centre it is today. Country music, though shaken up by the Outlaws, was still very much a solo artist scene. The only two groups were vocal outfits like the Statler Brothers, the Gatlins and the Oak Ridge Boys, who were all backed by a band in the same way that solo performers were. The concept of a self-contained band working in country music was unprecedented, and the powers-that-be didn't quite know how to handle the situation.
"I remember when we did the New Faces Show at the Country Radio Seminar," Randy recalls. "Me, Jeff and Teddy had to stand onstage without our instruments and sing and Mark (the drummer) wasn't allowed onstage at all. That was really strange. I wrote the song, but I wasn't allowed to play on it. It seems like the Dark Ages compared with the way things are now. They thought bands were rock'n'roll—country music had groups, not bands. At one convention, they had a house band and the artists performed with them. We threw a lot of wrenches into that mix because we insisted we had to play our own instruments."
It was following such a showcase that Alabama made the move from small independent to major deal, courtesy of RCA. The stakes in those days were lower, and far more realistic. The Nashville labels were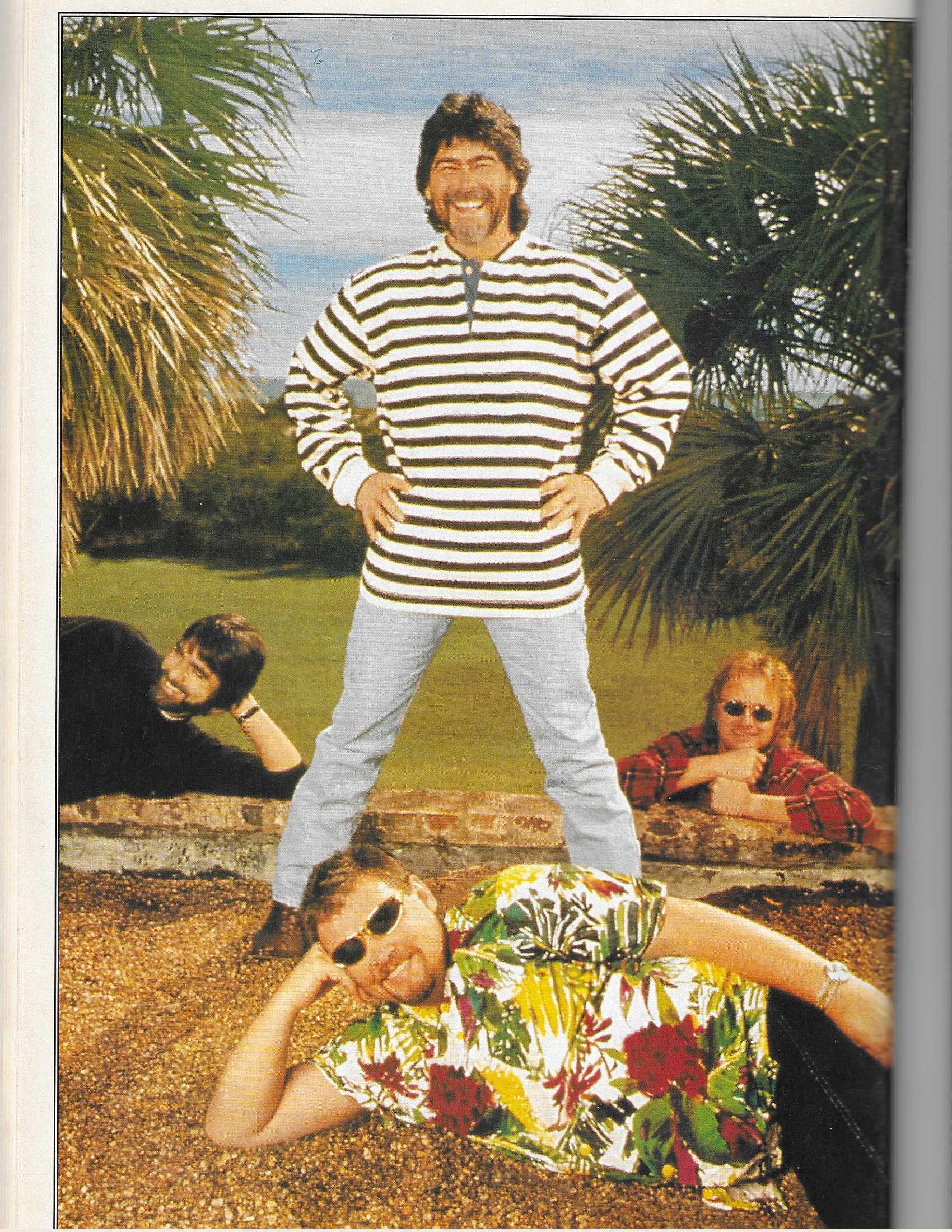 more interested in building long-lasting careers than producing a series of million-selling one-hit wonders. "RCA said that if we sold 60,000 albums, they would consider signing us to a good deal," Owen explains.
The band went on to score 21 consecutive number ones, from Tennessee River in May 1981 through to You've Got The Touch in February 1987. By the time the 1990s rolled along, Alabama were established as one of country music's most consistent acts, and the band's track record of musical and professional integrity created the standard by which many other bands measured themselves.
However, Alabama's seemingly charmed career was bound to hit a few bumps along the way, and inevitably, the tirade of chart toppers came to an abrupt end. Talk was of a band washed-up, and the period of instability and reappraisal that followed might have levelled a lesser outfit. "The industry was ready to write us off," Randy says, candidly. "Hardship like that can push people apart, but they've always pulled this band closer. You face the mountain and you become a stronger person for it."
He attributes the band's longevity to staying in touch with their roots. "I think it's because living in Alabama, being close to our families and close to where we were raised. I try to be a daddy and go to ball games and get out on my farm and get close to nature. Those are the kind of things that make it easier for us not to leave our roots."
It is Owen's canny instincts and grass roots approach that have helped make Alabama a long-term proposition, and he urges the industry at large to duplicate the Alabama approach with its upcoming acts.
"I'd like to see more career-oriented enterprises from within the music business, ones that aren't out to screw the artist, that understand that if we preserve the artist, the business will be richer."
Remaining firmly on his soapbox, Owen talks passionately about Nashville and the future of country music. "When I look at Nashville as a relative outsider, I see that we're not developing our artists," he continues. "We are finding some great songs that beautiful young people can sing. That's good for the business, great for the labels, but what about the future?"
The proliferation of new young acts has already taken its toll on touring, which has traditionally been the lifeblood of country. Too many of the big shows across the States are playing the same cities in the same week and the crowds are gradually diminishing. Randy recalls that in the old days, acts tried to ensure touring schedules didn't clash, but now the scene is so overcrowded it is almost impossible to do that. "It's just like anything else—there will be a shakedown," he says. "Something has to give. There are so many dollars that can be spent on country music. And there are only so many places to play."
Alabama's own touring plans reflect these concerns. When they sold their private plane a couple of years ago, some saw it as a sign the band were slowing down. But, in reality, touring by bus allows them the time to unwind between shows and focus more on the creative aspects of their music.
Likewise, it has helped the band return to their writing. It was in the back of the tour bus that many of their new songs took shape, reminiscent of the days when the band would drive from gig to gig in a Dodge mini-van, with little to do but bounce lyrics off one another and tighten those trademark harmonies.
"I'm more excited about this than anything I've ever been a part of," says Randy of the new LP. "The music goes back to the feel of the road. We were out this summer, writing songs and seeing America, and going back to the music we used to play in bars. You never get tired of writing. It's like rejuvenation of the soul." It was Alabama's experience on the road that persuaded them to include more of their own songs on the latest LP. with their own publishing company, and so many great Nashville songwriters, it had become too convenient to tap into the Music Row song factory. But listening to the fans made Alabama realise that maybe they had been getting it wrong.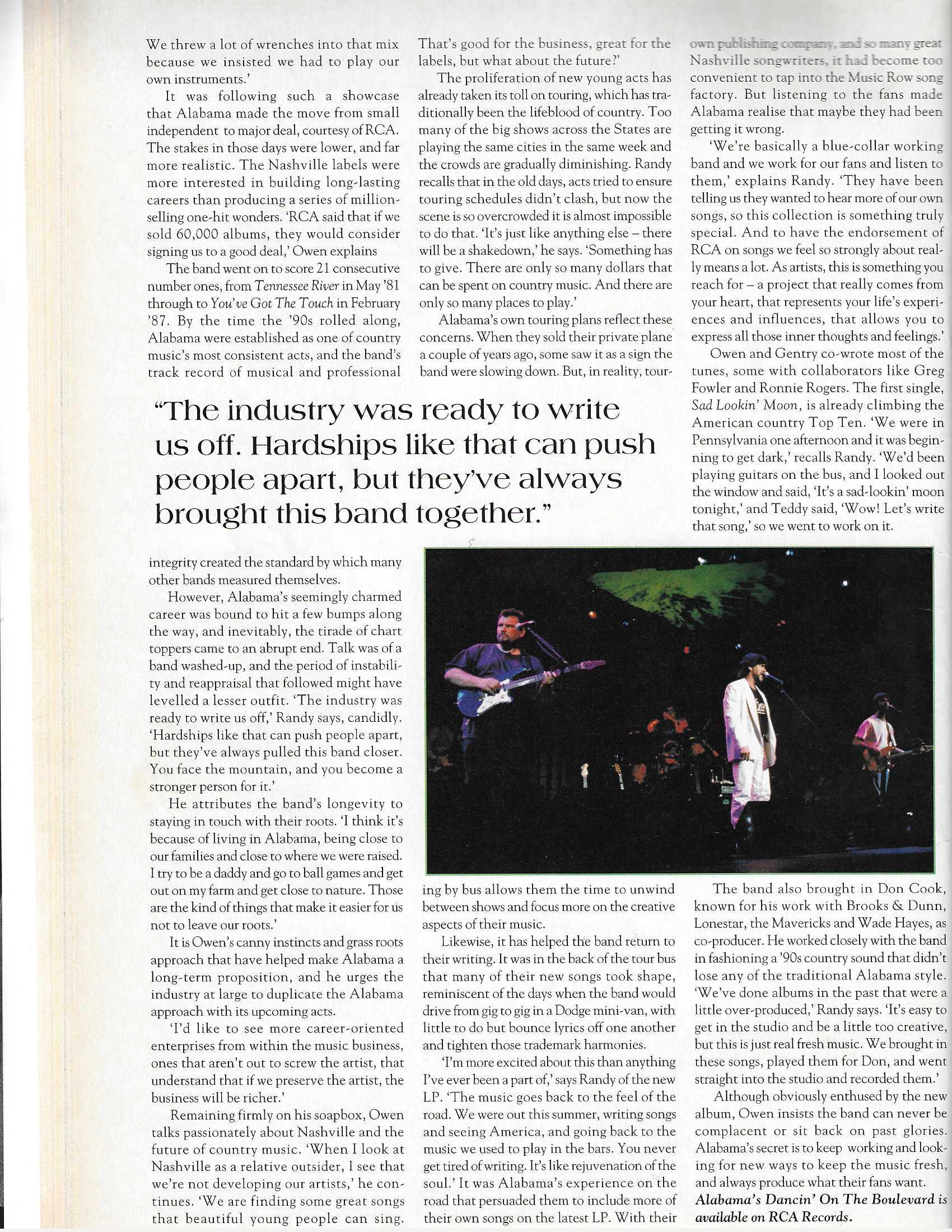 "We're basically a blue-collar working band and we work for our fans and listen to them," explains Randy. "They have been telling us they wanted to hear more of our own songs, so this collection is something truly special. And to have the endorsement of RCA on songs we feel so strongly about really means a lot. As artists, this is something you reach for—a project that really comes from your heart, that represents your life's experiences and influences, that allows you to express all those inner thoughts and feelings."
Owen and Gentry co-wrote most of the tunes, some with collaborators like Greg Fowler and Ronnie Rogers. The first single, Sad Lookin' Moon, is already climbing the American country top ten. "We were in Pennsylvania one afternoon and it was beginning to get dark," recalls Randy. "We'd been playing guitars on the bus, and I looked out the window and said: 'It's a sad-lookin' moon tonight' and Teddy said: 'Wow! Let's write that song' so we went to work on it."
The band also brought in Don Cook, known for his work with Brooks & Dunn, Lonestar, the Mavericks and Wade Haynes, as co-producer. He worked closely with the band in fashioning a 1990s country sound that didn't lose any traditional Alabama style. "We've done albums in the past that were a little over-produced," Randy says. "It's easy to get in the studio and be a little too creative, but this is just fresh music. We brought in these songs, played them for Don, and went straight into the studio and recorded them."
Although obviously enthused by the new album, Owen insists the band can never be complacent or sit back on past glories. Alabama's secret is to keep working and looking for new ways to keep the music fresh, and always produce what their fans want.