Al Anderson - Nashville Cats
First Published in Country Music International, January 1997
Having forsaken his early country roots for the gods of electric guitar and spent 20 years with off-centre rock outfit NRBQ, Al Anderson has returned to Music City as both writer to the stars and a solo artist in his own right.
When Al Anderson, one of the mainstays of the off-centre rock outfit NRBQ (New Rhythm and Blues Quartet), settled in Nashville a few years ago to write country songs, initial reactions were that he might just be jumping onto the successful country music bandwagon.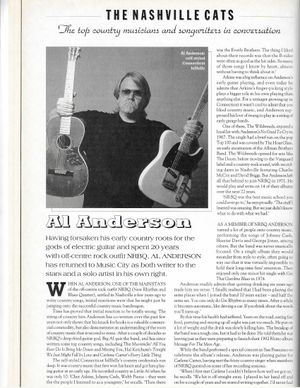 Time has proved that initial reaction to be totally wrong. The string of country hits Anderson has co-written over the past few years not only shows that his knack for hooks is a valuable commercial commodity, but also demonstrates an understanding of the roots of country music that is second to none. After a couple of decades as NRBQ's deep-fried guitar god, Big Al quit the band, and has since written some top country songs, including The Mavericks' All You Ever Do Is Bring Me Down and Missing You, Hal Ketchum's Tonight We Just Might Fall In Love and Carlene Carter's Every Little Thing.
The self-styled Connecticut hillbilly's country credentials run deep. It was country music that first won his heart and got him playing guitar at an early age. He recorded country as Little Al when he was only ten. "Chet Atkins, Johnny Cash, Webb Pierce—they were the people to listen to as a youngster," he recalls. "Then there was the Everly Brothers. The thing I liked about their records was that the B-sides were often as good as the hit sides. So many of those songs I know by heart, almost without having to think about it."
Atkins was a big influence on Anderson's early guitar playing, and even today he admits that Atkins's finger-picking style plays a bigger role in his own playing than anything else. For a teenager growing up in Connecticut it wasn't cool to admit that you like country music, and Anderson suppressed his love of twang to play in a string of early garage bands.
One of these, The Wildweeds, enjoyed a local hit with Anderson's No Good To Cry in 1967. The single had a brief run on the pop Top 100 and was covered by The Hour Glass, an early incarnation of the Allman Brothers Band. The Wildweeds opened for acts like The Doors, before moving to the Vanguard label and a country-rock sound, with recording dates in Nashville featuring Charlie McCoy and David Briggs. But Anderson left all that behind to join NRBQ in 1971. He would play and write on 14 of their albums over the next 22 years.
"NRBQ was the best music school you could ever go to," he says proudly. "The stuff I learned was amazing. But we just didn't know what to do with what we had."
As a member of NRBQ Anderson turned a lot of people onto country music, performing the songs of Johnny Cash, Skeeter Davis and George Jones, among others. But the band was never musically focused. On a single album they would meander from style to style, often going so way out that it was virtually impossible to hold their long-time fans' attention. They enjoyed only one minor hit single with Get That Gasoline Blues in 1974.
Anderson readily admitted that quitting drinking six years ago made him see sense. "I finally realised that I had been playing the same places when I joined the band 20 years earlier—and half the same set. You can only do Get Rhythm so many times. After a while it becomes automatic, like driving a car. If you think about the words you'll mess up."
By this time his health had suffered. Years on the road, eating fast food, partying and staying up all night was just too much. He put on a lot of weight and the drink was slowly killing him. The breakup of the band was a tough one, but it had to be done. He told them he was leaving just as they were preparing to launch their 1992 Rhino album MESSAGE FOR THE MESS AGE.
While the band performed a special concert in San Francisco to celebrate the album's release, Anderson was playing guitar for Carlene Carter, having met the feisty country singer when members of the NRBQ guested on some of her recording sessions.
"When I first met Carlene I couldn't believe how well we got on," he recalls. "We hit it off straight away. I played in her band off and on for a couple of years and we started writing together. I'd never had a hit in my whole life, and there was this song at number three or something like that on the country charts. It was just unbelievable."
The song was Every Little Thing, and it made Nashville sit up and take notice of Big Al. But it wasn't the first time he'd been involved with Nashville and country music. Veteran Opry star Skeeter Davis had married NRBQ's bass player Joey Spampinato, at one time considered a possible replacement for Bill Wyman in the Rolling Stones. In 1985 she cut the album, SHE SINGS, THEY PLAY with NRBQ, which included a version of Someday My Prince Will Come, played in 4/4 time.
Shortly afterwards, Anderson decided to try his luck in Music City, but his first forays into Nashville's creative songwriting community in the mid-1980s can largely be written off as a non-happening. He began inauspiciously with You're Gonna Be Sorry Man, recorded by Hank Williams Jr for his WILD STREAK album in 1988. Then a few years passed before anything else happened.
It was the influx of young, new talent into Nashville that helped him as the 1980s turned into the 1990s. NRBQ's popularity with many new country artists helped open doors for him. "All the producers, artists, writers and musicians were old NRBQ fans," he explains.
In the past few years, Anderson has become one of the most in-demand songwriters on Music Row. Besides writing songs with artists like Raul Malo of The Mavericks, Carlene Carter, Hal Ketchum and Lari White, he's also teamed up with top Nashville writers like Craig Wiseman, Bob DiPiero, Bill and Sharon Rice and Bill Lloyd.
"I love working with Craig Wiseman," he says enthusiastically. "We have the same musical background. I've also just written my first song with Kostas."
Having found his greatest success as a writer of contemporary country classics, Anderson has built a strong reputation as a background vocalist and session musician. But for every country hit he wrote, there was a killer rock song lurking in the background.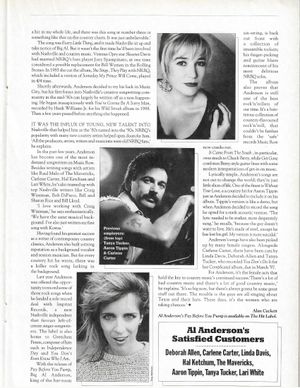 Last year Anderson was offered the opportunity to record some of those rock songs when he landed a solo record deal with Imprint Records, a new Nashville independent that favours left-of-centre singer-songwriters. The label is also home to Gretchen Peters, composer of hits such as Independence Day and You Don't Even Know Who I Am.
With release of PAY BEFORE YOU PUMP, Big Al Anderson, king of the bar-room six-string, is back out front with a collection of irresistible rockers; his finger-picking and guitar blasts reminiscent of his most delirious NRBQ solos.
The album also proves that Anderson is still one of the best rock'n'rollers of our time. It's a boisterous collection of country-flavoured rock'n'roll, that couldn't be further from the 'safe' records Music Row now cranks about.
It Came From The South, in particular owes much to Chuck Berry, while Get Gone combines Berry-style guitar lines with some modern interpretations of get-it-on music. Lyrically simple, Anderson's songs are not out to change the world; they're just little slices of life. One of the finest is Without Your Love, a country hit for Aaron Tippin just as Anderson decided to include it on his album. Tippin's version is like a demo, but when Anderson decided to record the song he opted for a stark acoustic version. "The lyric needed to be starker, more desperately sung," he recalls, "because the guy doesn't want to live. He's made of steel, except he has lost his girl. My version is more suicidal."
Anderson's songs have also been picked up by many female singers. Alongside Carlene Carter, there have been cuts by Linda Davis, Deborah Allen and Tanya Tucker, who recorded You Don't Do It for her COMPLICATED album, due in March 1997.
For Anderson, it's the female acts that hold the key to country music's continued success. "There's a lot of bad country music and there's a lot of good country music," he explains. "It's so big now, but there's always gonna be some great stuff out there. The trouble is the guys were all singing about Texas and their hats. These days, it's the women who are taking chances."