Adam Sweet - Sink Or Swim
ASMO120CD
****1/2
SINK OR SWIM is the evolving musical outlet of Devon based singer-songwriter-guitarist Adam Sweet. With guitars and vocals blazing, Adam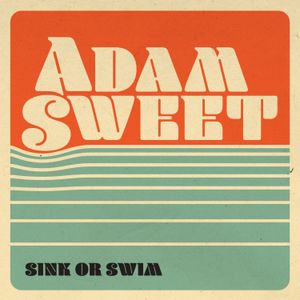 and his band deliver a set of songs that tell stories of surviving and overcoming life's many obstacles. A concise distillation of Adam's talents: clever wordplay, gritty arrangements, and vocals that find the sweet spot between blues and rock. This second album comprises mostly sub-four-minute tunes that get in, punch you directly in the ear and get out. He confidently demonstrates his prowess as a guitarist with strong backing from Ian Jennings (bass), Garry Kroll (drums). Ian Briggs (harmonica) and co-producer Josiah Manning (keyboards), especially on Devil's Lake, the sole instrumental track. Composed by Adam he kicks out a Duane Allman-in-Muscle Shoals riff on his guitar and it melds perfectly with the background organ to form a foundation that's pure, easy locomotion.
The majority of the songs are co-writes with his long-time friend Steve Black. Sonically, Adam is a guitar-slidin' force of nature whose songs could fill a hall with their effortless, mainly intense verve. Ranging from quietly desperate blues tunes to careening full-tilt rock, this album is a testament to the idea that less can, in fact, be considerably more. Opener Workin' On It is a rattly rocker that shows off Adam's shredding skills, developing a sound with all the power and glory of a seasoned performer twice his age. That song is followed by You Or Me, an offering with a similar theme of dancing around a relationship, albeit one that views the possiblities from a decidedly less optimistic perspective. Ian Briggs' bluesy harmonica adding touches of doubt to the outcome. Adam shows off his vocal versatility on the torchy Like It Or Not softly crooning while he lays down some B.B. licks behind his mellow delivery. While his more spirited numbers like Something From Nothing and Trouble are driven by youthful swagger he mellows out on Miss You So, a reaffirmation of my belief that he's an old soul in a young man's body. The agile approach applied to Something'll Happen and Good Enough suggests a more casual connection, while belying any sense of solitude in the hope of better times to come.
This set of songs comes spilling out of his songwriting pen just as fervent and hungry as his first effort, yet with more refined and deliberate results due to the wisdom won through the experience of his debut. From his heartfelt songwriting to stadium-ready vocals, it is clear that Adam Sweet is a rising star in waiting. SINK OR SWIM is a stunning album from a young bluesman with an ancient soul and a large presence in the here-and-now. Fans of electric guitar, Southern rock, blues-rock or plain old rock & roll attitude need to run, not walk, and check out Adam Sweet ASAP.
October 2020