A Different Thread - Call Of The Road
Self-released
***1/2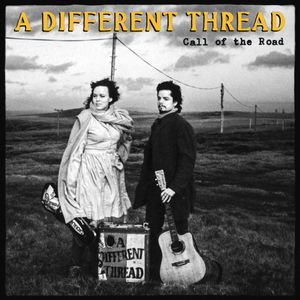 A Different Thread is basically a duo, comprising Robert Jackson (vocals, guitar, harmonica) and Alicia Best (vocals, fiddle), though for this, their second full-length album, and some live gigs, they utilise the talents of other musicians, including Mike Seal (double bass), Chris Elliott (fiddle, bouzouki, backing vocals), and Caitlin Jones (flute, Penny whistle, backing vocals). Having come together whilst busking in Ireland in 2016, UK-born Robert and American Alicia, are part of a crowded niche, playing a blend of Americana, British folk, Appalachia and singer-songwriter fare, that's always enjoyed more critical heat than commercial success. The couple really know how to throw down an amazing musical tapestry, one which beckons like a siren song. They perform with pure sincerity and joy but also an originality that is exciting and inspiring to experience. Their rich, human vocals have an amazingly full and deep sound sure to turn any unfamiliar listener into a head-shaking enthusiast. Prior to the pandemic they lived a kind of nomadic life, touring extensively across Europe and North America. Being separated during Covid gave them a fresh outlook that inspired many of the songs on this aptly titled album, with its themes of longing, separation and wanderlust. There are pieces of country, Celtic, folk and blues tossed into the eclectic pot.
The title song is full of heart-breaking vulnerability portraying the turmoil of unrequited and distant love. Alicia's plaintive vocal packs an emotional punch as harmonica wheezes in the background and Robert adds high harmonies. Change straddles the line between easy-going California soft rock and a folksiness as Robert laments the tortured, overstayed welcome of a relationship outgrown. Cradle To The Grave is cobweb-delicate, stunningly beautiful harmony-drenched beauty. An ode to silver linings and hidden upsides, this is a heartfelt reminder that often times we can find some joy and happiness in even the worst situations.
Their vocal harmonies emphasise a certain commitment to the cause, bringing a delicate sound to the beguiling ballads Get Close and Try To Ask You. There's a finger-snapping rhythm to the bluesy I Didn't Wanna Go, a good-timey song about an unwanted parting … the easy-going tune rolling round and round instantly from the opening notes. The Devil You Don't is a devastating ballad about the guy who broke her heart that feels so intimately specific, with weary anger so finely honed with sawing fiddle bringing a darkly gothic Appalachian vibe to the traditional-sounding song. The album closes with Linda's Crossing, a Celtic-flavoured instrumental piece that revolves around and around your head long after the music has faded away.
September 2022