4 Runner - Band On The Run
First Published in Country Music International, December 1995
Reviving the grand country tradition of the male vocal group, 4 RUNNER stand alone from the rest of the Nashville flock. By Alan Cackett
In the past few years, Nashville has been so busy cloning existing country stars that anything a little different has tended to be overlooked. So it came as quite a surprise this past summer to be listening to American country radio and hearing a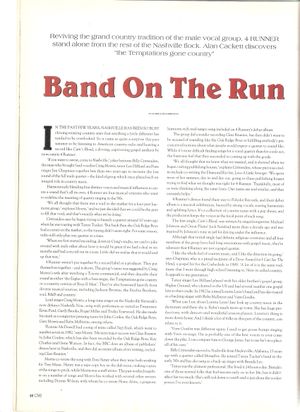 record like Cain's Blood, a driving, captivating gospel anthem by newcomers 4 Runner.
"If you want to sweat, come to Nashville," jokes baritone Billy Crittenden,
the man who brought lead vocalist Craig Morris, tenor Lee Hilliard and bass singer Jim Chapman together less than two years ago to recreate the lost sound of the full male quartet—the kind of group which once played such an integral role in country music.
Harmoniously blending four distinct voices and musical influences to create a sound that's all its own, 4 Runner are four musical veterans who want to redefine the meaning of quartet singing in the 1990s.
"We all thought that there was a void in the market for a four-part harmony group," explains Morris, "and we just decided that we could be the guys to fill that void, and that's exactly what we're doing."
Crittenden says he began trying to launch a quartet around 10 years ago when he was touring with Tanya Tucker. "But back then the Oak Ridge Boys had a corner on the market, so the timing didn't seem right. For some reason, radio will only play one quartet at a time."
"When we first started recording, down in Craig's studio, we used to joke around with each other about how it would be great if we had a deal in six months and had a record out in a year. Little did we realise that it would end up that way."
4 Runner weren't put together by a record label or a producer. They put
themselves together—and it shows. The group's name was suggested by Craig Morris' wife after watching a Toyota commercial, and they describe their sound as either 'the Eagles with a bass singer, the Temptations gone country or a country version of Boys II Men.' They've also borrowed heavily from diverse musical sources, including Jackson Browne, the Doobie Brothers, soul, r&b and country.
Lead singer Craig Morris, a long-time singer on the Nashville Network's
now defunct Nashville Now, sang with performers as varied as Tennessee Ernie Ford, Garth Brooks, Roger Miller and Trisha Yearwood. He also made his mark as a songwriter penning tunes for John Conlee, the Oak Ridge Boys, Gary Morris and Reba McEntire, among others.
"Ronnie McDowell had a song of mine called Step Back, which went to
number seven in 1982," says Morris. "My next major success was Class Reunion
by John Conlee, which has also been recorded by the Oak Ridge Boys, Ray Charles and Gene Watson. In fact, the BBC does an album of publishers' demos here in Nashville, and they did an entire album of my writing, including Class Reunion."
Morris co-wrote the song with Don Henry when they were both working for Tree Music. Henry was a tape-copy boy in the dub room, making copies of the songs to pitch, while Morris was a staff writer. The pair worked together on a number of songs and Morris has worked with several other writers including Dennis Wilson, with whom he co-wrote Home Alone, a gorgeous harmony-rich mid-tempo song included on 4 Runner's debut album.
The group did consider recording Class Reunion, but they didn't want to be accused of sounding like the Oak Ridge Boys or fulfilling anybody's preconceived notions about what people would expect a quartet to sound like. While it's more difficult finding songs for a vocal quartet than for a solo act, the foursome feel that they succeeded in coming up with the goods.
"We all thought that we knew what we wanted, and it showed when we began visiting publishing houses," explains Crittenden, whose previous credits include co-writing the Diamond Rio hit, Love A Little Stronger. "We spent most of last summer, day in and day out, going to these publishing houses trying to find what we thought was right for 4-Runner. Thankfully, most of us were thinking along the same lines. Our tastes are real similar, and that certainly helps."
4 Runner's demos found their way to Polydor Records, and their debut album is a musical celebration, buoyed by strong vocals, soaring harmonies and uplifting lyrics. It's a collection of country tunes with a pop sheen, and the production keeps the voices as the focal point of each song.
The first single, Cain's Blood, was written by singer-songwriter Michael Johnson and Great Plains' Jack Sundrud more than a decade ago and was inspired by Johnson's time in jail for driving under the influence.
Although that initial single had definite religious overtones and all four members of the group have had long associations with gospel music, they're adamant that 4 Runner is not a gospel quartet.
"I like the whole feel of country music, and I like the direction its going,"
says Chapman, who is a proud recipient of a Dove Award for I Can See The
Hand, a gospel hit for the Cathedrals in 1989. "A lot of it is the same rock music that I went through high school listening to. Now it's called country. It appeals to my generation."
Tenor singer Lee Hilliard played with his older brother's gospel group,
Higher Ground, who charted in the US and had several number one gospel hits to their credit. In 1982 he joined Loretta Lynn's band and has also toured as a backing singer with Reba McEntire and Vem Gosdin.
"What can I say about Loretta Lynn? Just look up country music in the dictionary and there she is. Reba's much more up-town. She has huge productions, with dancers and wonderful session players. Loretta's thing is more down-home. And I think a lot of folks in this part of the country, can relate to it."
"Vern Gosdin was different again. I used to get goose-bumps singing with Vern on stage. His is probably one of the best voices to ever come down the pike. I can compare him to George Jones, but to me he's in a place all of his own."
Billy Crittenden moved to Nashville from Hayleyville, Alabama, 15 years ago with a quartet called Memphis. He joined Tanya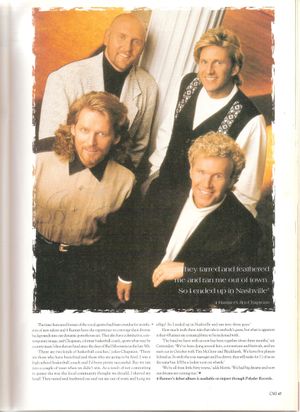 Tucker's band in the early 1980s and has also sang as a back-up singer with Brenda Lee.
"Tanya was the ultimate professional. She lived it 24 hours a day. Brenda's
one of those normal folks that had success early on in her life, but it didn't affect her too much. She's still real down-to-earth and is just about the coolest
person I've ever known."
The time-honoured format of the vocal quartet had been overdue for an
infusion of new talent and 4 Runner have the experience to converge their diverse backgrounds into one dynamic powerhouse act. They also have a distinctive,     contemporary image, and Chapman, a former basketball coach, sports what may be
country music's first shaven head since the days of Shel Silverstein in the late 1960s.
"There are two kinds of basketball coaches," jokes Chapman. "There are those who have been fired and those who are going to be fired. I was a high school basketball coach and I'd been pretty successful. But we ran into a couple of years when we didn't win. As a result of not committing to games the way the local community thought we should, I shaved my head! They tarred and feathered me and ran me out of town and hung my effigy! So I ended up in Nashville and ran into these guys."
How much truth there is in that tale is anybody's guess, but what is apparent is that 4 Runner are a musical force to be reckoned with.
"The band we have with us now has been together about three months," says
Crittenden. "We've been doing several fairs, conventions and festivals, and we start out in October with Tim McGraw and Blackhawk. We have five players behind us. So with the tour manager and bus driver, that will make for 11of us on
the same bus. It'll be a locker room on wheels."
"We're all from little bitty towns," adds Morris. "We had big dreams and now our dreams are coming true."