Wyatt Easterling - From Where I Stand
Phoenix Rising Records
****1/2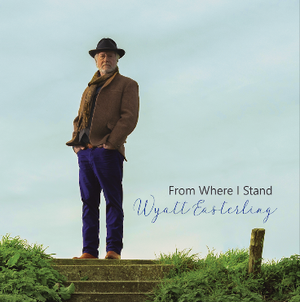 This is the kind of record that usually emerges from out of nowhere, but in the context of Wyatt Easterling's previous releases, it feels like the culmination of a lot of hard work. FROM WHERE I STAND is his fourth album. There are no bad records in the bunch, but this latest release is an especially accomplished work of roots-pop songcraft performed with a strong supporting cast. Conceived and recorded during the pandemic enabled Wyatt and producer Thomas 'Anderson' Bookwalter the luxury of time to experiment and refine the music. There's a comforting sway to the album's melodic folk-pop, built on Wyatt's subtle acoustic guitar work supported by multi-instrumentalist Anderson (electric guitars, piano, clavinet, background vocals), Mike Rosado (drums), Chris Rosser (piano), Jimmy Carter (bass), Doug Carter (B-3), Jimbe (percussion), Scotty Sanders (pedal steel), David Henry (strings), Danny Gotham (mandolin) and Allie Lutz (flute), all recorded remotely. An album of searing honesty and lithe beauty whose songs amplify the emotions and experiences of so many of us—reassessed relationships, self-reflection, and the ultimate search for hope. Its intentions are pure, as are those of Wyatt on this set of ten tunes of loss, resilience and devotion, with determination in the lyrics and buoyancy in the music.
This is a top-shelf listen from start to finish. It all kicks off with the sing-along-able (new word!) title track's celebration of all-is-one-ness. His easygoing, exceedingly likeable vocal disguises his subtle dig at fake news and the overall dire mess of the world. Echoes of Gary Burr tinge I Know Who You Are, the song's smooth, dreamy melody feels so singular and all-encompassing. Dark, sweeping elegance, painted with delicate acoustic strumming, brushes of undulating pedal steel and Canadian songbird Lisa Brokop harmonies, beautifully drape this exquisite love song in a different kind of light. Deep strokes of Wyatt's rich classical guitar, frame the sage advice he offers up in Love Says It Best with Abigail Dowd, Jess Klein and Kara Grainger adding airy harmonies that flutter like warm breezes on their faces.
Wyatt Easterling's songs have grown impressively dexterous, nimbly hopping from aching verse to pleading chorus. The Way She Moves Through This World is
an unrelentingly warm and uplifting ballad. A meticulously constructed track with swirling strings that create the dreamlike, almost folksy masterpiece. The oldest song on the album is Bigger Than Dallas, penned in 2004 with Little Texas' Porter Howell and 1990s' country star Paul Jefferson (who joins his wife Lisa Brokop singing back-up vocals on Where This River Flows). A vibrant soundscape seems at odds with the break-up scenario, his soulful vocal expresses its sadness but doesn't get bogged down in it. The small-town details in Throw Caution To The Wind are groovy and should connect with all of those that feel stuck in a rut. The tune bops along with verve while also spotlighting his clear, rich vocals, his clever turns of phrase drive the point home that taking risks isn't so bad after all. Packed full of emotions, and relatable situations, these songs feel lived-in.
July 2022