Willie Nelson - The Willie Nelson Family
Sony Music Legacy Recordings
***1/2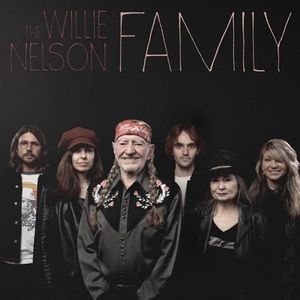 There's something to be said for longevity, especially in today's transient world. Fads come and go, musical tastes seem to change on a daily basis, and any definitions meant to determine a specific style of music seem to fluctuate with every passing day. With that in mind, a singer like Willie Nelson deserves credit for still sourcing the sounds that inspired him early on. Think old-time gospel songs are old-fashioned? In this age of political malaise, systemic injustice, a health catastrophe, and economic uncertainty, old-time's sounds and themes can feel alarmingly relevant, especially when performed in the capable hands of Willie and his family members. His voice, though a little cracked and somewhat world-weary, remains a voice for the people and right now, he's damn welcome to sing whatever he feels. The selection of songs—mostly revered standards with a few originals thrown in besides—sums up his sound succinctly. Although many of these tracks have been covered repeatedly by him over the ages, the joy and enthusiasm shared on such selections as Willie, sister Bobbie, children Lukas, Micah, Paula, and Amy and long-time band members Mickey Raphael, Billy English, Paul English and Kevin Smith bring a down-home perspective that practically makes these classics sound new again.
While this may not be his most compelling set, taken in the context of his oeuvre, it points to an artist with substantial creative range even as he's now at an age when most would be content to sit in a rocking chair and watch the rest of the world pass by. With a command of all the Americana forms at his beck and call, this set makes the back porch the epicenter of the universe as he uses his one-of-a-kind voice and guitar on some strong spiritual themes as he leads his back-up singers and musicians. Whether singing about love, loss or God, there's a certain reverence running through this collection. Opener Heaven And Hell, a song that he wrote and first recorded 48 years ago, is rough, raw, and ragged, lurching back and forth across the aisle from gospel, with Bobbie's churchy piano fading in and out, to back porch country blues with Mickey Raphael's harmonica. He goes back even further in his storied past to the late 1950s and Family Bible, a song that he wrote and then sold in order to make the trip to Nashville and a career in music. His vocals are stunningly spare on this nostalgic song, complemented by harmonica, piano, his trusty Trigger and family vocal harmonies.
He also offers songs from such diverse sources as the Carter Family, George Harrison, Hank Williams, C. Austin Miles and Kris Kristofferson. In the Garden, a 1912 gospel song penned by Miles, is peaceful and memorably melodic with Bobbie's piano the main accompaniment to Willie's plaintive vocal. It's Lukas who takes the lead for Harrison's All Things Must Pass, giving the song a simple reading with Willie joining in on harmonies way back in the mix and subtle strings adding to the overall pathos. Keep It On the Sunny Side is another song where Lukas' voice takes centre-stage with other members of the family joining in on the infectious chorus. The celebratory lift of the refrains falls back into his voice showcased almost alone, over the merest subtle grace notes from the other instruments. 
There are five Willie Nelson-penned gospel songs, all of which he wrote and recorded many years ago. I Thought About You, Lord and Too Sick To Pray were both previously recorded for his 1996 album SPIRIT, whilst In God's Eyes, Laying My Burdens Down and Kneel At The Feet of Jesus, all date back to the early 1970s. These are, above all, simply songs of devout celebration, preaching sounds of joy. It's an ethereal soundscape for the beautiful outlaw road trip through life's journey in your mind.
November 2021