Cornelius Chapel Records
****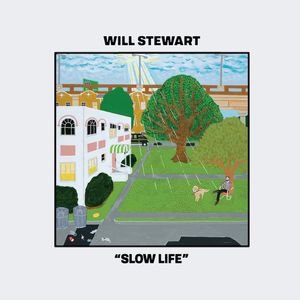 Will Stewart is an accomplished guitarist, a skilled songwriter and impeccable vocalist, distilling a tinge of soul to the Southern boy roots charm of his smooth Alabama twang into his own distinct voice. He's surrounded himself with a band that buoys him as he releases some of his most inventive songs to date. Together they make a sound that is deeply familiar, rough-hewn, and rambunctious with big bright guitar chords that punctuate moody, sharply observed narratives. SLOW LIFE is hypnotic, a collection of pulsing songs as intricate and strong as spider's silk. Will brings a determined resolve to each of his songs, reminding us that both the good times and the bad come in waves. Hailing from Birmingham, Alabama with roots firmly planted in deep South Americana, he likes to take the circuitous route. His dynamic guitar leads often take more pleasure in the journey than the destination as he offers an antidote to everything gauche and obvious about guitar music. He wisely showcases his band's superb musicianship (note the grooves locked down by drummer Tyler McGuire and bassist Ross Parker) alongside special guest Daniel Raine (keyboards) in addition to what is this rapidly rising roots-rock performer's defining characteristic: the simpatico quality of contrasting worldviews offered by a top-notch songwriter.
Bad Memory begins with acoustic guitar and swirling organ before opening up into a clean jangly country-rock track. It fits squarely in Will's wheelhouse, allowing his raspy voice to sink into self-pity as he takes the listener on a scenic road trip down a memory lane of past mistakes. He channels the tightness, focus, and drive of Springsteen in New World Daydream, using that sonic palette to great effect and dramatic tension while addressing the need to disengage from the constant low-grade anxiety and paranoia of modern life. This insistent rock jangler is proof that great rock music can inspire more than just the hips. It can also motivate the mind and stir the soul. The wistful New Highway is tarred and feathered with regret, as he yearns for a second chance. The song spins out a haunting organ swirl before gracefully landing in its conclusion, a sombre amber glow of guitar and gentle percussion pulsing around him.
There's not a skippable track here, but there are a few that rise above the rest, at least in my subjective view. Especially worthy of special mention are the soulful heartland rock of Tragedy and Let's Go, which straddles the line between rock grit and smooth, sultry empathy. He veers from rootsy rock'n'roll (You're Not Fun Anymore) to a more countryfied jangle (Just Be Sweet) with the wondrous harmonies of Janet Simpson. Will Stewart writes lyrics that feature colourful anecdotes and creates an openness with his atmospheric guitar, or the combination of organ and piano, inviting the listener into his world to share his pain or joy.
July 2022