Whitehorse - I'm Not Crying, You're Crying
Six Shooter Records 
****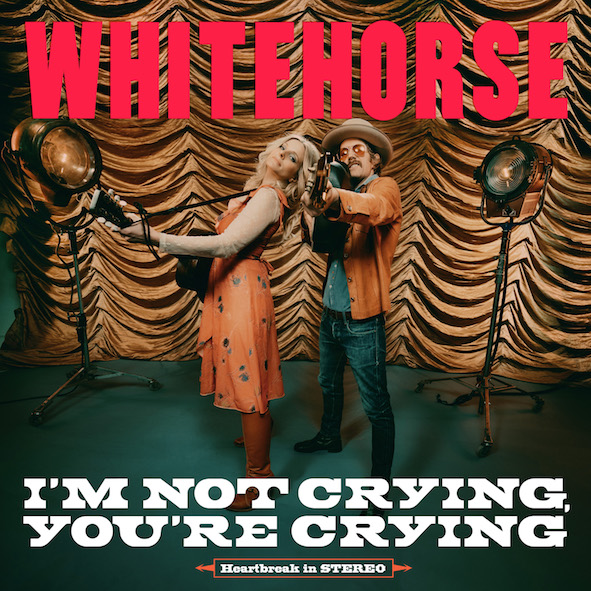 Melissa McClelland and Luke Doucet blend throwback 1970s-styled country with a modern tinge and fresh vitality to produce inviting melodies and harmonies on this, their tenth album. The Canadian husband-and-wife duo are very much musical chameleons. Since taking a break from their solo careers to form Whitehorse a dozen years ago, they have seamlessly criss-crossed musical genres, ranging from celestial folk to blues-rock, to psychedelic Americana to pop noir with a surefootedness that makes them very much a one-of-a-kind act. Returning to their musical roots, much of the music here falls somewhere between an easy ramble and a tender tapestry. An album initially influenced by lockdown is built on thoughtful observations, great musical skill, and a powerful connection. It has that comforting vibe of familiarity, despite the fact that the dozen songs are all new creations by the pair. Take a break from this craziness of everyday life and drift into the Whitehorse world. Their clear-eyed optimism is especially valuable. If it won't solve the world's ills, it surely makes it easier to face them. It also happens to make the perfect companion for your next walk, run or drive. 
Album opener, If The Loneliness Don't Kill Me, is about overcoming the solitude and darkness and simplifying our lives to start anew. The bright tune takes an infectious 1970s country groove, celebrating joyously a return from the claustrophobic darkness of being alone with the chorus: 'If loneliness don't kill me, then the good times surely will.' With Covid and Flu still plaguing us, it is so refreshing and calming to hear upbeat music. The upbeat vibe continues with I Might Get Over This (But I Won't Stop Loving You), with Luke taking the lead on this early Charley Pride styled throwback country sounding tune. Drummer John Obercian and Luke's bass and electric guitar carve out a groove on which Burke Carroll's pedal still sits comfortably on this morose and drunken man's tale of regret.
The duet 6 Feet Away will bring back both fond and unpleasant memories of a time in our lives that we are all glad to see the back of. Mentions of disinfectant, scrubbing hands till they're raw while chanting Happy Birthday, brings it all flooding back, but the carefree vocals present a positive outlook, focusing on remembering that the good times usually outweigh the bad. Luke's electric guitar work blended with Burke's steel is very effective with the hushed vocals. Burke's steel sets the scene for Sanity Tn, a jog-a-long western-styled country tune about an eccentric woman in lockdown, dressing up for no-one, while spying on the neighbours to pass the endless hours of solitude. Melissa's voice, however, is complementarily buoyant; as a result, the track never strikes one as abstruse, but instead is consistently and beguilingly appealing. They put across solidly how the pandemic affected their own lifestyle with The Road. Filled with stellar, heartfelt songwriting, this pair are humble masters of turning a social and universal pandemic into a poetic, concise and melodic country song.
Not all of these dozen songs are Covid related. They show their humorous side with Division 5, a kind of talking blues about a poor guy reporting his estranged girlfriend missing to the local police force. Even the well-respected Mounties are unable to assist the helpless protagonist. The energetic Manitoba Bound, a vibrant, tongue-in-cheek song about extra-terrestrials and other far-fetched yarns, wouldn't sound out of place on a Dave Dudley 1960s truck-driving album, with Luke's stunning guitar driving the track into absurdity.
The duo's songs have a woozy and whimsical swing to them that's distinctly their own. The perfect mix of skill and energy to keep you hooked from start to finish, this set is a magical companion to hazy summer days as they turn into warm summer nights …  moments of togetherness that are a refuge from an overcast world, a collective shaking-off of the chill and drizzle of 2020 for the comforts of a much brighter future.
December 2022