Troubadour Blue - Troubadour Blue Live
Self-released
****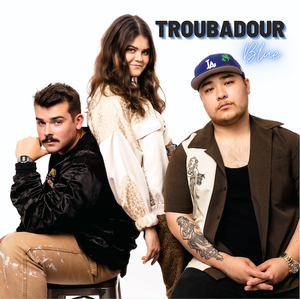 All it takes is a few notes from the opening track of this trio's debut mini album, to know you're about to hear something singular and special. They excel through both instrumental interplay and close-cropped harmonies that weave and intertwine. An added bonus, their songwriting seems to match their all-encompassing, sweeping style of music. There's always something to be said for music that possesses craft and creativity. Without those essential additives, there's little worth in listening. Troubadour Blue offer something that skill and savvy don't always provide—that is, an emotional connection that makes every song on this wonderful collection a delight to hear. It's a feeling of connection and inclusion that thoroughly engages its listeners, while inviting them to share in the sentiments that the music tends to express. That quality is evident at the outset giving the romantic joy of Shadow Of A Doubt a ringing delivery that's conveyed through feelings of exuberance and enthusiasm. 
Nashville-born siblings Brenna (fiddle, mandolin) and Eli Wheeler (acoustic guitar, resonator guitar, mandolin, banjo) met Austin-born Daniel Kim Ethridge (guitar, banjo), at Belmont University and soon got together to create music. This 'live-in-the-studio' debut has been produced by Tammy Rogers and includes a wide variety of music, including a special mix of folk-inflected bluegrass, pop-country and singer-songwriter fare. The trio distills warm breeze vocals and ripple acoustic guitars, fiddle, mandolin into the kind of songs that seem to hang in the air like slight humidity, affecting and strangely comfortable. They venture into shades of classic country with Am I Over It Yet. Acoustic guitar finger picking sets the tone with a sad tinge for this break-up ballad with mournful fiddle coming in as the desolation sets in. Brenna's voice, that will break your heart like only the best country song can, carries just the right weight of pathos and emotional hurt. Showcasing her vocal versatility, They Both Know is a more robust song about jealousy and temptation with odd turns of bubbling guitars turning into a swinging arrangement with an intrinsic fiddle break and the guys adding harmonies to her dynamic, gutsy vocal.
I Already Miss You is a perfect wonder. The lyric is extraordinary. The vocal performance is quite moving, radiating vulnerability, heartache, longing and honesty. All in all, a fabulous little song with a near-perfect musical arrangement. Evocative fiddle opens up the emotional Out Of Love, dreamily nostalgic country-pop for lovelorn listeners. They sing in unison, offering a memorably poetic image, casting spells with heavenly vocals, sparkling guitar and fiddle that feels like slipping off into a melodic daydream. A genuine worthwhile listening experience. It's a sign of a good band laying out the framework to becoming a great one. Granted, seven songs make for a modest debut, but it's also indicative of the fact that there will be more memorable music to come. They have a promising future ahead and it'll be a lot of fun to see where they go next.
September 2022