Curation Records
****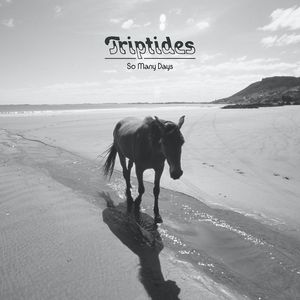 Triptides is a Los Angeles based group that has become locally well-known for keeping the embers of West Coast harmony-drenched soft rock, burning. The foundation of this latest album is predictable. The beautiful harmonies, the rich layers, the careful (or is that care-full?) lyrics— they're all present and accounted for on SO MANY DAYS. What's unexpected here is a dynamism that builds so effectively on the band's traditional pastoral leanings, and it makes this new album a striking listen. Like all of the trio's extensive song catalogue, the album pays tribute to mid-20th century psychedelic pop-rock, wholesome on the surface, darkness lurking underneath. Starting from their 2010 self-titled debut EP, the trio's acoustic-driven creations have captivated with their soft-focused yet progressive arrangements. A great collection of warm pop songs that range from shimmering three-part harmony twee to light and breezy folk-pop, each song radiating its own charm. Bouncy, bright, and often wistful, the record recalls the old, foggy world of England as well as the sunniest, westernmost reaches of California, and plays like a fantastical children's book for adults—a collection of clear-eyed allegories with magic glinting at the edges. A potent concoction of 1960s harmony-filled tunes that harken back to the early days of flower power and the jangly Americana rock'n'roll of bands like Buffalo Springfield, the Byrds and CSNY. Just don't get so lost in the timeless melodies, exquisitely diverse arrangements and classic sounds of these dozen tracks that you miss the tricky, zipping guitar parts, sighing pedal steel and other instrumental flashes of brilliance.
From the first song, Highway Sun with its instantly memorable melody and sweeping pedal steel guitar lines, it's very clear that this band is very deeply in love with the art of the song. You'll be forgiven if the sound conjures up memories of Crosby, Stills and Nash when you hear their impressive harmonies. With its jangly 12-string guitar If You See My Girl has a beautiful, haunted melody and stripped down plaintive acoustic beauty. They weave tender tapestries with a low-cast finesse on songs such as I'm With You, and Where I'm Going, imbuing each with their hushed harmonies and the supple picking of their respective instruments. A superb piece of jangle pop classicism, Fate seems to reference everyone from the Beatles and Big Star through to Teenage Fanclub. Simple but well placed, the three-part harmonies are the salt of the earth, the rhythm section's rock solid and the interplay between guitars and keyboards is intricate … it has everything a great song needs.
The title tune is the almost perfect blend of laid-back country-rock. With captivating harmonies and notable dynamics, they pull you into the heart of the matter and have you paying close attention. You can't escape the foreboding spell they cast. It's a place for chronic worriers, hopeless romantics, Anglophiles, patriarchy smashers and gentle dreamers, where sunny California indie meets melancholy English folk and the redwood meets the oak. An ominous kick-drum drives Happily Hopeless, the sound of karma catching up with someone. The song is solidly written, the singing has verve and the instrumental work is tight and confident.
Led by guitarist, keyboardist and singer Glenn Brigman, with drummer Brendan Peleo-Lazar and bassist/guitarist Stephen Burns, the trio creates a sound that's high fidelity for the lo-fi crowd. Triptides quietly occupies a small parcel of land on the outer strands of the ether, their lilting dream country-rock imbued with an extra dose of hypnosis. Their inventive use of the three-part harmony allows them to bring a fresh sound to songs styled from older generations and appeal to a wide range of audiences.
https://triptides.bandcamp.com
July 2022