Track Dogs - Where To Now?
Mondegreen Records MGR0122
****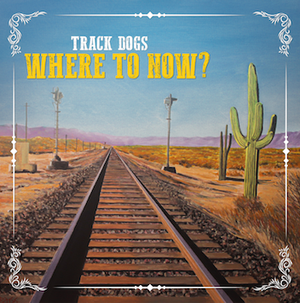 Most albums are merely meant to be enjoyed. Others are shared as a showcase for an artist's instrumental or vocal abilities. However, the best offerings of all manage to combine each intent in ways that are easily able to accommodate both, serving as evidence of musical ambition while also allowing for an absolutely entertaining experience at the same time. Madrid-based Track Dogs hone heartfelt emotion with a kind of vintage vitality … upbeat, vibrant, earnest and inviting throughout this, their seventh album. While the quartet has carved out their own, unique sound at the intersection of folk, rock and Americana, the band members have come from all different musical backgrounds, each of them bringing a different perspective to the collaboration. Track Dogs are two Irishmen, an Englishman and an American, whose artistic name derives from the dark subterranean world of New York's subway system. Now in their 16th year as a musical unit, the band comprises Garrett Wall (guitar, ukulele, piano, vocals), Dave Mooney (bass, mandolin, vocals), Howard Brown (trumpet, flugelhorn, vocals) and Robbie K. Jones (banjo, cajon, panderetas, vocals). This latest effort is another adept example of their varied approach, a celebration of banjo, mandolin, guitar, piano, four-part harmonies and relentless rhythms with the added embellishment of brass and strings. They are joined by several guests including Cathy Jordan of Dervish, English folk favourites Banter, members of the Potato Monsters, American singer Delories Dunn with string arrangements courtesy of Eli Bishop (Nashville) and Chris Demetriou and Adrianne Wininsky (Stockport).
The music is folksy without being condescending, easily engaging but never superfluous, and with more than a hint of humour and pathos. The group tends to eschew both posturing and pretence in their determination to deliver sweet sentiment and a rousing good time. Every Dog's Day opens the album, setting the tone and raising the bar for the rest of the album. The song's groove is well established by the time Howard's trumpet, the swirling strings and infectious harmonies make their tasteful entrances. The universally relatable subject matter opens the door, Garrett's seasoned vocal beckons the listener to jump in, while muscle-y ukulele and mandolin licks and a hard-driving Cajon rhythm step on the gas and peel out for what's an exciting ride. The Potato Monsters add flair to the rollicking Empty Tracks, the fiddle, whistle and panderetas providing a Celtic jig to this song about the closure of a railway line, in this case near to where the Track Dogs live in Spain.
The slow and plaintive She Sang Songs weaves guitar, trumpet, cello and violin around stark, though warm, vocals, as the singer reflects on the numerous female singer-songwriters of years long gone by, whose songs often went unheard due to a bias against female creativity. There is a south of the border feel to River Of Gold, a reflective ballad about the loss of a son who succumbed to the pull of gold and riches. Lush strings with echoes of the easy-listening classics of the 1960s mingle delicately with trumpet, acoustic guitar and a Mexican rhythm adding emphasis to sentiment that dispenses with any maudlin undertow. The only cover song is a unique rendition of James Taylor's Carolina In My Mind. Garrett's hybrid bluegrass/country acoustic guitar helps give this happy little number an Appalachian vibe. Sublime trumpet and folksy harmonies add additional texture and range to the sonic mix.
A charming blend of musical range and sounds, the band's breezy, fuzzy sound recalls the likes of Sailor, the Lovin' Spoonful or early Nitty Gritty Dirt Band. Every song on the album comes as a perfectly wrapped gift to the inquisitive listener.  
March 2022