Toby Keith - Peso In my Pocket
Show Dog Nashville
***
Toby Keith takes a perplexing detour on this latest endeavour—his first all-new album in almost six years—much of which,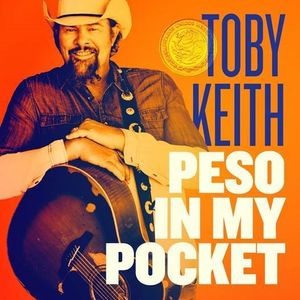 unfortunately, lacks the lyrical depth and musical acuity of his past work. There's a lot of tried-and-true country music here: cheating lovers, drinkin' songs, party animals, rose coloured memories of the good ol' days. With a few of the songs, Toby sets out to prove that tried-and-true is perfectly fine if you have the right people holding the reins. But there are also other tracks that just don't cut the mustard. Opener Oklahoma Breakdown, the self-penned title song and jazzy Old Me Better are nearly equal to the best of Toby Keith's glory days. Unfortunately, the hackneyed, subtle-as-a-sledgehammer lyrics on some of the material, particularly the juvenile approach to She's Drinkin' Again and the belligerent Happy Birthday America had me eyeing my beer mug. His melody and poetry just don't reach apogee enough times to make those songs something to celebrate.
You can't fit Toby Keith into a box. He's more country than most, more rock than the rest and has more soul and personality than all of them put together. In his hands, American songs, for all their inherent grittiness, flutter and float with realism and some essential element is laid bare. Growing Up Is A Bitch, a co-write with Sammy Hagar, has the theme of a roughneck facing up to aging disgracefully. It's a cheeky story recalling a misspent life he doesn't want to end, that in lesser hands would be a fatuous story of good ol' boys getting into trouble. The self-penned Thunderbird is a contagious blend of country freedom and fun-packed partying that is beautifully delivered. With a toe-tapping rhythm, twanging guitars and keyboards this is nothing more than a good time party on a platter, he knows the moves and serves them up just right. He turns in a neat rendition of John Prine's Take A Look At My Heart. Co-written with John Mellencamp some 30 years ago, the song is a cautious warning to a guy, who's now with his ex, featuring an upbeat arrangement that smacks of 1990s mainstream country. These are country songs carved out of the life of middle America, with an eye on the sparrow, but also taking in the hard-won lessons of a crooked past. In contrast, the Warren Brothers' Days I Shoulda Died, plods along laboriously and the aforementioned Happy Birthday America, really wound me up with his proclamation that if it wasn't for the good ol' USA 'France would just be part of Germany now.' The arrogance of this man, sadly, typifies too many Americans, who think it's their divine right to save us all and then use the name of God to justify their jingoism and warmongering.
Over the years I've been a big fan of Toby Keith and his music. I think his 1994 BOOMTOWN album was one of the finest mirrors of the fate of the American industrial heartland that's ever been written and recorded. Sadly, this latest album is not the kind of album that's going to be a game-changer. Precious few songs save this one from being little more than a shiny silver coaster for my beer mug. The veteran country star is looking and sounding more like a conservative under-achiever as he squanders his marvellously virile voice on an uneven batch of all-too-familiar country tunes. There's no edge, no attitude, but loads of radio formula to speak of.
October 2021