Tim Stafford & Thomm Jutz - Lost Voices
Mountain Fever Records
*****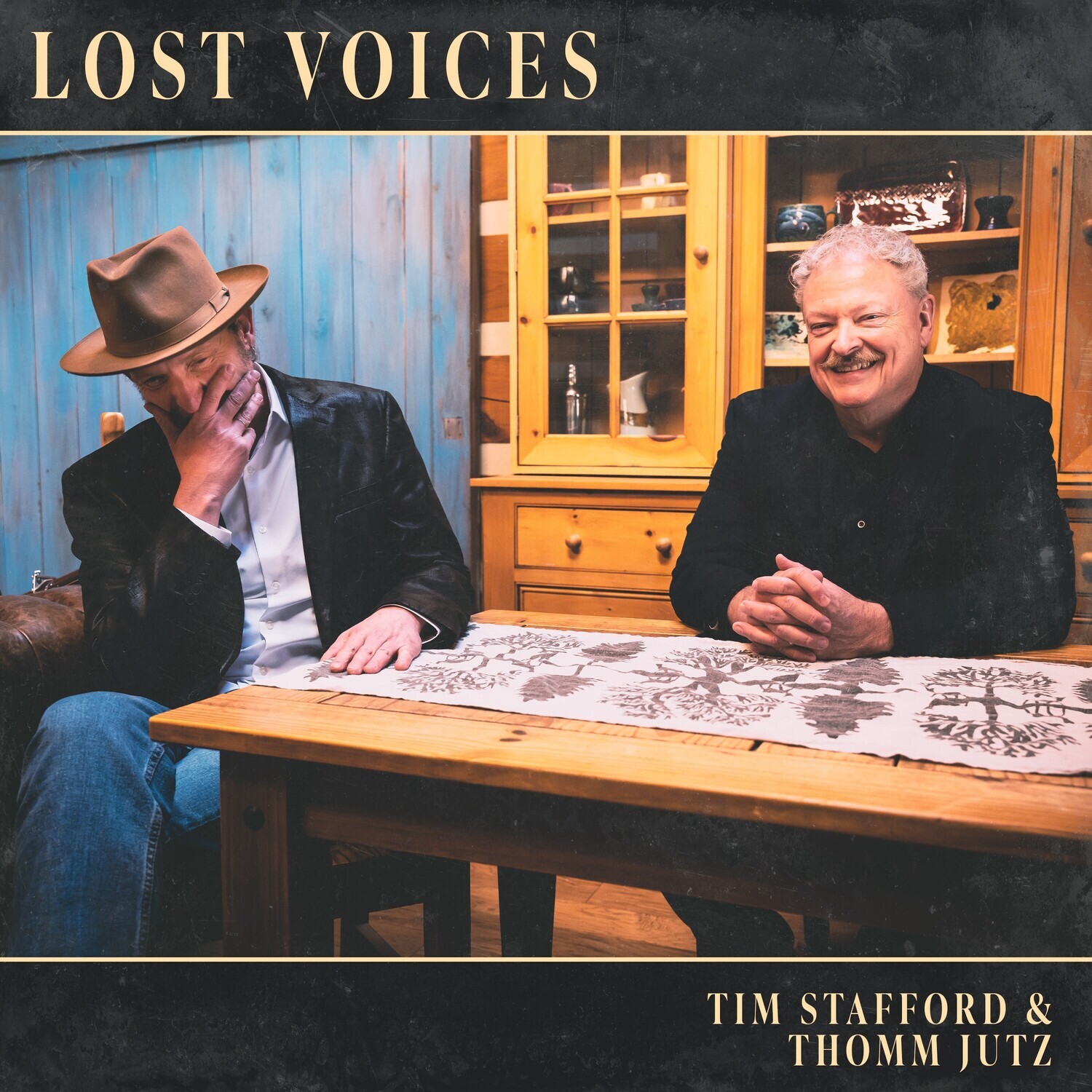 I really, really hope that people support Tim Stafford and Thomm Jutz and their LOST VOICES, because it takes me back to the music of folks like Merle Travis, Jimmie Driftwood followed later by Tom T. Hall, Gordon Lightfoot, Steve Goodman and John Prine … you know, classic country story-telling songs from my youth that really set up what Americana would become. Echoes of the tenuous trappings of America's past come flooding to the fore in these expertly penned songs, but they find a contemporary connection as well. As the album seamlessly journeys through Appalachia they utilise bluegrass traditions as their source material, but manage to create a finished sound that is fresh and authentic. Understandably, the pair have an easy familiarity in both their playing and singing. Tim and Thomm each deliver cogent lead vocals, their voices frequently blended to create an energised doubling effect (more so than harmony). Supported by such esteemed musicians as Tammy Rogers (fiddle), Mark Fain (bass), Ron Block (banjo), and Shaun Richardson (mandolin), there's plenty of good stuff to be found on this album, particularly for those who enjoy their bluegrass with a strong dose of country and folk sounds. LOST VOICES is indeed the finest proof of the enduring need for the album format. If you haven't got a copy or listened to it yet, sit down with your favourite beverage and enjoy the excellent storytelling and musicianship that this album offers.     
Whether singing of the Navajo code talkers of World War II (Code Talkers), a negro baseball team that flourished in the South despite widespread racialism (The Blue Grays), a real-life Tennessee outlaw with a Robin Hood ethos  (The Ballad of Kinnie Wagner), a fictional mountain feud with echoes of the Hatfield-McCoys (No Witness In The Laurel But The Leaves) or the Cherokee Indians deep-rooted connection to the land of their forebears (The Standing People), Tim and Thomm treat the material with the reverence it deserves, evoking a wellspring of honesty and integrity. Take That Shot, inspired by newly discovered old black and white photos of legendary outlaw Billy The Kid and blues legend Robert Johnson, is taken at a breakneck speed allowing the musicians to showcase their incredible picking skills. The well-written lyrics, full of concise, historical detail, are sung cleanly by the pair, keeping the listener hooked in. The aching vocal of Dale Ann Bradley brings an emotional kick to Callie Lou, a song inspired by The Dollmaker book with echoes of Dolly Parton's finest Appalachian ballads. A haunting yet lilting melody, Dale Ann's voice sets the scene for a chilling, melancholy, tragic yarn by a couple of the most creative artists working today.
Wild Atlantic Way, inspired by the time that Thomm was stranded in the beautiful West Cork town of Rosscarbery at the beginning of the pandemic, bring the pair back into a folk and acoustic string-band realm led by finely picked acoustic guitars. They encapsulate the beautiful Irish landscape and ruggedness in the delivery of this longing and picturesque tune. Played in a mellow style that entwines swing and ragtime licks, Vaudeville Blues pays tribute to the near-forgotten Emmett Miller, one of the last black-face minstrel singers. A major influence on Jimmie Rodgers, Hank Williams, Merle Haggard and others, he was the writer and original performer of the classic Lovesick Blues. The track itself lopes ahead with an easy, natural shuffle that underscores the ease and skill with which Tim and Thomm can slip into performing this type of material. Bringing forth these 'lost voices' of America's past in such vivid stories of steam trains, baseball, mountain healers and native Americans paints a rich history of a bygone way of life which has sadly long disappeared but should never be forgotten. 
January 2023