The Weight Band - Acoustic Live
Self-released
****
Anyone who is familiar with my eclectic musical tastes will know that I have a particular dislike for 'tribute' acts and 'soundalikes''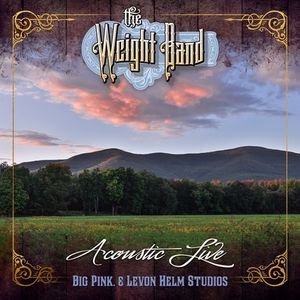 I am a massive fan of originality in music and if any act covers a well-loved song, I expect, no dammit, I demand, that they add something a little different, something of themselves to the song, rather than aping the original or previous versions. Many will possibly be quite surprised to discover that I'm giving a positive spin to the Weight Band. Their name alone gives a clue to their musical inclinations. The five-piece outfit first got together in 2013 at the renowned Woodstock barn of Levon Helm. Jim Welder, the group's leader, is a 15-year former member of The Band (he replaced Robbie Robertson on lead vocals and songwriter) and the Levon Helm Band. It was Helm's insistence and support that he should continue the musical legacy of The Band, including adding new songs to their famed canon of classic material. Over the years the Weight Band has evolved into the current line-up of Welder (guitar, mandolin, vocals), Brian Mitchell (keyboards, vocals), Albert Rogers (bass, vocals), Matt Zeiner (keyboards, vocals) and Michael Bram (drums, vocals). While the group has found affirmation in association, they've more than held their own courtesy of their unabashed enthusiasm for replicating sounds of a vintage variety.
This latest album, sub-titled Big Pink & the Levon Helm Studio, was recorded in October 2019. Some of the tracks are taken from a rehearsal session at Big Pink, the famous pink house in Saugerties, New York, that was home in the early days to Bob Dylan collaborating with The Band. Jim and the lads were rehearsing for an acoustic show at the Levon Helm Studios the next evening. The remaining tracks are taken from that acoustic concert. These five musicians express the sheer exhilaration they find in picking, strumming, singing, playing and sharing simple, old-time styled sounds and songs. Listening to the record gives the feeling of lounging on a well-worn couch in the basement and cracking open a cold one as you watch a group of your buddies mess around and have a blast. The band leaves no doubt as to their fondness for blues, folk, gospel, country, soul, old-time mountain and the other trappings that accompany a decided sense of age-old authenticity. Indeed, songs such as Rockin' Chair and Deal, sound like they were culled from a vintage songbook, but there again, the melodies are compelling enough to allow for contemporary credence. That then is the essence of the band's appeal, specifically, the ability to emulate a traditional tapestry while creating a sound that is as affecting as it is evocative without regard to any specific motif.
Michael Bram's voice is absolutely of the earth with its whiskey-borne rasp on the Jim Welder written Common Man. This harmonica-driven tune is a tribute to farmers, truck-drivers, factory workers and all those other ordinary folks that keep the wheels a-turnin'. They turn Bob Dylan's Highway 61 Revisited into a chooglin' blues that sounds dipped in good ol' Southern grease with some wild accordion weaving in and out. Bessie, an early song from The Band's repertoire that references Bessie Smith, is a languid waltz with a shuffling beat, wafting accordion and smooth harmonies. There's a country groove to Robbie Robertson's Caledonia Mission with tinkling piano. A handful of songs temper the more effusive emotions through a more homespun sound, none more so than their mournful take on Chuck Willis' What Am I Living Fore, easily the most subdued song in the set with ethereal accordion setting the mood.
This album has a feel and performance that you can only get from playing and singing together live in the studio. The Weight Band don't just sing and play their home-grown brand of joyful, driving old-time—they holler, stomp, swagger, and swing, fearlessly throwing themselves into the music and winding up in the hearts and souls of their audience.
March 2021