The Slocan Ramblers - Up The Hill And Through The Fog
Self-Released
****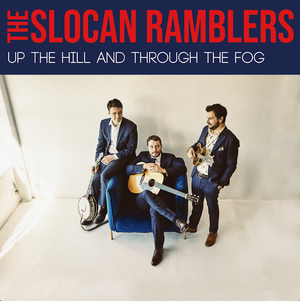 Hailing from British Columbia, The Slocan Ramblers' newly energised fourth album, following the enforced pandemic lay-off, is full of unexpected twists and forked, enchanting melodies. Straddling the boundaries of bluegrass, naturally, it's no small challenge to establish one's sound in a genre where only excellence sets the standard. It's little surprise that other than a handful of its offerings, the band writes its own material, a definite help in distinguishing them from a crowded competitive field. While their instrumental acumen is certainly impressive, the songs themselves are the thing that grabs attention straight away. While the majority of professional bluegrass pickers are known for their astute instrumental acumen, it doesn't mean that melody need be sacrificed for musicality. Indeed, that's a belief shared by any number of young bands, including this outfit, that identify themselves as either newgrass and grassicana, terms used to describe a determination to find common ground between the old and the new. Most of the songs were written during the Covid lockdown and in the aftermath of the loss of close family members. On first hearing it is noticeable how the band takes a kind of fatalistic philosophy even while pondering the inevitable—death, displacement and loneliness in particular—and yet they still manage to relay the music with upbeat circumspect.
The trio comprises Daryl Paulsen (guitar, vocals), Adrian Gross (mandolin, mandola, vocals) and Frank Evans (banjo, vocals) supported by Charles James (bass, vocals). While these skilled musicians provide strong bones, producer Chris Stringer's touch gives an extra depth to their sound. Opening track, I Don't Know, is a slice of breezy country-folk, its melody and the harmonies capturing the feel and sound of early 1970s country-rock. A beguiling love song penned by Frank Evans, it questions just what his girl sees in him in a strangely infectious and celebratory manner. These Slocan lads know that a good tale sits at the heart of many bluegrass songs, as well as the ability of the song to drive around many different musical corners as players take their turn chasing notes up and down fretboards and weaving them around the other lines in the songs. Like a great bluegrass tune, Bill Fernie warmly draws the listener into a tantalising ghost story inspired by a folklore curse placed on the Canadian town of Fernie.
There's a whimsical John Hartford vibe to The River Roaming Song. They maintain a low-key feel without sacrificing the band's obvious instrumental dexterity, capturing the easy flow of water in one of the best songs of the album.  At first listen You Said Goodbye, seems like a driving bluegrass number about a broken-hearted lover chasing down the one that got away, but a closer listen and you realise that he' actually singing about the devastating passing of a loved one.
A reworking of Tom Petty's A Mind With A Heart Of It's Own, is a cool cover featuring contemporary soloing and a quicker tempo, not to mention the catchy ensemble chorus, that initially catches the listener off guard. They also offer a trio of instrumentals. Snow Owl draws on their dexterity with an exceptional combination of flourish, frenzy and nuance. Platform Four begins at a slow pace, then gradually gains momentum developing into a playful, old-time romp, akin to an Avett Brothers stomper. The jaunty, propulsive Harefoot's Retreat scampers quickly along, a joyous number that allows every player to shine.
It's a testament to their obvious chemistry both as people and songwriters that the album has so much charm packed into its runtime. The fear of limiting themselves can be an inhibiting factor, both creatively and commercially as well. After all, simply being sound-alike doesn't offer opportunity to set one's self apart. Their bluegrass tradition-honouring, yet forward-thinking music deserves to be widely embraced. The Slocan Ramblers deliver a driving sound in a fast-paced show that mixes both humour and pathos with original music and you owe it to yourself to pick up on what they are laying down.
June 2022