Sham/Thirty Tigers
****1/2
The Jayhawks have always ploughed their own furrow, with each album taking them to deeper and deeper levels, far beneath the soil. XOXO marks a milestone in the resilient outfit's career, capturing the musicians' remarkable creative chemistry along with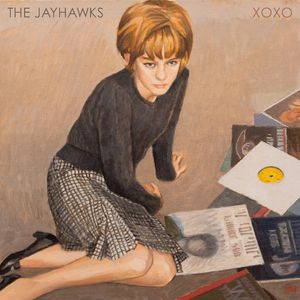 the deepening melodic and emotional resonance in the shared songwriting of all four members. In the past, Gary Louris has been front and centre, but this time long time bandmates Karen Grotberg, Marc Perlman and Tim O'Reagan all contribute high quality songs and share in the lead vocals creating a more varied soundscape that still remains clearly a Jayhawks album. A rich, fulsome, lyrical experience this is a melting pot of influences and personalities, with all four members getting their voice, literally and metaphorically, contained within the sounds of the record.
The band has been described as a lot of things over the years: alt-rock, Americana, insurgent-country, and have even had the terms pop and classic-rock thrown at them. But more than anything the Jayhawks are survivors. They have been weaving a subtle yet undeniable country twang throughout their sound since their 1992 HOLLYWOOD TOWN HALL masterpiece and built a worldwide fan base—that despite the major sea-changes within the music industry—continues to grow each year. This record is as natural as the band's beginnings, with no long discussions or debates, just things gelling and making sense. The opening Old Forgotten Town transported me back to the early 1970s and the strains of the Flying Burritos and New Riders. Marrying gloom and beauty with the confrontational lyrics, soaring harmonies and searing pedal steel is just the first taste in an album that takes on new depth with each listen. Then Dogtown Days bursts into brightly crashing rhythms of heartland rock'n'roll mixed with pop catchiness, with Tim O'Reagan's raspy vocal making it all in all feel-good and familiar. Ruby is a gorgeous piano ballad with Karen's idiosyncratic tones wrapping soulfully around the unrequited lyrics enhanced with soaring harmonies to create a lush sound that's as dangerous as it is seductive. Homecoming is a retro pop-rock tune with a simplicity that lends more weight to every aesthetic detail, from its measured pace to its faint, positive glow with Gary's determined vocal enhanced by the group's spot-on harmonies that find focus throughout, shining in sync and keeping the music moving at an even keel. Illuminate is purely intoxicating, leaving you with a dizzying smile and slowly creeping warm-n-fuzzies. Uncluttered and dreamlike, this contemplative number is one of those songs which immediately calms the listener. Across My Field sees them capturing their evocative blend of a melodic, mind-bending song and classic country-rock sensibilities. Karen's smooth vocal, the eerie pedal steel and the intricate harmonies evoke the best moments of those graceful Laurel Canyon days. Looking Up Your Number is perfect dream pop, echoing cavernously but maintaining an intimate feel—Tim's cracked, broken voice making a romantic break-up drama into a drawn-out, pained work of anguished beauty.
The bonus edition has three additional tracks making for a lavish 15-track set. When You Walked Away is dusty country soul with gorgeous vocal arrangements ... filled with acoustic guitar and a wonderful pastoral melody. In similar style is the Buffalo Springfield-like Hypocrite's Lament, with intimate harmonies, comforting keys and confident guitar strokes.
The Jayhawks have a rock and roll heart, an ear for pop music and a love for the country heart of American music. Straddling past and present, this is the band's most ambitious album of elementally battered, rueful and rousing music. It is as stirringly anthemic as they've managed thus far with some of the best songs that Gary Louris and his bandmates have ever written, together or apart.
August 2020