The Freeway Jubilee - On The Horizon Vol 1
Self-released
****
This Asheville-based five-piece started out life some ten years ago as the Freeway Revival. Adopting their new name after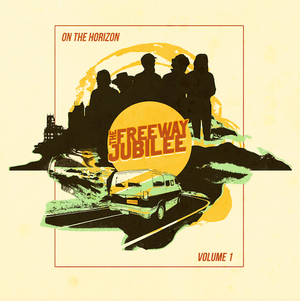 expanding their line-up, the band still serve up buoyant, joyous music. An eclectic blend best described as Americana soul works on a variety of stages, attracting a fan base as varied as the genre-hopping outfit itself. This latest album is a collection of glorious rootsy jams with unfussy production, tight melodies and precise vocal harmonies. The variety of instruments used is awe-inspiring as well as intriguing. It fits together as easily as a toddler's jigsaw puzzle. While skill and dexterity remain exceptional attributes, the ability to stake them to a song has become just as important for sustaining the outfit's fervent fan following.
This aptly titled effort finds them sharing an array of new songs, each performed with that trademark combination of reverence and revelry. There's something spiritual in their songs, from the lyrics through to the music and the production quality. The country-rockin' romp In Motion burns rubber down the road, fuelled by twin lead guitars, swirling organ, a hint of horns and driving rhythm guitars. A mix of cosmic cowboy folk and west coast country-rock harmonies this gorgeous opening track is great for a midnight drive or sitting out on your porch in a rocking chair. There is some confluence of spirituality and the secular in Let Me Try, a tender testimonial that carries the emotional gravitas so desperately needed. They bring in rolling piano and subtle horns to add to the heavenly atmosphere as the song builds nicely. With Reachin' we get the kind of sentimental and rootsy blues-meets-country soul that is reminiscent of the 1970s country-rock sound of the Pure Prairie League, the Outlaws and Poco with the addition of restrained horns.
A couple of the lengthiest tracks Not The Same and Rugged And Free give the individual members of the band—Adam and Jonathan Clayton, Kenny Crowley, Hunter Parker and Cartwright Brandon—ample opportunity to display instrumental acumen to the collective combination. The latter is an expansive trawl through the history of American art, music and literature as the guys swirl up a riveting sonic concoction that perfectly matches the lyrical history lesson. Not The Same is a swirling country-rock anthem that brings to mind the golden days of Poco. They create that wonderful feeling of heading home with imagery of dust clouds, rainstorms and cool mountain streams to wash one's spirits clean. They close the album with the delicate strains of Humble Song, featuring four-part harmonies and the distinctive strains of guest musician Chris Moe's harmonica. With positive lyrics this is hopeful and wondrous, like clouds parting on a crisp autumn day.
The band's blend of country-rock with a soulful vibe plus inviting melodies and harmonies, is both fun and exceptional. The result is a record that is packed with a thousand deft little flourishes of texture which together add up to a deeply entrancing whole. This is what truly makes the Freeway Jubilee stand out.
November 2021