The Barlow - New Year, Old Me
Self-released
****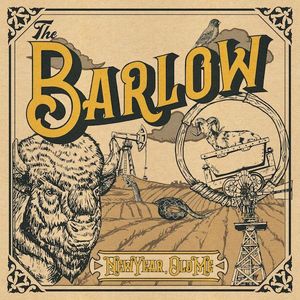 The Barlow is a bold four-piece that plays country-rock in its truest, most classic form. Don't mistake that as synonymous with middle-of-the-road music, however, because this, their third album, is anything but. Equal parts crunchy and polished, classic and contemporary, the Barlow's brand of country-rock is one that many likely thought was extinct. Wearing their influences on their check sleeves, the quartet drive home the rugged essence of 1970s guitar and harmony-based country-rock. Yet, despite being inclined in the direction of such outfits as the Flying Burritos or New Riders, these Colorado boys are far from second-hand imitators. The band show they've got the chops and the uniqueness to refresh vintage country-rock, honky-tonk and Southern rock without the commercialism that has plagued other prominent localised bands of their generation. They create a warm, vibrant atmosphere that channels the energy the band has perfected live, culminating all that's ever been great about country-rock and revitalising the genre into a fresh rustic country sound for 2022.
Comprising Shea Boynton (vocals, guitar, banjo); Troy Scoope (bass); Ben Richter (drums) and Brad Johnson (guitar, vocals) plus guest musicians Ben Waligoske (pedal steel); Andy Schneider (keyboards) and Dan Hochhalter (fiddle), the Barlow has delivered a unique and well-constructed album. The easy-rhythm of Mile Marker Blues, the album-opener, is a pleasant surprise, yet maintains the same breezy classic country vibe for which the band has become known. An ode to a life on the road, with jangly guitar, twanging pedal steel, a plaintive, yet heartfelt vocal and more paint a perfectly pleasing throwback performance that recalls the glory days of Pure Prairie League and other country-rock savants. The record, as a whole, takes as many cues from rock as it does country, with soulful detours (Heart In A Sling), melodic anthems (Obsessions), and radio-ready sing-alongs (Shut It Down) peppered throughout.
The title song drives along down a dynamic track of heartland rock with some frenetic guitar work and vibrant drumming that harks back to the cow-punk of the mid-1980s in a song full of angry regret for everything that's gone wrong in life.
Weaving writing styles both sweetly poetic and defiantly acerbic, it's easy to discover why the Barlow seems poised to fulfil its substantial potential. With Josephine they throw desert country and power guitar chords into the mix to make for a sound that is entirely their own. The Barlow's special blend of country-rock is set to send new audiences into a whirl of delightful confusion as it merges over four decades of the West Coast-derived country-rock into a newly crafted sound. This is the style of rockin' country music that feels like everything you miss about good music on the radio.
July 2022