Taylor Rae - Mad Twenties
Self-released
****1/2
A startlingly impressive debut, MAD TWENTIES exudes an intimacy and emotion that seems limitless. A concept album that charts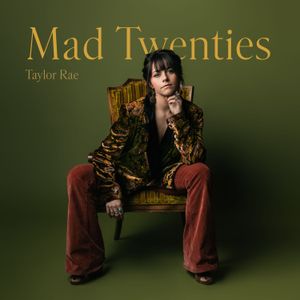 the ups-and-downs, twists and turns of navigating her twenties, 27-year-old Taylor Rae is a mistress of minor-key introspection, her songs carrying the kind of emotional weight more often associated with a battle-scuffed veteran. Many of her songs have an ominous tension, like a dark cloud that threatens but never brings the relief of rain. She sounds both beaten-down and easygoing, as if she has learned some significant lessons from her tenure on this Earth. Despite this, she finds meaning in the promise of the future, the present with family and friends and the dreams of the past. Her musical excursions suggest life's possibilities—an interstate or outgrowing a lover, Taylor's music captures the thrill of changing emotions. Her rich, seductive vocals remind me of Lucy Kaplansky and Canada's under-appreciated Lynn Miles, while her instantly accessible songs—a mix of gorgeous ballads and well-hooked soulful rockers—come loaded with pensive, clever lyrics. While the root is singer-songwriter of a 1970s sort, with inventive and diverse musical arrangements, she brings a deep breath of fresh air that resists easy comparisons.
This Austin-via-California singer-songwriter is no newcomer to making music. Armed with her trusty acoustic guitar, pre-pandemic, she spent 200 days a year touring relentlessly far and wide, continuing to hone her craft. For this recording Taylor landed at OmiSound Studios in Nashville, teaming up with producers William Gawley and Taylor McCall. She played acoustic guitar, accompanied by some of the finest musicians based in Music City these days, including Chris Nole (piano, keyboards), David Flint (guitar, mandolin), Dave Francis (bass) and Wayne Killus (drums). To me there's something special about a songwriter who, in a few words, paints pictures of unbelievable depth and clarity. With the opening Windows she finds beauty in impermanence and bearing witness to change. It morphs a little with each listen, into something completely new. Rather than bringing to mind a specific time or place, it instead feels like a reminder that nothing remains the same—something we can all take comfort from amid turbulent times. Her rich, flutey voice is the leading instrument on the smart, mellow and well-written Fixer Upper. She is emotionally evocative, captivating the listener through the empowerment of vulnerability. She changes the mood completely with the funky Home On The Road, as she harnesses a gritty vocal attack punctuated by a spooky B3 that blossoms into a transporting blues rambler with soulful background vocals. The humidity is thick in Just Be, a steamy, sultry and sneering track, straight out of some invitingly cool jam night in the 1970s. It is powerful stuff and whether you call it swamp boogie, Memphis soul. blues, jazz-rock, or half a dozen other labels that approximate the sound, it is ultimately a cauldron of emotional freedom from which musical magic emerges.
The smooth Letting You Go exudes strength, resilience and vulnerability found both in the midst and aftermath of an unhealthy relationship. An emotional sound with her impassioned singing accompanied by twangy guitar and soulful, almost spiritual organ. There's an easy-going vibe to Sink Or Swim, a transcendent, heart-aching elegy that feels both intimate and expansive at once. Her mature, knowing voice lays comfortably over the production to allow the lyrics to connect with ease.
As the album plays through these dozen tracks you have to remind yourself that this definitely is Taylor Rae's debut album, and that she, alone, composed these exquisite, eclectic songs, that are both highly personal, yet totally universal in their exploration of her own evolution through her twenties.
October 2021