Sunny Sweeney - Married Alone
Aunt Daddy Records/Thirty Tigers
****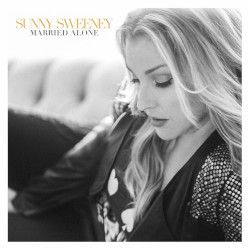 Although Sunny Sweeney resides well below the radar, the music she makes offers all the ingredients necessary for mainstream success. She is a shining example of everything that is right in country music and should have Sunny's previous label— Big Machine/Republic Records—scratching its collective head wondering exactly how they came to the decision to let her go. She has a Texas sensibility and an old-school country voice and vibe, bringing refreshing earthiness to her sixth album. With a vulnerable vocal style, and an eclectic range of country styles—from honky-tonk, country heartbreakers and roots to country-rock—MARRIED ALONE is a winner, proving that Sunny Sweeney hasn't only endured but thrived.
The album's opening, Tie Me Up, is a spicy, up-tempo warning to a guy that she's her own woman and not ready for a steady relationship, very much in the vein of Loveless or McEntire, but not as rocky in the Bakersfield-styled musical arrangement. An early highlight comes with the title song, one of just two songs that Sunny didn't have a hand in writing. A sad reflection on a marriage that has run out of magic, this classic country duet heartbreaker is in the style of Conway & Loretta, George & Patty and Porter & Dolly. The combination of Sunny and Vince Gill might just have made one of the year's most compelling records. We hear more of her soft and subtle vocal maneuvers in the soulful tones of Fool Like Me. A crystalline beauty full of regret and soul-baring emotion, this sounds like a long-forgotten 1960s pop hit.
She bares her soul on the deeply personal How'd I End Up Lonely Again. A heartbreaking story song written in the shadow of her 2018 divorce and beautifully sung in a voice both epic and straightforward, the pedal-steel driven song finds Sunny at the height of her formidable powers. She is joined by co-producer Paul Cauthen for the emotion packed A Song Can't Fix Everything. Sunny has always been a raw, honest songwriter, but she's never hit on quite this level of emotional intensity before. It may well be her finest song. She gives a little backhanded gratefulness to an ex for showing her how strong she can be as she kicks up her heels for the fiddle-driven break-up kiss-off Someday You'll Call My Name and then just shakes another right out of her hair in the groove-driven Leaving Is My Middle Name. This one has a funky r&b sound right out of a dark and sweaty Beale Street cellar club. The album closes with Still Here a song so rich with musical textures it takes a moment to absorb the full impact of the brutal honesty of the lyrics. You should own this record.
September 2022