Steve Dawson - At The Bottom Of A Canyon In The Branches Of A Tree
Pravda Records
****
You certainly get your money's worth from singer-songwriter Steve Dawson's new album. It is a good 20-25 minutes longer than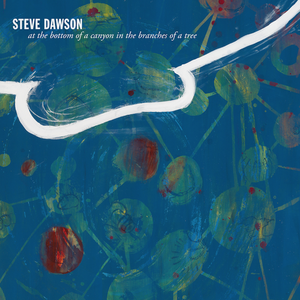 most albums—with the CD version containing a value-for-money 14 tracks. Does it work? That sort of depends. Yes, if you are willing to sit and listen relatively intently to the songs; no, if you are after some catchy background music to work or drive to. A confessional singer, he turns a traumatic life period into narrative songs that strike right at the heart and soul. You will be moved by the poetry of these songs … it's poetry with a kick. There is power in the songs, from the arrangements to the lyrics, it makes you feel. At times the songs feel directionless, but mostly his sharp lyricism makes them feel special and perennial. In all, it feels like we're tailing the Chicago-based singer-songwriter as he wanders through his life experiences, offering his thoughts on whatever comes to mind. This is music for cold nights and warm whiskey. In the wee hours this album will ask you to question the price you have paid for your journey. Steve Dawson would probably tell you it was worth the cost; the Devil be damned. More than anything, his soulful delivery and comfort as a performer drives him on, rendering the album as personal and memorable as a living room concert.
He possesses a warm expressive vocal style, full of emotion and believability ensuring the listener feels sympathy for him in these beautifully written and often thought-provoking songs. He confronts head-on the aftermath of losing someone close in This Is All There Is … and the realisation that life goes on and you just have to cope the best you can. There's a sublime early 1970s soul vibe arrangement, straight out of the Hi studios, driven by swirling organ and a deep funky rhythm, that drags you in to really listen to the lyrics. There's a personal emotional depth to Forgiveness Is Nothing Like I Thought It Would Be, that is compelling in its stark honesty. Being able to forgive is tough, but when it's a parent, that can make it nigh on impossible. The gentility of the music captures his compassionate lyrical stance with a tinge of religious intensity.
Having lived with a loved one suffering from depression, She Knew, connected with me instantly. This one is about his mother and Steve is very emotional and forthright about the dark places the heart and mind can go. Opening with soft guitar lines and exquisite vocals by Steve and fellow Dolly Varden band-mate Diane Christiansen, the lyrical insights of We Are Walking In A Forest play like a wondrous dream you half remember as you wake. It's back to Steve's fondness for classic soul for Time To Remember, the distinctive organ notes rumbling sedately in the background as Steve reminds us that 'love' is the answer to our survival. The pure economy of words speaks volumes to mankind. Lilting, lyrically rich, I'll Never Stop Being Sorry, captivates with words that ring so true. This song specifically demonstrates his uncanny ability to transport a listener ... listening to the song feels akin to stepping into some fuzzy, almost-forgotten memory from many summers ago.
To me there's something special about a songwriter who, in a few words, paints pictures of unbelievable depth and clarity. His voice is soft and subdued with soulful undertones, allowing for harmonies that glide along with ease, even as he's working through his anxieties about the state of the world, the environment, getting older and his own existence in this strange world. Steve Dawson to me is someone special! As is this wondrous album.
July 2021