Silver Lake 66 - The Space Between Us
Self-released
****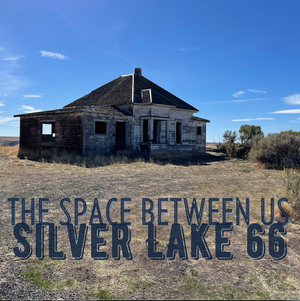 Comprising Maria Francis and Jeff Overbo, Silver Lake 66 is a duo from Portland, Oregon. Like so many recordings being released over the past couple of years, the couple's third album was written recorded and touched by the pandemic. Blending varying degrees of Americana, folk, rock, and alt-country, this is a highly creative body of work. Recorded in their basement studio and co-produced remotely with Bryan Daste, Maria and Jeff added extra strings to their bow with Maria dusting off her drumsticks to add to her usual guitar and vocal duties, while Jeff added lap steel and Dobro to his regular guitar and vocal skills. Local Portland musicians also added to the mix, including Toupee Zehr (bass), Jenny Conlee-Drizos (piano), Kyleen King (violin, viola) and Hank Rasco (keyboards). Through their cathartic sound, the pair touch on the emotional power of human connections and support with an emphasis on the tensions created by the isolation and fears of the pandemic. Redolent of early 1970s West Coast folk-rock. jingle-jangle guitars are predominant in the backup, but there's also enough pedal steel (played by Daste) to suggest a penchant for country, alongside the occasional use of horns and strings to add extra depth where needed.
Though Maria is the main songwriter—she penned all but three of the eleven tracks—it is Jeff who wrote and sings the vibrant opener Bun E. Carlos. Light-funk touches provided by tasteful horns drive this fond romantic ode to Maria. That opening track is by no means the hardest punch. Let Your Heart Break is an in your face, front of the beat, no apologies sound, played with confidence and authority. Sung by Maria, this is an angry song fueled by frustration and fear with some Berry-like guitar lines and vibrant drumming—extremely satisfying and enjoyable to the ear. The sprightly I-5 Drifting brings in a touch of rockabilly with a neat throwback to the heady days of Carl Perkins and Sun Records. Jeff weaves throaty guitar within swirling rhythmic currents on the bluesy Relief as Maria makes you feel the barbed wire wrapped around her heart chaining her to the fear and anxiety that life has thrown at her. The empowering It Should Be Easier and When You Fall glide along like lost soft rock hits of the 1970s AM airwaves while carrying messages of strength, empathy and camaraderie.
Jeff brings innate soulfulness to his performance on Take Some Of These. His low growl supported by churchy organ, slide guitar and the gospel-styled background vocals has the power to make you feel like you've snuck into an illicit, underground club, dancing the night away while partaking in illegal substances. In stark contrast, Blue Sky is a jaunty country toe-tapper with Daste's pedal steel very much to the fore. Maria's woozy vocal meshes so sweetly with the upbeat sonic mood that you may not even notice it's a break-up song. In the darkest times, beauty finds its way in. Simple acoustic guitar sets the tone for I'll Sing The Blues, augmented by ethereal steel and swirling strings as Maria's intimate crooning plays like a weeping journal entry. Simply beautiful—like a wildflower pushing through the dirt at the foot of a worn-out wooden post on the side of a humid highway. Captivating and utterly alluring, this is an album to savour and spin repeatedly.
June 2022