One Step Closer: Songs To Recover By
Self-released
****1/2
Nashville is full of talented singers and songwriters, all vying for that lucrative five minutes of success that only the very few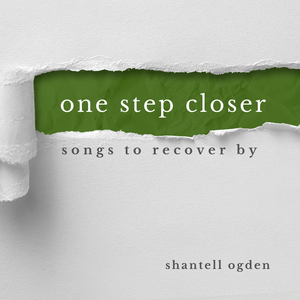 achieve. This past year's pandemic has dashed the hopes of many of those hopefuls, some of whom have returned home to work 9 to 5, their dreams shattered. Others have hung in there, licking their wounds, living hand-to-mouth, waiting for normalcy to return. Then there's Utah-born Shantell Ogden, who has rolled up her sleeves and decided to do something positive to help some of those that have been adversely affected by the pandemic. Over the past 12 months there has been an increase in mental health problems, overdoses and addiction due to stress, financial strain, depression, and isolation. Shantell decided to shine a spotlight on the problem with a healing collection of songs that face head-on the struggles of both those suffering from addiction and the friends and relatives whose own lives have been blighted by caring for them. Putting her money where her mouth is, Shantell will be donating hundreds of this new album to recovery programmes across America and when touring is allowed, will be performing fan-funded concerts to share the music and raise awareness and money both across America and here in the UK.
As an album, this is a rich work that highlights the subtle growth of an artist, while preserving the melodies and vocal timbre that has made her work so special in the first place. Shantell's songwriting has always been unflinchingly honest while untainted by the whims of current trends. She continues once again to be a master storyteller as she populates these songs with characters that duck responsibility, drink too much and are nearly always left high and dry. Despite the emotional rollercoaster of her narratives, there's a deep ease to the soundscape of the album. It's an ease that's equivalent to a pleasant Sunday morning. The soulful and seductive voice of Shantell mesmerises the listener with this assembly of songs that straddle the, often, fine line between fragility and power as they celebrate the touches of saints and sinners that exist in all of us and examine the rewards that come from healing. For anyone struggling with disillusionment and anxiety and self-doubt and longing, anyone simultaneously confused and empowered by the bottle, it is Shantell Ogden sending us back out into the world, better than we were when she found us.
The unfortunately common plight of addiction, fueled in recent years by a market flooded with opioids, is laid out in the opening St. Augustine, as the addict searches for Jesus and a way to kick his dependency. On the stark High Way Calls, Shantell's voice is aptly vulnerable as she shows more of her fearless ilk, unafraid to show messiness and write honestly about the mistakes all addicts make.   
Part of the power of this song is the way in which she allows each word to have its moment, letting its meaning simmer inside the listener's soul. The common thread carried through this album is the heart she brings to her work. She shares her heart on the bold Who Comes First offering sentimental words of love and wisdom to a partner unable to accept this unconditional love and support. There's a funky Southern gothic vibe to the emotional complexity of the brooding Devil Comes Knockin'—she really gets to the heart of unpacking a specific but ineffable feeling.
The best songs transport you through time and distance and that's the way with
Trouble Road, the song that follows. She offers a soft-spoken sentiment that looks wistfully forward to the future. That optimism is carried forward with More Than You Know. Delicate but formidable, this track treads the line between a familiar acoustic sound with a triumphant melody that give the song a fiercely beating heart that is irresistible. The title song is an epic tale of survival that is as hopeful as it is beautifully melodic. Co-written with Trey Bruce and Bill DiLuigi, it brings to life a woman on a journey of self-recovery, despite the countless factors working against her. Hands Up, which closes the album, is a shout out that together life's many problems and obstacles can be overcome. With a hand-clap marching beat it's a positive song of triumph over adversity.
It might feel wrong to say all the pain was worth it, but listening to these songs, it feels so right. They subtly creep up on you after repeated listens, their supple strains, low key choruses and overall atmospheric vibe gradually become intriguing and often hypnotic. Shantell Ogden has a gift for pulling the listener in with lyrics as honest and pure as her shining melodies, thanks in part to the production efforts of Dave Smith, who also plays all the instruments except for Who Comes First which also features John Willis, Steve Brewster and Thom Flora and Devil Comes Knockin' with Johnny Duke, Dave Dunseath, Mike Bubb, and Matt Dame. This is an album that helps to combat addiction, fears and anxieties and serves as a reminder that with the bad comes the good and to hold onto your loved ones as you travel through the ups-and-downs of life.
January 2021