Sarah Lee Langford & Will Stewart - Bad Luck & Love
Cornelius Chapel Records
***1/2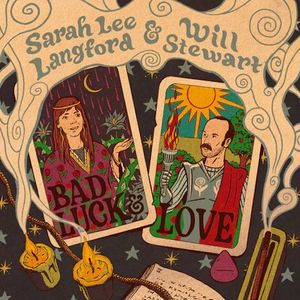 Sarah Lee Langford and Will Stewart have joined forces to combine their appreciation of their Alabama rural inheritance, and their deep fondness for country music and old-time traditions to create a distinctive sound in the country/Americana music world. The pair are certainly on top of things musically, and they've picked a roster of strong, engaging songs here that their fans are sure to enjoy. Lyrically, there's nothing groundbreaking here, but the passion and commitment of the performances, harmonies and musicianship allow you to gloss over any of the lyrical clichés that pop up here and there. Melody and musicality find common cause throughout, and one never supercedes the other. The sparsely used instrumentation—which employs bass (Keelan Parrish), drums (Brian Gosdin), pedal steel (Ford Boswell) with Sarah Lee and Will on guitars—is effective, but it's the predominant vocal harmony work that's the star of the show. The two switch between lead and harmony vocal to sing these songs that are classic country, but also lean into country-rock … as they touch the heart of the heartland. Their harmonies are self-assured and comfortable, an enduring warmth born of deep understanding, friendship, and wistfulness.
While these melodies hew to a traditional tack, they mostly consist of contemporary compositions written by Will. Still, it would be easy to mistake any of these offerings, particularly Sure Is Something and Staring At the Sun from tunes of a vintage variety. Will's smoke ring vocal encircles Robby—a powerful song about renewal following broken dreams—dancing among the tension and beauty that they and the band lay down, elegance sliced to ribbons by the velvety pedal steel and the heart pound of baritone guitar in the throat. It culminates with artfully arranged paeans to resilience, finding beauty in the expanse of the western landscape and the small moments of joy that balance out ongoing struggles, a connection between past and present that symbolises the perpetual bulwark against change.
All These Damn Things recalls the vibrant communal country-rock halcyon days of Gram & Emmylou. Their intriguing, austere vocals have a distinct edge while coming off downright narcotic, as if you're trapped in a dream directed by David Lynch. The song fittingly sounds like a storm rolling in thanks to a mournful-sounding steel guitar and a plodding beat as they sing about missing a loved one. In the gritty and propulsive Gun Powder, Sarah Lee plays the martyr in the push and pull of a messy relationship. Her vocals are haunting and powerful, hitting you like a shot of whiskey that goes down easy with the help of one fiery guitar solo after another. Dark Rooms is seeped in a hard-to-obtain, minimal, almost eerie vibe with lush, dark aesthetics while going deeper musically. Turn off your mind, relax and float downstream. Their take on John Prine's Aimless Love, is delivered with inimitable harmonies and arranged quite simply with acoustic guitar and bass providing accompaniment, with Will adding baritone guitar to the mix. This duo's dark, lonely, roots-minded country is affecting, all the more for its sparseness. Here's an act fully capable of making more well-defined Americana music … only time will tell.
www.corneliuschapelrecords.com
November 2022