Rumer - B Sides & Rarities Vol 2
Cooking Vinyl
****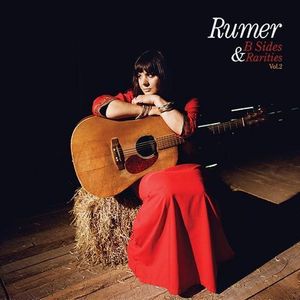 It was exactly two years ago that I reviewed Rumer's superb NASHVILLE TEARS album. I have to admit that I hadn't really listened to Rumer or her music prior to the release of that 'country-ish' album. An immensely enjoyable catch-up has endeared me to this talented singer and songwriter, which led to much anticipation for this second volume of B Sides & Rarities. Rumer has been responsible for some of the past decade's most mesmeric and beguiling albums and though this is very much a grab-bag of tracks, it is not so much an album as it is a world, one that doesn't reveal itself in haste but rather unfolds over time and through multitudinous layers. A collection mainly of covers, this is a gorgeous record in which to lose yourself for 40 minutes or so. Rumer firmly asserts her own identity without losing the thread of the source material, not an easy trick as she creates music that is filled with love and that goes a long way.
There are a couple of the singer's own compositions, opener Roses and Old Fashioned Girl, the latter a co-write with hubby Rob Shirakbari. This pensive song gently builds to a wistful, faded swell of strings as a deep sense of yearning plays out like a dream. Her vocal is rich, nuanced, and succinct, informed by a desire for her absent lover. On the hazy Roses, she laments softly unfulfilled dreams and the promise of a good life full of roses just around the corner, all dressed up in a delicately flowing arrangement. Slowed down, Carly Simon's You're The One, becomes wistful and contemplative, the guitars and orchestral arrangement supporting entwined harmony vocals that match the natural beauty of the state at the heart of the song. There is a trio of Bacharach and David songs that are outtakes from Rumer's 2016 THIS GIRL'S IN LOVE album. That does not infer that the performances or recordings are lacking in some way. It's just that there were so many incredible tracks that something had to give. Anyone Who Had A Heart is rendered with the reverence this stirring song has always been due, its resilient refrain captured both solemnly and simply. Wives And Lovers, with its jazzy vibe features Rory More, London's only Lowery organist, adding a distinctive touch to this classic song. She evokes the loneliness and isolation of the present moment in Windows Of The World. I'm ashamed to admit I had never really listened to the lyrics of this song until this stunning version, its  delicate piano-voice-strings arrangement roots out the sadness and inevitableness of the song that many probably overlooked.
The oldest song in this collection is the gorgeous The Folks Who Live On The Hill. Long associated with Peggy Lee, the song dates back to 1937. Rumer recorded her version two years ago to mark what would have been Peggy Lee's 100th birthday. With delicate piano accompaniment her voice sings of expectations of a life fulfilled with family and friends. The tone is rich and reedy, the delivery is steady and understated. Simon Aldred's My Lover Lies Under, is a new song to me. A pretty, tender ballad about loss and loneliness it is the album's highpoint, a pensive and delicate soundscape. Alongside songs penned by Van Morrison, Elton John, the Bee Gees and Hugh Prestwood, Rumer lets listeners know they're in for some surprises. It's the kind of surprises in the after-midnight hours when the endorphins of music ecstasy meet the endorphins of fatigue, that make this comforting record so special.
April 2022