Ro Myra - Nowhere, Nebraska
Ponderosa Records
****1/2
There's nothing like listening to a new artist for the first time, but when that new artist is embarking on a career that's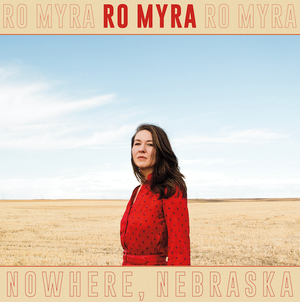 been a long time coming, the rewards are amplified. Nashville-based Ro Myra has been around for several years; something of a late bloomer, some might say. Consider this distinctive singer-songwriter to truly be a newfound treasure. I could spend hours trying to decide whether Ro's greatest asset is her voice or her gifted songwriting. Or I could just give up and move on to this self-produced debut album, which is a stellar backdrop for both. Though she's well-travelled, having lived at various times in Bozeman and Missoula (Montana), Traverse City (Michigan), Austin (Texas), Denver (Colorado) and Nashville, where she currently resides, and having worked for International Aid organisations, this album, as the title suggests, is firmly rooted in the wild, wind-swept Nebraska landscape, where she was born and raised. A songwriter capable of sharp introspection and character examination, she's most fond, one infers, of ordinary people's imperfections and limitations, about which she writes amiably, not sparing her own. With a soulful haunt of a voice and the superbly arranged instrumental contributions from skilled musicians, Ro's songs frequently merge timeless imagery with vignettes of struggle, loneliness, pain and un-fulfilment. She crafts her songs meticulously, paying close attention to the nuances of mood and tone, structure and tempo.
Half The Time is a perfect marriage of her razor-sharp melodic sense and stop-on-a-dime production. Tackling substance abuse and holding on to someone who is no longer there, both physically and spiritually, it ebbs and flows uneasily, with the uncertainty of a future blighted by a loved one's addiction. Her wistful voice nails a sense of longing that permeates Irene. Full of winsome charm, subtle fire and fey attitude offering sage advice to the friend who has silently and bravely lived through an abusive relationship but is ready to break the cycle and love herself for who she truly is. Being the partner of a road warrior is laid out with brutal honesty in She's Not The Road. A lyrical masterpiece, her vocal performance on it is quite emotional; it is almost impossible to listen to without starting to sway, despite the heartbreaking words. Railroad Weed recalls adolescent days of hanging out by the railroad tracks and through the haze dreaming of how to escape. Then comes realization, later in life, that the whistling wind through those prairie wheatfields, will always be urging a return to the place where comfort and clarity offer the eternal allure. The reverent Jump Into The Water is propelled by a swirling organ producing a southern gospel-soul vibe. Ro gives a vocal performance that's alternately flinty and glasslike, particularly when the haunting organ heightens the drama. Her lackadaisical, warm More Than Just Okay is a feel-good song, offering solace after all the pain and uncertainty that's gone before. Perfect for a lovely early summer day, her voice floats above the interplay among electric guitars, pedal steel, lap steel and strings, belying the melancholy of the sound with its dazzling tones.
This is indeed a startlingly impressive debut. Ro Myra exudes an intimacy and compassion that seems limitless as she excavates the complexity of varied emotional landscapes, wrapping them in vibrant musical arrangements. A killer breath of fresh air, this record is a real, raw, piece of artistic genius. A transformative tapestry, it sets a standard few others will ever attain.
July 2021